Are we entering the celebrity curator era?
Robert Pattinson inaugurates the next stepof celebrity collaborations becoming Sotheby's New York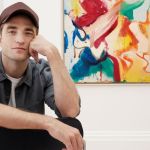 Robert Pattinson's next project is not a new Batman or some other art film, but an entirely new role for him: art curator. The actor, who is currently busy on the set of Parasite director Bong Joon Ho's first English-language film, has been chosen by Sotheby's as curator for a live art auction to be held in New York on September 30. Since 2013, the popular auction house has invited, as part of its Contemporary Curated program, several celebrity guests who have lent their personal tastes and talents to organize a series of high-hype special sales. After Oprah Winfrey, Kim Jones, Steve Aoki, Skepta, Margherita Missoni, and Cynthia Erivo, it is now Pattinson's turn to explore the art world to scout out the most interesting pieces to offer during the event.
"Curating this group of paintings has been a really exciting process and an honor for me. To be able to experience and have a dialogue with these works according to my taste—and to place massive titans of 20th-century art next to living artists—has been really satisfying. As an actor, I've always felt a certain amount of synesthesia between different art forms and being able to connect them together—whether that is a sculpture or a song or an acting part, all at the same time. Acting has made me realize that there is an interconnectedness between all art forms, and it made the process of curating the sale a fascinating and fun experience for me."
Said the star in a press release, before unveiling her selection of works (all made from the postwar period to the present) that includes sculpture, painting, collage, and a mix of established names like Richard Serra and Willem de Kooning and emerging artists like Genieve Figgis and Lynette Yiadom-Boakye. Each piece is characterized by dynamism and sensuality and was suggested by Pattinson for its ability to tell a story, to evoke an emotion.
Pattinson's new role has raised a lot of criticism from those who brand his collaboration with Sotheby's as a mere marketing stunt and from real art curators who see their professionalism diminished and are overshadowed by yet another celebrity used by a brand to make a product resonate. Being a curator means depth, study, research and a lot of experience and comparative skills, qualities that Pattinson may have gained through personal but not professional experience. Whether the art world has realized, as the fashion world has for the past 20 years, that the power of a celebrity in creative direction has a major economic effect on the success of an initiative or product? Beyond gatekeeping, the art universe has always been a hemisphere divided between those who believe that art can only be high or low, carving out an elitist, elevated space from the fashion-sensitive world and the speed of marketing that bills smoothly without the need to include the masses too much. Having a famous face as the curator of a paid exhibition could mean for Sotheby's to have droves of fans curious to discover the artistic flair of the former vampire, thwarting the efforts and respectability of the profession of professional curators. Seen from another perspective, this new creative option opens another window into the personalities of the faces that populate the star system, to satiate the thirst of the voyeuristic desire to bring us closer to our myths and concretize a clever way to combine art and the world of entertainment. Then again, perhaps it is better to curate artistic pieces than yet another beauty brand that neither the public nor the beauty industry needs anymore.