It's time to let Lady Diana go
From The Crown to bike shorts, maybe it's time to say goodbye
The announcement of the sixth and final season of The Crown, which is divided into two parts (the first premiering today November 16th and the second on December 14th on Netflix), has reignited public interest in Lady Diana. The truth, however, is that the beloved princess, beautiful, shy, and betrayed, has never truly left us: we are quite literally obsessed with her.
The Actresses of The Crown
In the series, aiming to approach contemporary times, Lady Diana has been portrayed by Emma Corrin. Now, her role lies in the hands of the cool and stunning Elizabeth Debicki, who has already portrayed her in the fifth season and seems to be well-received by the audience. To clarify, the sixth season covers her passing and the introduction of a young Kate Middleton into the realm of the British royal family.
Kristen Stewart Takes on the Role of Lady Diana
The Crown is not the only entertainment piece delving into this beloved figure. In 2021, Chilean director Pablo Larraìn dedicated a full-length feature film to her, reimagining her marriage, crisis, and the self-realization that led her to decide to divorce Charles. Kristen Stewart, in a poignant performance, transforms into a polished Diana, tearing off her pearl necklace and letting it fall onto velvet in a moment of despair. Whether realistic or historically accurate (or not), this crisis-ridden princess is the one many have recounted, pondered, and fantasized about. And what better way to fill in the gaps than with a beautifully crafted film?
In Pop Culture and Social Media
It's not just movies and TV shows. Diana is evoked on social media every autumn, when one can be seen in a pair of cycling shorts, a gray hoodie, and a pair of normcore sneakers. Or whenever a wounded woman steps out in public wearing a stunning dress, instantly dubbed a "revenge dress". Furthermore, even 26 years after the tragic event on August 31 1997 in Paris, speculation continues about her love life. The questions persist - in a loop that will never end because the royal family holds its secrets close and, unfortunately, Diana is not here to share her perspective. What did Charles do? What did she do? Who were her men, and how did she spend her final hours?
The People's Princess Still Makes Headlines
Reconstructions, books from assistants, friends, presumed or real family members, interviews reinterpreted, every morsel of her image examined and re-examined periodically. Diana sells newspapers, still making headlines at levels Kate Middleton and Meghan Markle can only dream of in their most optimistic forecasts. It's not hard to understand why: she was an important and courageous woman, beautiful and human in a world (that of the English nobility in the '80s and '90s) filled with automatons. She pursued the causes she believed in even when the world pitied her, head held high and dressed impeccably despite her evident unhappiness. Just as it seemed she was beginning to enjoy life and carve out her place in the world she died, just in her thirties, leaving her children, including the future heir to the throne of England, alone.
A Gripping Tale
On the other side, an adversary who could never quite compete with her: the unsympathetic and gruff Charles, so elusive and submissive, forever in love with a woman who, in the eyes of the public, was not worthy of sitting in the princess's place, Camilla Parker Bowles. The story of intrigues, betrayals, triangles, vendettas, secrets, and reprisals practically writes itself, but at this point, it's more like fanfiction than anything else. How much longer can we continue to dwell on it, now that it's more legendary than real?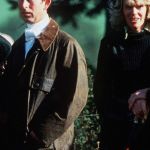 Is it time to let Diana Spencer go?
After years, The Crown is finally coming to an end, and maybe it's a sign. A sign that it's time to move on, to stop sharing her photos, and to stop talking about her as the most influential style inspiration of the past 30 years in pop culture. We've talked about her so much that there's nothing new left to say. We don't want to deny how important, beautiful, and human she was, but it's time to move forward and let go of Lady Diana Spencer and with her, this idealization of an imperfect past. A past where an unhappy woman had to simply keep quiet, and speaking up was seen as the bravest thing one could do. A past where the English royal family endorsed controlling and domineering behavior to maintain their image. Now, it's time to close this chapter and focus on the present and future, on today's stars and personalities, on how they're treated and discussed in the public eye, on the issues they raise and the battles they fight. Maybe, by looking at the present and the future, we can prevent tabloids from invading another woman's privacy, again and again. Not just within the royal family.