Horror cinema is ready to take the plunge (in pink)
Between feminist instances and the return of it-girls, horror films are changing
In the beginning, it was Paris Hilton in "House of Wax" in 2005. Her character - blonde, not particularly bright and half-dressed - met her end amidst the wax zombies after a futile and desperate attempt to escape after a tryst in a tent. She is just one of the many puppet women of mainstream horror used for shock effect and occasional nude scenes that always fit in between all the stabbings and killings.
Kim Kardashian chooses horror to make her debut on the small screen
After a long hiatus, the It girls are now returning to horror cinema, and it's no accident. Kim Kardashian, for example, the Paris Hilton of the 2020s, is trying her hand at acting again, venturing into "American Horror Story: Delicate" after the disastrous experience of the 2008 parody film "Disaster Movie". In the new season, she plays a career-minded friend of the protagonist who is desperate to get pregnant, alongside Emma Roberts and Cara Delevingne.
Addison Rae and Charlie XCX follow suit
She is not alone. Also venturing into the world of horror cinema is Addison Rae, social media star who has reinvented herself as a singer and actress. She will star alongside Patrick Dempsey in "Thanksgiving" directed by Eli Roth, which will be released in the US in November. Charli XCX will also be seen alongside Barbie Ferreira in the remake of "Faces of Death". In short, horror has arrived in the third millennium and it has taken on a pink hue.
A new era of horror cinema is in the midst of a slow but significant change
This change concerns a genre, horror, that for years was stagnant, overlooked and considered inferior. Now it is experiencing a true renaissance. The 2009 film "Jennifer's Body", directed by Karyn Kusama and scripted by Diablo Cody (both of whom are women), which attempts to subvert the traditional tropes of commercial horror from the 1980s. It makes its protagonist a popular, scantily clad and terrifying cheerleader who kills boys without any sense of guilt. This was a first attempt, which was then revisited a decade later and finally appreciated for its worth.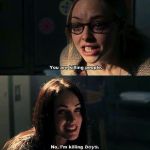 Mia Goth, Pearl and the Social Horror
And today? The horror film industry is growing exponentially and gaining dignity. It no longer consists of second-rate films for aspiring actresses and directors to cut their teeth on in the hope of getting noticed, but is instead a terrain for interesting and explosive experimentation. The performances of Mia Goth, the queen of horror alongside Anya Taylor-Joy, in Ti West's trilogy of films (X, Pearl and MaXXXine, with the latter hitting cinemas soon) have her fans clamouring for an Oscar and tapping their feet impatiently as the Academy tends to ignore genre films. Following in the footsteps of Jordan Peele, social horror is becoming more common, embodying different kinds of suffering (from grief to lost motherhood to discrimination) in monsters, aliens and various kinds of apparitions.
Women in Horror: from object to subject
As society becomes aware of certain issues and women finally take centre stage, horror follows suit and places them at the centre of its stories. They are no longer passive objects or silly monsters dripping with sensuality and blood, but active subjects with their disorders, sometimes shared by the male gender and sometimes specific to the female experience.
Barbarian
Examples abound. One of the most recent and successful is "Barbarian", a 2022 film directed and scripted by Zach Cregger and starring Georgina Campbell, Bill Skarsgård and Justin Long. In this film, a monstrous mother, a relic and the result of trauma inflicted on her by a man, nests in the basement and captures anyone foolish enough to enter her space. She only wants children to take care of, and the only one who can really understand her is the protagonist, who in turn finds himself in a world full of potentially dangerous (not coincidentally male) strangers and selfish, guiltless actors.
The future of the genre
Even if the subject matter is not strictly female or feminist, the protagonists of horror films in the new millennium will be treated as real, nuanced and profound characters, capable of experiencing a wide range of emotions, defending themselves, staying dressed and who knows? Maybe even survive, using only their own strength and resources, as in films like "No One Will Save You," an experimental one by Brian Duffield starring the talented Kaitlyn Dever, or "Prey," the latest instalment in the Predator series starring Amber Midthunder. These heroines or anti-heroines are just one of the changes in a genre that is ready to step into the limelight, a privileged field for experimentation and trial, for regurgitating ideas and pushing boundaries.