What you can do in Venice if you don't go to the film festival.
What can you do in Venice without the red carpet? Nine ideas for exploring the Serenissima outside the festival.
Ah, the Venice Film Festival, the event where celebrities from all over the world walk the red carpet, photographers crowd around and glamour is the order of the day. But what do you do when you're not invited to take part in this star-studded catwalk and red carpet? If the endless hours you've spent on the Venice Film Festival website have been in vain, if you've tried to get tickets to screenings everywhere, from friends of friends of friends who live in Veneto, and still haven't made it, don't worry. Venice has so much more to offer. Forget the movie stars, because we're about to tell you the hidden secrets of the Serenissima that might even make you forget the absence of celebrities. And who knows, you might just bump into Jacob Elordi while he's having an ice cream at the Fondamenta dei Nani. Get ready to discover the coolest side of Venice beyond the film festival. You don't need a VIP ticket for this adventure.
To drink - Osteria al Squero
For those who know Veneto well, it's common to have a splash of cicchetti as early as ten in the morning. Osteria al Squero is a place that exudes an incomparable charm. The idea of opening the restaurant directly in front of one of the last squeri (shipyards) still in operation has proved to be a bull's eye, because the view is simply priceless. From the windows you have an extraordinary view of the gondolas under construction being pulled ashore to ply the waters of Venice. Despite its small size, the atmosphere is very welcoming, as the team consists entirely of women. The counter is always a blaze of culinary delights: stuffed sandwiches, crostini with herring, butter and onions or tuna and caramelised onions, truffle pâté with ham or a creamy selection of cheeses, radicchio and walnuts. In addition, the classic Venetian cicchetti such as sarde in saor or baccalà mantecato, whether in umido or alla vicentina, are an unforgettable triumph of flavours. On sunny days, it's advisable to take a small plate of these delicacies, go outside and sit on the edge of the canal. Just a tip? Watch out for the seagulls; they love Spritz too.
Dorsoduro, 943 - Venice
To read - Bruno
Since 2013, a creative company based in picturesque Venice has given itself the name "Bruno" This name is nothing other than the pseudonym under which Andrea Codolo and Giacomo Covacich wanted to sign their bold project. Amidst the canals and historic streets of this enchanting city, Bruno is a true hotbed of talent that skilfully combines different worlds. First and foremost, Bruno is a graphic design studio, a workshop where art and creativity come together to create unique visual identities, amazing exhibition installations and exceptional editorial projects. But that's not all: their commitment to visual communication also extends to data visualisation, where they work with institutions, cultural foundations and private clients to create visual representations that capture the essence of complex data and information. But Bruno is much more than that. In 2014, they added another piece to their creative mosaic and also became a publishing brand. This development allowed them to explore the world of international independent publishing and bring a selection of unique literary and visual works to Venice. Their specialised bookshop is a hidden treasure for art, culture and creativity enthusiasts. In short, Bruno is a must for anyone who wants to immerse themselves in the world of visual communication and independent culture - all under the enchanting sky of Venice.
Calle lunga San Barnaba (Dorsoduro), 2729 - Venice
To visit - Everyone talks about the weather Fondazione Prada
Ca' Corner della Regina is a majestic Venetian palace built between 1723 and 1728 and located on the Grand Canal. The frescoes on the noble main floor depict the life of Caterina Cornaro, the future Queen of Cyprus. Since 2011 it has been the Venetian headquarters of the Fondazione Prada, hosting temporary exhibitions, including the current project "Everybody Talks About the Weather." The exhibition looks at the significance of weather in the visual arts. It features over 50 works by contemporary artists and historical works that explore how climate and weather have influenced human culture. The exhibition links art with science and addresses the climate crisis. The exhibition spans two levels and includes a research area with books and scientific publications that explore the topic in depth.
Ca' Corner della Regina - Venice
For a snack - Il bacaro del gelato
Il Bacaro del Gelato is a small gelateria run by two young Venetians dedicated to traditional gelato recipes. A daily menu on a chalkboard displays the day's selection. Options to try include dark chocolate, rich and bitter, pistachio, hazelnut and tiramisu. If you need a break from the hustle and bustle of central Venice, take a walk along the canal to this authentic artisan gelateria can be a moment of real relief.
Fondamenta de la Misericordia, 2499 - Venice
Go to Shop - Bottega Veneta in San Marco borsa glass sardine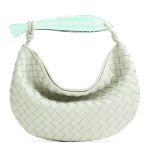 The glass sardine, a work of art by Bottega Veneta, embodies the excellence of Italian craftsmanship. Its distinctive feature is the curved handle made of precious Murano glass, which demonstrates incomparable craftsmanship. This handle is the result of the meticulous and skilled work of Zanetti Murano, a renowned family business with over two centuries of tradition passed down from generation to generation. Murano glass, renowned for its history and unsurpassed quality, has been shaped by Zanetti Murano into a sculptural handle with futuristic inspiration. This work of art is an ode to the sardine of the Mediterranean. The glasswork involved fusing and shaping glowing spheres of Murano glass, enriched with nuances of viscous glass and granulated minerals in various textures and colours. Each glass sardine is unique, a wearable work of art. Until 9 September, eleven of these unique pieces are available exclusively at the Bottega Veneta store on Piazza San Marco in Venice.
Salizada S. Moise 1473 - Venice
To eat - Osteria Giorgione da Masa
Masahiro Homma, affectionately known as Masa or "ti xe Massa un Hero"," hails from Okayama and brings with him a wealth of culinary experience from nearly two decades spent in Italian kitchens, first in Japan and then in the Bel Paese. His culinary reign takes shape in the heart of Venice, at Osteria Giorgione. A special element of this osteria is Masa's passion for natural wines, which is reflected in an exceptional selection of wines that accompany his unique dishes. The restaurant is a haven for food and wine lovers, offering a convivial and tasty experience that reflects his dedication to the culinary arts.
Calle Larga dei Proverbi, 4582/A - Venice
To see - Cinema galleggiante Ocean Space
For the fourth consecutive year, Ocean Space is taking part in the open-air cinema festival, which runs until 10 September on a floating stage in a unique setting: the enchanting waters of the Venetian lagoon. This year's theme looks at the concept of dwelling, the deep relationship between humanity and the non-human world, and the impact of humans on marine ecosystems. As part of the festival, a special event will take place on Friday 1 September at 6:30pm on Giudecca Island. On this occasion, Ocean Space in collaboration with the TBA21 Academy will present the works of the STARTS4Water Artists in Residence 2022: Sonia Levy, Diego Delas and Leonor Serrano Rivas.
Giudecca - Venice
To celebrate - Hostaria in Certosa by Alajmo
The magic of La Dolce Vita spills over onto the stage of the 80th Venice International Film Festival and shines in all its elegance not only on the screen but also on the red carpet. But what happens when the lights go out in the cinema and the red carpet is rolled up? A new chapter of art and entertainment begins: exclusive parties, aperitifs and private parties. For those who want to experience a unique atmosphere but were not lucky enough to get an invitation, we have a special solution. We invite you to a special event on the occasion of the 80th Venice International Film Festival, which will take place on Sunday from 17:00 at the Hostaria in Certosa by Alajmo. This exclusive event will be enlivened by the music of the talented DJ Tommy Vee, the evocative atmosphere of Milangeles and the vibrant energy of Zaffa Records. Entry is free if you arrive by 6pm. After that time, you can secure entry for €15, including a Spritz Hostaria that can be pre-ordered online, or for €20 on the door, without a drink. See you there?