A cottage-core guide (and More) for International Pic-Nic Day
An idea for a summer weekend to celebrate with your friends with good food and outdoor activities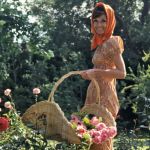 Today, 18 June, is International Picnic Day, an activity that we have carried since childhood and is suitable for all ages. In recent years, especially when the first outdoor attempts were a brand new experiment after the pandemic and people focused on avoiding crowded places, it was a must. The history of the picnic originated in the noblest courts of Europe and the first trendsetters were aristocrats. The term entered the English vocabulary around 1700, from the French words 'piquer' (to take) and 'nique' (something trivial), and immediately denoted the simple open-air meal par excellence, the moment of gathering with real food prepared at home by each of the guests. A lover of 'pique-nique' was Queen Marie Antoinette, who enjoyed these bucolic moments in the meadows around the Palace of Versailles.


The Tiktok girlies and influencers deconstructing the aesthetic of cottagecore, also known as countrycore
, taking inspiration from the idea of simple living and harmony with nature, but with a twist. In fact, there were many ideas for lush and Instagram-worthy picnics that you can replicate by following these tips,
summarised in a single "guide" for the perfect relaxing moment in the greenery of a city park or a vast landscape
. As for food, a super nice charcuterie board is very popular. It is nothing more than a chopping board made even more special by the incredible precision with which the ingredients are presented on the board. T
here are many variations, from the classic version with slices of meat and cheese, to a vegan version with hummus and vegetables, to a kind of fruit salad with tropical or seasonal fruits
cut with small ramekins representing hearts and stars. What makes this preparation so duty-free, which has already started a fruitful business in the US, is that in most cases there is no cooking or preparation of raw materials required except for the decoration.
Another way to make your picnic special is undoubtedly to eat something special for only the most festive of occasions: but who says you can not order a beautiful cake to share with your friends and cut it with glass goblets? You read that right. Instead of the classic slices, dip your goblets into the soft texture of the cake and voila. It's a trend that's been all the rage on TikTok for at least two years and continues to catch on, all in the name of 'do it for the aesthetics'. Is it a good idea? Why not give it a try?
It's time for the right outfit and since it's summer, a mini dress or a long, cool maxi dress would be ideal
: however, be sure to bring a large enough cloth so as not to ruin your dress for the occasion. Think with your girlfriends about how you can choose a theme between photos, a bite to eat and a laugh to make an ordinary situation even more special. For example, one idea could be a 'colour themed picnic' where each person brings their best selection of food and decorations in their assigned colour, as well as their personal dress.
A timeless choice is the classic little white dress with bows and puffed sleeves, a must-have for any self-respecting summer and perfect for the simplest but most convivial of occasions. Imagine a dreamlike scenario, like that of a painting and a nymph, wrapped in a light and bright dress that fits perfectly into the relaxed ambience we want to create. When it comes to shoes, on the other hand, there is no ban on Converse shoes or any kind of trainers that allow you to walk in the countryside without too much trouble. Our favourite country style influencer is
Kennedy Claire Walsh
, who is the queen of corsets and fluttery dresses with 1.5 million followers on Instagram and more than twice as many on TikTok.
The best activities we can recommend instead are simple, but they will surely make your day. Remember the idea of a themed picnic?
How about a painting theme?
Of course, you'll need to do a bit of preparation, but with tempera paints and canvases, you can take home a memento of the day that is not just a photo, but a real painting that you can hang up to remember the good time. In this case, whatever your skills in this field, you can simply relax and paint the nature around you through your vision to escape from everyday life and let your creativity flow.
Another idea, undoubtedly less artistic but perfect for testing your fellow adventurers, is to assign each person an item for all the food categories you have planned, from savoury dishes to desserts to drinks: without spoilers, the winner is the one who can show the best choice of all after the countdown. It's an amusing trick that might also get you to try new things you would not have considered otherwise.
This Sunday, for a slightly different day of relaxation, simply choose the best spot and enjoy a lunch with friends that lasts until sunset.
While you are at it, try the picnic you like best and document it with photos, videos or paintings to start the summer of 2023 with a romantic but fun proposal that everyone will agree with.