Kris Jenner and the PR couples of Kendall, Kim and Kylie
Is the hand of the most famous Momager behind the latest relationships of the Kardashian-Jenner clan?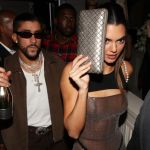 Needless to deny it, Kris Jenner is the deus ex machina behind the planetary success of the Kardashian-Jenner clan. The most famous momager is behind every decision, deal, social post, video and rumour about her daughters. There is not a leaf that does not move without her speaking her mind and steering events in a direction that pays off, be it for image or financially. After all, she said it herself, "I am the one who can help them [my children] figure out what they want to do, help them start a business, build an infrastructure, and help them focus" Like the smartest and most forward-thinking business leader, she steers not only the public but also the private side of her offspring. Kris seems to be an absolute genius when it comes to creating the perfect PR couple who can keep their "little girls" on track. Like a modern Lady Whistledown, Ms Jenner feeds the romance news by staging the most advantageous relationships for her daughters and selecting the most interesting and popular singles of the moment. The result is often disposable flirtations that last the time of a paparazzo flash but go viral just long enough to launch a new project, promote a product or distract from a family scandal. The secret to keeping the trade press and social media in the palm of your hand? You opt for unexpected and seemingly incongruous love combinations like the couple Kylie and Timothée.
Here are the latest PR couples of Kendall, Kim and Kylie, directed (probably) by Kris Jenner.
Kim Kardashian and Tom Brady
The latest celebrity love story? The one between Kim Kardashian and Tom Brady. It seems that two of Hollywood's most sought-after singles have started a relationship, even if the parties involved deny it for the moment and claim they are "just friends" According to sources, Kim and Tom spent a few days together in the Bahamas. The founder of SKIMS was there because she was interested in buying a holiday home at Baker's Bay Golf & Ocean Club and apparently asked the former American football player, who already owns property in the area, for advice on which villa would be best to buy. It is said that the two had instant chemistry, although they deny this. Could Kris Jenner's hand be behind the rumours and the possible relationship between Kim and Tom?
Kendall Jenner and Bad Bunny
They are one of the hottest couples of the moment, but there are those who are convinced that Kendall Jenner and Bad Bunny's relationship is just a publicity stunt. Obviously artfully staged by Kris Jenner. The two have been spotted together at Coachella, the Met Gala and recently at an NBA game. According to some fans, there would be no chemistry between the two, at least judging by their body language, and they probably do not even get along very well when they talk to each other, because Bad Bunny's English would not be fluent enough for him to have great conversations. What's the point of faking flirtation? Jenner is about to release a new season of The Kardashians and Bad Bunny is on hiatus, waiting to release a new album perhaps next year, and dating would come in handy to keep their names relevant. However, other sources quoted by People swear that "things are "getting serious" between the two and they are "very cute together" Where will the truth lie?
Kylie Jenner and Timothée Chalamet
Let us face it, though, when it was rumoured that Cupid's arrow had struck Kylie Jenner and Timothée Chalamet, we could hardly believe it and thought it was another PR couple artfully created by Mother Kris. In fact, the two seem very different, even incompatible, and no one has photographed them together yet. The rumours trying to confirm the news, on the other hand, claim that Timothée loves the fact that Kylie is versatile and capable, both as a mother and a businesswoman. The most credible claim, however, is that the flirtation is a way to distract Kylie from her failed relationship with Travis Scott and keep her desirable in the eyes of the public.