Is Lily-Rose Depp really free from her father's shadow?
The 23 year old actress returns to the Cannes red carpet for the second time. The controversial series TV The Idol is presented out of competition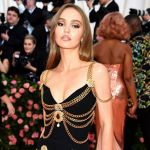 Lily-Rose Depp is once again at the Cannes Film Festival. At just 23 years old, the daughter of art and it-girl is attending for the second time. The first was in 2016, with the film La Danseuse directed by Stéphanie Di Giusto. The second is instead the controversial TV series The Idol, in which she plays the female lead and which will be screened out of competition. The Idol, directed by Sam Levinson, creator of Euphoria, and The Weeknd and conceived for HBO, has not yet seen the light of day but is already a case. Just two months ago, multiple sources revealed to Rolling Stone in detail how the series, meant to be a satire of celebrity in a post-Trump world full of manipulative forces and dark spots, has morphed into what it was meant to critique, one change and delay in production after another. There was no shortage of voices calling the series a "torture porn shitshow" and "rape fantasy".


Surprisingly, this is not the only controversy involving Lily-Rose, who appears to be going through a pivotal phase in her career and life, for better or worse. The girl, a Pinterest example of a delicate yet seductive French beauty and a source of inspiration for all contemporary coquettes (her mother is Vanessa Paradis, after all), has not commented on the rumours about her latest project and has generally always tried to stay out of her family drama, defending her father but also her personal right to live and process certain things in private.
However, it is impossible not to mention Johnny Depp in the controversy surrounding this edition of the festival, the 76th.
His unwieldy presence opened the film festival. The Caribbean pirate stars in the non-competitive film
Jeanne Du Barry - The King's Favourite
and walked the red carpet on the opening day. The actor is at the centre of a number of controversies. First and foremost is his history of media lawsuits, accusations and defences against his ex-wife Amber Heard, which prompted activist and journalist Eve Barlow, a close friend of the actress, to launch the hashtag
#CannesYouNot
and point the finger directly at the event's organisation. And that's not all.
There's his recent proximity to Saudi Arabia, posing for a selfie with Saudi Culture Minister Prince Badr
and the founder of the Red Sea Film Festival, which funded the post-production of Jeanne Du Barry. The 20-million contract for
Dior Sauvage
, the French brand's flagship men's fragrance, adds fuel to the fire of online and offline rumours.
All of this weighs heavily on the shoulders of Lily-Rose, who, although she is unlikely to reveal it, will indeed appear more beautiful and radiant than ever on the carpet, probably not a bit affected by it. There is no shortage of gossip following her to Cannes.
You see, the actress and model, who has dated Ash Stymest, Timothée Chalamet and Austin Butler
(in that order) in the past, has recently started dating US rapper 070 Shake, born Danielle Balbuena, born in 1997. He revealed this on his Instagram stories a few days ago, writing, "Four months with my crush" Magazines and tabloids have been talking about her coming out," but she told Nylon back in 2016, "Young people and people in general do not have to put a label on themselves and say 'I am gay' or 'I am straight' If you like one thing one day, that's fine, and if you like something else another day, that's still fine. It's not set in stone, it's fluid."
Indeed, this will be her first red carpet after going public with the affair to showcase a product that has raised more than a murmur online and with her father's cloud overshadowing her. In short, she has a lot of thoughts to process. It's hard not to wonder what lies in her near future, as well as her distant one. A final departure from the big screen in favour of the small screen? A surprising commentary on her father's affairs after years of silence? An overwhelming international fame that will take her even further up the ladder than her parents? Lily-Rose Depp has plenty of time to find out. And we with her.