What is body dysmorphism, the disorder suffered by Megan Fox
«There was never a point in my life where I loved my body» said the actress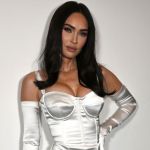 The relationship each of us has with our bodies is complex and very personal. The luckiest have learned to accept and love themselves as they are. However, many find it difficult to recognise themselves in the image they see in the mirror. This goes so far as to create a kind of toxic relationship with it that makes them feel fake and ugly and never up to scratch. This is the case with Megan Fox. Despite being considered one of the plus-size women in the world, the actress revealed in an interview for the cover of Sports Illustrated Swimsuit Issue that she still has a long way to go in terms of self-acceptance.
The actress, who has previously spoken out about being oversexualised by the media and people in the industry, as well as her mental health, said:
«I have body dysmorphia. I don't see myself the way other people see me. There was never a point in my life where I loved my body. There was never ever. When I was little, that was an obsession I had of "but I should look this way," and why I had an awareness of my body that young, I'm not sure. And it definitely wasn't environmental because I grew up in a very religious environment where bodies weren't even like, acknowledged.»
After specifying that she would like to be seen by the rest of the world as more than just a superficial beauty, she admitted that the path to coming to love herself «will never end».
What is body dysmorphism
The Mayo Clinic defines body dysmorphism (or BDD aka Body Dysmorphic Disorder) as "a mental illness in which you cannot stop thinking about one or more perceived flaws or imperfections in your appearance -- a flaw that seems minor or cannot be seen by others" Every day you look at yourself, constantly examining your body, and the image you perceive is the result of a view of your perceived flaws that is so amplified and incongruent with reality that it causes discomfort and, in the worst cases, becomes a toxic and sometimes debilitating obsession. The Institute for Cognitive and Behavioural Therapy points out that people with dysmorphophobia "can not turn off negative thoughts about their appearance, and even when they get frequent reassurance from family members or loved ones, they are not convinced they look normal." Although the worry is often about weight, it can affect any part of the body or several parts together. The cause of anxiety and obsession can be a nose that is perceived as too big, lips that are too thin, wide hips, misshapen arms, a protruding belly, skin that is not light enough or free of "blemishes"," and even hair. This disorder, which leads to an altered perception of one's own body and is based on a lack of self-acceptance, can result from many factors, genetic, life experiences or otherwise, overlapping in a heterogeneous mix that varies from case to case. In recent years, social media has also contributed to this false self-perception, promoting unrealistic aesthetic expectations by reinforcing feelings of inadequacy. Once the signs indicating possible body dimorphism have been identified, the people to turn to for a path of healing are the psychiatrist or the psychologist/psychotherapist, preferably with specific experience in this field, who will help the specialist to identify the problem and act accordingly.


Which other celebrities suffer from this besides Megan Fox?
Megan Fox is not the only celebrity who has admitted to suffering from BDD. Those who have spoken openly about their body image issues in the past include Kim and Khloe Kardashian, Sarah Michelle Gellar, Robert Pattinson, Maisie Williams and Jane Fonda. Uma Thurman shared that she suffered from dysmorphophobia after giving birth to her first child, while Miley Cyrus suffered from dysmorphophobia after watching Hannah Montana. Lily Reinhart explained in a 2018 interview with Glamour how her self-perception changed when she developed acne:
«I have cystic acne and sometimes when I have a breakout it triggers me back to that time when I was a teen and I feel so self-conscious — like the whole world is looking at my bad skin. I've definitely not gone out of the house because of a breakout, which is horrible».
Jameela Jamil, the lead actress of The Good Place, shared that she was weighed in front of her classmates at the age of 14 and has had a distorted perception of her own image ever since. Her way of dealing with body dysmorphism? By focusing on the here and now, for example by avoiding looking in the mirror often. Chloë Grace Moretz said that the trigger for her dysmorphia was an episode of the series The Gryphons, in which her physical appearance was recorded and the young actress was portrayed as a character with long legs and a very short upper body. As for Italian celebrities, Marco Mengoni was the latest to speak out on the issue. The singer spent his teenage years believing that he «could not have any attraction» because «I weighed 106 kilos and had long hair that covered my eyes», adding that it was «difficult for him to accept that others saw me as beautiful, and even in my path of analysis and therapy, we got stuck with it.» Last year, Disney made an entire short film called Reflect, which deals with the issue of body dysmorphia and in which Bianca, the first heroine in the Disney universe not to have a slim figure, is a ballerina struggling with her own reflection. Equally interesting on this topic is A Brief Story of Hating My Face, the short film by American director Shaina Feinberg that traces her long relationship with BDD.