Here are the first images of "Wicked"
Starring Ariana Grande and Cynthia Erivo as Glinda and Elphaba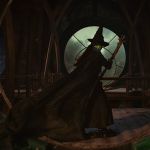 Wicked, the film adaptation of the iconic Broadway musical, has been in the works for a few months now, and although we'll have to wait until 2024 to see the movie on the big screen, the first details and images from the set are already surfacing. Just these days, the film's director, Jon M. Chu, released two shots in which Ariana Grande and Cynthia Erivo can be seen as Glinda and Elphaba. Although the atmosphere is sombre, we recognise the silhouettes of the actresses and their costumes. Erivo conjures up the classic image of the Wicked Witch of the West, with her green skin, large pointed hat, black dress, matching cape and flying broom in her hands. Grande, on the other hand, is immortal as she climbs a ladder, her long blonde hair tied back in a braid and wearing a fluffy pink evening gown, the favourite colour of the good witch of the South, the same colour the character wears in the 1939 film The Wizard of Oz directed by Victor Fleming. «Green and pink. It always starts with green and pink,» Chu writes, before adding:
«I've already been changed for good by these two women… Cynthia Erivo & Ariana Grande as the Witches of Oz. They will lift ur spirits, break ur heart and leave you speechless with their voices. So excited to introduce you into our world… SO much more to come...».
In addition to Ariana Grande and Cynthia Erivo, we will also see Jonathan Bailey from Bridgerton in the role of Fiyero, Elphaba's lover, Jeff Goldblum as the Wizard of Oz and Oscar winner Michelle Yeoh as Madame Morrible on screen.
The plot of Wicked is based on the musical of the same name and the 1995 novel Wicked: The Life and Times of the Wicked Witch of the West by Gregory Maguire. It answers the question Chu posed on Twitter some time ago: you do not know the whole story. What happens when you suddenly turn around and leave the yellow brick road? The film tells what happened before The Wizard of Oz, focusing on the friendship between Glinda and Elphaba, roommates at Shiz's Magic School, between magic, everyday life and first love, until rivalry erupts, or, to use the musical's teaser: "There is a young woman, born with emerald-green skin — smart, fiery, misunderstood and possessing an extraordinary talent. When she meets a bubbly blonde who is exceptionally popular, their initial rivalry turns into the unlikeliest of friendships, until the world decides to call one good and the other one wicked."
Wicked has been split into two parts: The first part is scheduled to hit cinemas in November 2024, while the second part is expected to hit cinemas in 2025.