Julia Fox will soon be publishing a memoir
"Down The Drain" will hit bookstore shelves in October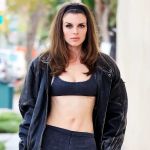 Julia Fox has written a memoir. A "masterpiece" to be precise Almost exactly a year ago, Julia Fox announced on the red carpet of the Vanity Fair Oscar party that she was working on a book about her life story, without revealing too much about the content. On that occasion, she had merely stated:
«I'm very superstitious so I don't like to speak of things before they're finished. It was a memoir at first, but now it's just, like, my first book, but it's so far a masterpiece, if I do say so myself».
Now, however, there are new details, which Julia herself posted on Instagram: "Ever since I was a kid I always wanted to be a writer, & after writing every single word in this book, it's safe to say I AM ONE!!!!!" The book is titled Down the Drain, will be published by Simon & Schuster and is due to hit the shelves in October next year.
At only 33, you'd think the celebrity would not have much to say, but instead, according to Simon & Schuster, she describes the project as "a true literary achievement, as one-of-a-kind as its author" and describes her prose as "eloquent and accessible" In the book, Fox "recounts her troubling life and her unwavering determination to not only survive, but to achieve her dreams." Among the many topics the Uncut Gems actress touches on are a childhood torn between Italy and New York City due to her parents' faltering relationship; a possessive, drug-dealing boyfriend; prison and mental hospital; the substance abuse that landed her in the Fallen Houses of New Orleans; her best friend's fatal overdose; the experience of working as a dominatrix at the age of 19; "an emotionally explosive, tabloid-dominating romance with a figure she dubs The Artist"; a short-lived marriage and the struggle to support her son as a single parent. In short, a mixture that has all the ingredients to be riveting and perhaps made into a film sooner or later.