Ice Spice is the promise of the Bronx drill
From a semi-respected artist to the cover of Dazed, in five months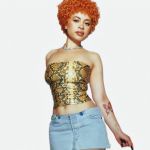 With her orange afros and the laid-back attitude typical of Generation Z, Ice Spice catapulted from a semi-unknown promise of Bronx drill to the top of the charts and the front rows of New York Fashion Week in a matter of months (from November 2022 to March 2023). She made the cover of Dazed & Confused, where she was dubbed the "People's Princess"," and the front row at the Knicks game at Madison Square Garden, where she wore a jersey that read "Best tits on Instagram" A representative choice of character. The parable of this 2000-year-old rapper actually has its roots some time earlier. Born Isis Naija Gaston, Ice Spice began singing in 2021 and became known to a wider audience in the summer of 2022 with "Munch (Feeling you)" It was "In Ha mood"," released on 6 January this year, and the remix of PinkPantheress' song "Boy's a Liar pt.2"," released on 5 February 2023, that finally and explosively established her mainstream success. These tracks, produced by RiotUSA and collected on the EP released on 23 January under the title "Like...?", allowed her to elegantly break away from the Bronx drill scene where she lives and where her music and style have matured, and from there to rise step by step without losing sight of the path and her artistic and stylistic influences. Like a holographic figure you can not wait to stick on your Mac, and it's no coincidence that the cover of his EP is his cartoon version: it fits perfectly into his aesthetic.


Ice Spice is the perfect contemporary (hip) pop star, knowing TikTok trends inside out, communicating with North West
, tweeting a lot and not even having a verified profile, moving through this post-pandemic world and a music scene where virality comes before anything else with amazing ease. In doing so, she dispels all (or almost all) reservations that she is an "industry plant"," a topic of very lively discussion on Reddit and elsewhere. Everything about her character seems purposefully tailored to the here and now, even her tenuous and downright youthful attachment to the borough she feels she represents and about which she said, "The Bronx is still authentic and true to itself, despite everything. I wish that everyone from the Bronx would be famous, that their dreams would come true, I really do." They certainly are. On TikTok, "Boy's a liar Pt.2" has been used in a variety of videos (from cooking to makeup, vlogs to fitness checks) a total of 1.4 million times. And the number continues to grow. She's on everyone's lips and understanding why people like her figure so much is a bit like understanding our times from a Gen Z perspective.
What really stands out about Ice Spice
, once we get beyond the eccentric look - a perfect balance of aesthetic references that are both online and offline - is how a multitude of impulses come together in her and her character, balancing her perfectly and making her the perfect star for 2023.
Ice Spice
bathes in pop references from a scene, Bronx drill, that is traditionally cynical and violent, so much so that when it came to the UK from the US, it was associated with a crime wave, making it accessible to everyone without losing its appeal. She prances through her emotional chaos, never taking herself seriously, shifting in the blink of an eye from despair at having been abandoned by the love of the moment to a youthful and explosive willingness to have fun with her friends, make herself pretty and go dancing, confident in her sensuality and femininity, as even the New York Times noted. Melancholy and frivolity mix seamlessly in an artist who is a true reflection of the way girls express themselves online.