Feminine Rage is not sexy, it's real
The cliché of the woman who smothers her feelings in a silent tear is not suitable for the screen, and certainly not for the real world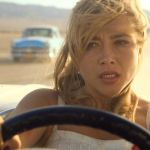 When watching a film, how often have you wished you had screamed instead of the female character suppressing all her rage in a timid tear? We got tired of the silent reactions of women in the cinema, simply because they are unrealistic. "I killed the angel of the hearth. It was self-defence," wrote Virginia Woolf, and it is no surprise that she was right. To move forward and free ourselves from the stereotypes in the world of acting - which, after all, feeds off the real world - we have to sacrifice these gentle rebellions written by a man in such a way that we roll our eyes. Self-defence, in this case, is all the backlash shown instead in response to quiet female rage: the kind that must seem sexy in tears, fragile even when on the verge of exploding, and above all, easily soothed by a man. Anya Taylor-Joy sparked this discussion in an interview for the film "The Menu" with BBC1, in which she says she is tired of reading scripts in which men behave cruelly towards women and they are forced to hold back. When she played the role of Margot, she asked director Mark Mylod if she could improvise a scene based on how she thought the character in question would react.


The phenomenon of female rage has often turned against itself due to historical/cultural prejudices that see the angry woman as a hysterical, atypical, irrational threat. So the focus is not on the harm done to her, but on the destructive force -- outside of logical explanations -- that could do too much harm. Sirens, in Greek mythology half-bird women with stinging claws, witches with their spells, Medusa and her snake-like curls. The sad and hurt woman, on the other hand, appears harmless and beautiful in her suffering: refined, rational, elegant. Angry women are more chaotic, more difficult to deal with, to listen to, to portray. The landmark novel par excellence that leads the portrayal of the angry energy of hurt women is the very famous
Gone Girl
, a perfect example of how the complexity of Amy Dunne's anger and behaviour is stifled by the gender roles imposed by society. Author Gillian Flynn said she hopes her book -- on which the film of the same name is based -- will spark a debate about female anger rather than continuing to ignore and downplay it. In an interview with Vanity Fair, Flynn herself says: "I think there's a deep societal fear of female anger, partly because it has not often been experienced," "Men - I am talking in big generalities - are often very afraid of what they can not handle." In the same interview, the author refers to the #MeToo movement that emerged in 2017, in which a critical number of women tried to speak out about the sexual violence they had experienced in the entertainment industry and beyond, only to be told that anger was not the right way to address the issue.
A more recent example is the dystopian film directed by
Olivia Wilde
, which was much talked about due to mishaps on set, but gave way to a masterful
Florence Pug
h. Indeed, in one of the final scenes of "Do not Worry Darling, protagonist Alice rebels against her husband Jack (Harry Styles), who decides to transport her to a virtual simulation where couples dissatisfied with their real lives can live fulfilling lives through this universe. Female viewers find it easy to empathise with a woman who is angry at having been passively subjected to a decision she was not asked to make; instead of seeing her cry, we see her screaming and pleading her case. And it is fitting that this is not done in a calm way, because the anger exists, and it is not calm.
Cruella, the cinematic reimagining of the character
Cruella De Mon, played by Emma Stone
, gives us a clever and even innovative take on female rage. After witnessing her mother killed by the Dalmatians of an elegant baroness and fashion icon, she decides to split into two versions of herself, Cruella and Estella. The one who is allowed to get angry and take revenge, and the one who lives a normal everyday life. The construction of the double is interesting because the portrayal of the angry woman feels like a sudden distortion of the character, which does not lead to a clearer characterisation, but rather to a break. This rupture then affects the woman's friendly or loving relationships. When she gets angry, it is easy for those around her to say phrases like "You are not the same anymore"," but is that really the case?
Even in the world of music, 2023 seems to hold a fearless welcome for female rage. In the global top 50, we find Flowers by Miley Cyrus and Kill Bill by SZA at the top
, and the lyrics of these songs are anything but tame. The confusion created by false stereotypes makes the object portrayed feel false as well. So, without neglecting the need for archetypes to draw from in the world of acting, we look forward to a year less focused on an ideal of calculated perfection in the portrayal of feelings and more focused on the freedom of women - who, sadly, still take a hundred steps forward and ninety steps back. It is good timing for the revolution of angry women in pop culture (and beyond), especially after recent historical events such as the arrest and murder of Masha Amini in Tehran, which led to nationwide protests. It was a unique movement as it was led by young women: According to a government report, the average age of the arrested protesters was only 15. Female stereotypes are never helpful, anger sometimes is.