What happened at the 2023 Oscars
Amidst acceptance speeches, glamour, live performances and...a donkey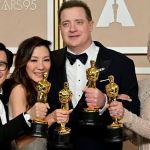 The 95th Academy Awards took place last night at the Dolby Theatre in Los Angeles. It began with a red carpet, or rather a champagne carpet, of Hollywood glamour dominated by Cate Blanchett in Louis Vuitton, Nicole Kidman in Armani Privé, Lady Gaga in Versace and Cara Delevingne in Elie Saab. Everything went as expected, starting with the heralded triumph of Everything Everywhere All at Once, which took home no less than seven of the eleven nominated Acadamy Awards, including such major prizes as Best Picture and Best Director. No slaps in the face or political proclamations, even the acceptance speeches were sober and emotional. The evening was certainly not memorable, but entertaining nonetheless, punctuated by live performances full of pathos like that of Rihanna, who, after announcing during the 2023 Super Bowl that she was pregnant with her second child, sang Lift me up in a Maison Margiela outfit.


Here are the highlights of the 2023 Oscars, including tears, thanks, glamour and special moments.
Jimmy Kimmel's monologue
«They say Hollywood is running out of new ideas. I mean, poor Steven Spielberg had to make a movie about Steven Spielberg». Said host Jimmy Kimmel, after landing on stage with a Top Gun Maverick-style parachute, in one of the funniest lines of his opening monologue. Inevitably, there was a reference to Will Smith's slap at Chris Rock last year, who was guilty of a joke about his wife Jada Pinkett's alopecia: «If Anyone Commits An Act Of Violence, You'll Be Awarded Best Actor». The slap gate was mentioned four more times during the evening. It's a shame we did not see a reaction from Smith who, despite winning Best Actor last year, was not present because he was banned by the Academy for ten years.
Michelle Yeoh made history
Jessica Chastain and Halle Berry, the last non-white winner in the same category (for Monster's Ball in 2002), handed the Best Actress Oscar to Michelle Yeoh, who became the first actress of Asian descent to win the statuette. Yeoh, who is of Chinese descent despite being born in Malaysia, gained international fame with the 007 films Tomorrow Never Dies and The Tiger and the Dragon, in which she played strong, charismatic women. Happy and proud, she dedicated the award to children and mothers: «For all the little boys and girls who look like me watching tonight, this is a beacon of hope and possibility. This is proof that dreams dream big and dreams do come true. And ladies, don't let anyone ever tell you you're past your prime. I have to dedicate this to my mom, all the moms in the world, because they are really the superheroes, and without them none of us will be here tonight. Thank you to the Academy, this is history in the making.»
Redeeming the Forgotten, Ke Huy Quan and Brendal Fraser's thank you
The 2023 Academy Awards was a moment of redemption for the evening's two leading actors, of rebirth after a long period of oblivion. Ke Huy Quan won his first Academy Award for Best Supporting Actor for his performance in Everything Everywhere All at Once. «Mom, I just won an Oscar!» and recounted, «My journey started on a boat. I spent a year in a refugee camp. Somehow, I ended up here on Hollywood's biggest stage. They say stories like this only happen in the movies. I cannot believe it's happening to me. This is the American dream!». Born in Vietnam, Quan had to flee with his family to the United States in 1975, where he starred as a young boy in cult films such as Indiana Jones and the Temple of Doom and The Goonies in the 1980s. Then the roles for actors of Asian descent like him became fewer and fewer and Quan went through a difficult time, which now seems to be over, thankfully. Brendan Fraser's win for Best Actor for his performance in The Whale is also a testament to an extraordinary comeback on stage. The actor, who had become very famous in the 1990s and early 2000s with commercial hits like The Mummy, had fallen into oblivion. In his speech, Fraser addressed this episode in his life and thanked family and colleagues: «I started in this business 30 years ago and things didn't come easily to me but there was a facility that I didn't appreciate at the time. It's been like a diving expedition at the bottom of the ocean and the air to the line on the surface is on a launch being watched over by some people in my life, like my sons Holden and Leland and Griffin». He added: «I'm grateful to Darren Aronofsky for throwing me a creative lifeline and hauling me aboard the ship of The Whale. Gentlemen, you laid your whale-sized hearts bear so that we could see into your souls like no one else could do.»
Lady Gaga's surprise performance
«I think that we all need each other—we need a lot of love to walk through life. And we all need a hero sometimes. There are heroes all around us in assuming place, but you might find that you can be your own hero even if you feel broken inside». So introduced Lady Gaga Hold My Hand from the soundtrack of Top Gun: Maverick. The star took to the stage in surprise, appearing sans make-up after debuting on the champagne carpet at Versace in a simple all-black outfit consisting of ripped jeans, a short-sleeved T-shirt and a pair of Converse. Powerful. Real. Touching.
John Travolta's tears
John Travolta introduced the In Memoriam segment, dedicated to stars and filmmakers who have passed away in 2022, such as Angela Lansbury and Gina Lollobrigida, Jean-Luc Godard. While Lenny Kravitz performed a poignant ballad with photos of the deceased artists behind him, Travolta was visibly moved, especially when pictures of Olivia Newton-John and Kirstie Alley, his set mates in Grease and the saga Look Who's Talking, appeared.
Happy birthday for An Irish Goodbye
Tom Berkeley and Ross White, the directors of An Irish Goodbye, celebrated winning the award for Best Short Film by dedicating a Happy Birthday to Down's Syndrome actor James Martin, who celebrated his birthday only on Sunday, with the audience singing.
Remembering the war in Ukraine
Politics had a small moment at the 2023 Oscars with Navalny's win for best documentary. In his acceptance speech, director Daniel Roher recalled the war in Ukraine and Alexei Nawalny, the Russian dissident who symbolises political opposition to Russian President Vladimir Putin: «There's one person who couldn't be with us here tonight. Alexei Navalny, the leader of the Russian opposition, remains in solitary confinement for what he calls — I want to make sure we get his words exactly right — Vladimir Putin's unjust war of aggression in Ukraine. I would like to dedicate this award to Navalny, to all political prisoners around the world. Alexey, the world has not forgotten your vital message to us all. We cannot, we must not be afraid to oppose dictators and authoritarianism wherever rears its head».
Hugh Grant's embarrassing moments
Hugh Grant was seen in two somewhat embarrassing moments. The first was on the champagne carpet. In an interview with Ashley Graham, the actor made no secret of his annoyance at being at a social event, answering monosyllabically. «What was it like being in Glass Onion? How much fun is it to film a yellow comedy like that?». Asked Model Ashley and received the answer, «Well, I'm barely in it, I was in it for about three seconds». To the second question, «What are you wearing?», Grant, increasingly annoyed, replied «My dress». After leaving Graham stunned, Hugh took the stage to present an Oscar. At his side was Andie McDowell, with whom he starred in the cult film Four Weddings and a Funeral, and he began with a few jokes: «We're actually here to do two things. The first is to raise awareness about the vital importance of using a good moisturizer. Andie's been wearing one every day for the last 29 years. I've never used one in my life. Still stunning and I am basically a scrotum».
Jenny Donkey
Jimmy Kimmel appeared on stage with Jenny, the donkey from The Banshees of Inisherin (although it was later revealed that it was not really her), and explained that she was a certified animal who provides emotional support to people with mental health issues. Meanwhile, Colin Farrell, who plays the owner of the animal in Martin McDonagh's film, gave the donkey kisses from the audience. Cute moment.