The best outfits and beauty looks from the final night of Sanremo 2023
From Chiara Ferragni in Schiaparelli to Coma_Cose's California as a punk bride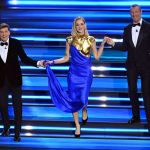 It's been a long week, but finally Sanremo 2023 is over. Last night was a string of songs, dreamy outfits and moments destined to go viral. There are Chiara Ferragni, Elodie and Levante looking beautiful in Schiaparelli, Versace and Etro; the kiss between Rosa Chemical and Fedez; Gino Paoli movingly singing and narrating about the betrayal of Little Tony's fiancée; Coma_Cose with their very intense performance; Ukrainian President Zelensky's message; Amadeus and Gianni Morandi trying to do direct Instagram feeds to gather followers; Madame thanking and moving. In short, the mix we all expect from the Italian Song Festival. At the end, when it's late at night, a moved Marco Mengoni celebrates his widely anticipated victory amid a shower of confetti.
Here are the best outfits and beauty looks from the Sanremo 2023 finale.
Chiara Ferragni
Brand: Schiaparelli
Look: Chiara Ferragni does not disappoint in her three Schiaparelli looks. She opens the festival with a bias-cut dress in electric blue silk satin embellished with Maison's signature trompe l'oeil bust in gold metal. We continue with another Daniel Roseberry creation inspired by artist Yves Klein, part of the SS23 collection: a blue satin dress with the silhouette of a female body hand-painted in gold. She closes Sanremo 2023 with a wool crepe dress adorned with a necklace with a trompe l'oeil pendant representing a womb, "symbolizing the activism for reproductive rights that we bring to Sanremo." As for her hairstyle, she switches from a Raffaella Carrà-style parted bob to a wet chignon. Manuele Mameli's make-up is daring, with siren eyes and glossy lips that turn red as the hours pass thanks to velvet lipstick. No need to look back, Chiara is beautiful.
Elodie
Brand: Versace
Look: in a word, stunning. Elodie finishes her series of gothic looks by Lorenzo Posocco with an asymmetrical Versace dress that plays with lace, transparencies, and dizzying slits. The outfit is completed with thigh-high satin cuissardes and jewelry by Tiffany & Co (the Elsa Peretti Bone bracelet, Tiffany City HardWear earrings, Tiffany T ring, and Schlumberger rings). Hair is tied up in a wet chignon and MrDaniel's make-up, with products from Sephora, focuses on vampy lips.
Mara Sattei
Brand: Armani Privé
Look: Mara Sattei wears a long black dress by Armani Privé, studded with crystals, and pairs it with a wet-effect chignon. The make-up, created by Armani Beauty, creates a radiant complexion and shimmering eyelids. Simone Furlan's styling transforms Mara into a true minimalist chic diva.
Tananai
Brand: Gucci
Look: the date we all deserve. Tananai descends the stairs of the Ariston in a Gucci tuxedo. Complete with a black velvet bow tie, a satin flower on the lapel of his jacket, and two roses in his hand, one blue and one yellow, a tribute to the flag of Ukraine and the love story that inspired him to tango. Rebellious curls and a tortured mood complemented the romantic crush mood and styling of Nick Cerioni.
Giorgia
Brand: Dior
Look: for the finale, Giorgia and stylist Valentina Davoli opted for a crystal-studded Dior look consisting of a flared mini dress with a swinging London vibe, paired with gladiator boots. Hair and make-up are natural, with a touch of glitter on the eyelids and wavy hair. A perpetual little girl. Perennial.
Lazza
Brand: Missoni
Look: the latest in Missoni's line of tailored looks. This time Filippo Grazioli, with stylist Simone Furlan, went with a tailored suit paired with black leather accessories reminiscent of Kraftwerk and The Weeknd. As on other nights, behind Lazza's jacket is one word: "JEFE", a single from the 2022 album Sirio. This remains his least successful outfit. No comment on the gloves.
Marco Mengoni
Brand: Versace
Look: a softer version of the Versace outfits seen throughout the festival, this time a black satin suit with trousers and sleeveless waistcoat, with gold details accentuating the tan and sculpted arms.
Rosa Chemical
Brand: Moschino
Look: black leather wrap midi skirt, white blouse with strategic cut-outs (a little BDSM, a little Regina George in Mean Girls) at nipple level, embellished with glitter embroidery, tie, fingerless gloves, sunglasses, and patent leather combat boots. The look, signed by Moschino and curated by stylist Simone Folli, is too cool for Sanremo.
Madame
Brand: Off-White™
Look: "A contemporary Lolita" is how Simone Furlan describes the concept of the Off-White™ look Madame wore to the finale. A light gown with transparencies and ruffles, worn open over silver glitter underwear and combined with lace gloves. Her curls fell freely into her face, which glowed thanks to Greta Agazzi's make up.
Ariete
Brand: Marni
Look: Ariete arrives at the festival finale with her famous sailor hat (by now a kind of talisman that has always accompanied her) on her head and a black tie over a black oversized suit by Marni, decorated with fragments of records that turn into lips, hearts and various glitters. «I really wanted to wear this dress because it's proof that anyone can wear anything, regardless of gender,» she says at the end of her performance, giving real meaning to Lorenzo Posocco's styling.
Paola and Chiara
Brand: Dolce & Gabbana
Look: Paola and Chiara continue to shine like true disco divas in long metallic mesh dresses, thanks to Dolce & Gabbana and Nick Cerioni. Glitter that could be described as stroboscopic would be too short. Letizia Maestri created a holographic effect on the face and body of the Iezzi sisters using products from MAC Cosmetics. Bumble & Bumble's hairstyle is inspiring: the ponytail is high for Paola, and low for Chiara.
Levante
Brand: Etro
Look: throughout the festival, her looks, signed by Etro and selected with stylist Lorenzo Oddo, tell the story of the rediscovery of her body, also sung about in Vivo. To bring this concept full circle, Levante wears a sixties-inspired black mini dress embellished with lace and bows, paired with sheer black tights, platform sandals, and FOPE jewelry. The beauty looks like a tribute to Mina. The ginger blonde hair is wet and combed back. The make-up, created by Valentina Raimondi with Clarins products, focuses on a graphic look that combines eyeliner and extra dark lashes, while the lips are glossy. If there's a prize for the look, the competition is between Levante and Elodie.
Coma_Cose
Brand: Vivienne Westwood
Look: tonight, with plenty of rest for Fausto and his tartan suit, all the eyes are on California as a punk bride. Stunning in the sophisticated satin wedding dress and even more of a tribute to Soo Catwoman, an icon of London's punk subculture in the latter half of the 1970s. @silviamr.mua paints the singer's lips magenta and eyelids white; while Filippo Calì disciplines the blonde locks backward and dyes them black on the sides. Thank you to her work, the styling of Giorgia Cantarini, and the dresses of Vivienne Westwood, Sanremo looks for a moment like a glamorous version of London fifty years ago.
Leo Gassmann
Brand: Alessandro Vigilante
Look: for his latest appearance, Leo Gassmann opts for midnight blue with a power suit by Alessandro Vigilante with an 80s silhouette: wide trouser legs and a jacket with broad, slightly squared shoulders bolted at the waist. Leo may not yet have found the style that truly reflects him.
gIANMARIA
Brand: MSGM
Look: after a series of open outfits from MSGM, gIANMARIA, styled by Tiny Idols, appears for the finale in all black with wide-leg trousers, a sleeveless top, and a sheer shirt. Her hair is half up and tied into a ponytail. She won the prize for the most impeccable style of Sanremo 2023.
Anna Oxa
Look: Anna Oxa continues to amaze, opting for a look that lies somewhere between witchcore and asceticism: a black tunic draped in the front that reaches down to her bare feet; make up no make up with very thin eyeliner; hair with frisée, super slicked back. She seems to come from a parallel universe.