The best outfits and beauty looks from the fourth night of Sanremo 2023
From Paola and Chiara's Y2K outfit to Elodie's black lipstick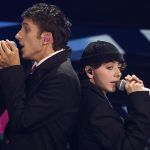 The fourth evening of Sanremo 2023, dedicated to duets and covers, proved to be the most interesting and entertaining evening of the week. Amadeus and Gianni Morandi are joined by Chiara Francini co-host in theatrical Moschino evening dresses, but the real star on stage today is the music. The performances string together quickly, between very successful collaborations and others that are decidedly flawed. Highlights that deserved a standing ovation include Elodie and Big Mama with American Woman; Giorgia and Elisa with Luce (tramonti a nord-est) and Di sole e d'azzurro; gIANMARIA and Manuel Agnelli with Quello che non c'è from Afterhours and Coma_Cose and Baustelle with Sarà perché ti amo from Ricchi e Poveri. The winner, however, is Marco Mengoni, who sang Let it be by the Beatles together with the Kingdom Choir; followed by Ultimo with Eros Ramazzotti. As luck would have it, Mengoni and Ultimo also lead the preliminary ranking of the festival.
Here are the best outfits and beauty looks from the fourth night of Sanremo 2023.
Chiara Francini
Brand: Moschino
Look: Chiara Francini could not have made a better choice than to rely on Moschino for her outfits. A series of cartoon diva outfits à la Jessica Rabbit that accentuates her figure and self-deprecating look. And the heart-shaped handbag she carries around is a candidate for a meme.
Ariete
Brand: Marni
Look: the bell has rung! Ariete and Sangiovanni leave the university classroom for a snack break, singing Franco Battiato's Centro di gravità permanente in twin outfits by Marni with styling by Lorenzo Posocco: black blazer and Bermuda shorts; white shirt; double tie, one black, one fuchsia; checked socks; platform loafers. Cute, but no more Bermuda shorts, please.
Elodie
Brand: Gucci
Look: you see her come on stage and you think that there's no more competition. Elodie blows everyone away. She once again embodies the femme fatale for an American singer, this time with a more international, sassy diva look. She wears camel-colored faux fur, and a chiffon dress tied at one side so that the lace underwear shows through. Maxi lace-up cuissardes heeled boots, nude fishnet stockings, and sunglasses complete the outfit. All by Gucci. Andrea Soriga's hairstyle for Wella always has a wet effect, while the makeup created by @mrdanielmakeup with products from Sephora is strong and focuses on extra dark lips with vinyl texture. Big Mama, her partner in crime on stage, also wears a latex creation from the VINNOIR brand and extremely graphic makeup.
Lazza
Brand: Missoni
Look: Lazza continues the series of tailored looks designed by Missoni creative director Filippo Grazioli with stylist Simone Furlan. Tonight it's a grey denim set consisting of a pair of laser-cut jeans and a jacket with the word "PUTO" embroidered on the back, the title of a 2022 collaboration with French Montana. On the feet, a pair of Air Jordans in the same fabric. In short, on these evenings, the details change, but not the substance. With Lazza on stage to sing Nesli's La fine are Laura Marzadori, the first violinist of Milan's Teatro alla Scala orchestra wearing Rick Owens, and Emma, who has just got her tan back, in an oversized black double-breasted Saint Laurent suit worn like a minidress and black Le Silla leather pants boots.
Tananai
Brand: Gucci
Look: the collaboration between Tananai, Gucci, and Nick Cerioni continues with suits in 1970s silhouette, grey and lit by the rain, paired with a powder pink shirt. Grey is also for the deconstructed suit by Biagio Antonacci, who wears it with a shirt with a mandarin collar. The challenge is on. Gucci against Armani. Tananai against Biagio Antonacci. And in front of the screen, two generations have to choose which of the two is their eternal crush.
Leo Gassmann
Brand: Neil Barrett
Look: after the white tank top scandal (stylist Stefania Sciortino officially distanced herself from the outfit in an Instagram story, stressing that she would never send an artist to the Ariston in a tank top), Leo Gassman opts for classic trousers and a crew-neck waistcoat in wool. All in black and by Neil Barrett. Crisis averted?
Giorgia
Brand: Dior
Look: Giorgia and Elisa find themselves on the same stage where they competed at the Sanremo Festival in 2001. Twenty-two years later they are together, the queens of Italian singing. The first in a tailor-made suit by Dior (her stylist is Valentina Davoli) and no make-up. The second opts for a long black dress by Stella McCartney with a crystal collar and a hyperfeminine beauty focused on red lipstick.
Marco Mengoni
Brand: Versace
Look: Marco Mengoni, in Versace, is radiant in his white jacket, metallic silver trousers, and glitter top as he belts out a series of high notes and soulful tunes with the Kingdom Choir to the tune of Let It Be by The Beatles. I sense a hint of Diddy from the early 2000s, do you?
gIANMARIA
Brand: MSGM
Look: the intensity with which gIANMARIA and Manuel Agnelli sing Quello che non c'è, one of Afterhours' manifesto songs, is unmatched. If the performance is crazy, it's also reflected in their look. Pupils and masters. Black and white. The talent and vampiric chic of GIANMARIA in MSMG and Manuel in Emporio Armani are shared. Chapeux!
Madame
Brand: Off-White™
Look: Together with Simone Furlan, Madame chooses an outfit by Off-White™ with a strong connection to De André's Via del Campo, the cover she presents with Izi. It is a romantic white dress inspired by an imaginary prostitute in an alley in Genoa. Her curls fall gently over her shoulders and Greta Agazzi's make-up makes her shine thanks to the skillful use of blush and highlighter.
Coma_cose
Brand: Vivienne Westwood
Look: Tonight Coma_Cose are on stage in two Vivienne Westwood tartan suits (Californian miniskirt version) to sing Sarà perché ti amo by Ricchi e Poveri together with Baustelle. Both are in all-black Saint Laurent. Rachele wearing an archival garment from the Maison. Super cool, all together.
Rosa Chemical
Brand: Moschino
Look: Rosa Chemical and Rose Villain bring some gothic to Sanremo 2023, between all-black outfits by Moschino and CHB Christian Boaro, spider eyelashes, wet hair, and an anal plug shown at the end of the performance as an ode to sexual freedom.
Levante
Brand: Etro
Look: Levante sings Vasco. Still in Etro, but today in a sheer mini dress with floral appliqués, paired with sheer tights. Graziella Cassannelli's hairstyle is also reminiscent of the 90s thanks to the side barrette, and a bright red lipstick by Clarins makes the lips glow. The result is cute but less exciting than previous outfits.
Anna Oxa
Look: Queen Anna takes the stage with a variation on last night's post-apocalyptic layered look. But by the second round, we think the vibe is really cool at Maison Margiela. Misunderstood genius?
Mara Sattei
Brand: Armani Privé
Look: Mara Sattei in a duet with Noemi at Gigi D'Agostino's L'amour toujours. The former in Armani Privé, wearing high-waisted trousers with a crop top covered in a cascade of pearls; the latter in a long black dress that plays with sequins and transparencies. Finally, they show a temporary tattoo, a tribute to Gigi D'Agostino, reproducing the Japanese pictogram "dance" Like two friends tattooing on their skin the memory of a holiday on the road.
Paola and Chiara
Brand: Dolce & Gabbana
Look: Is that Madonna and Kylie Minogue? No, just Paola and Chiara in an outfit by Dolce&Gabbana, complete with a selfie tank top that screams Y2K. In this case, Nicolò Cerioni's styling is genius and viral.