The best outfits and beauty looks from the third night of Sanremo 2023
From Elodie dark lady in The Attic to Coma_Cose in Vivienne Westwood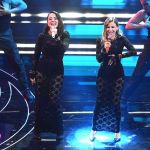 What will we remember from the third night of Sanremo 2023? Gianni Morandi in duet with Sangiovanni on the notes of Fatti mandare dalla mamma a prendere il latte; Gianluca Grignani politely interrupting his performance because he can not hear himself in his headphones; Måneskin returning to the Ariston for a mini-live show; and volleyball champion Paola Egonu, co-host at Giorgio Armani, with a monologue about inclusion. She shares her personal experience with simplicity: «As a child, I was obsessed with the question of why. Then as an adult I asked myself, "Why do I feel different, why do I live like it's a mistake?" I realised that my diversity is my uniqueness. I am me. We are all the same, beyond the externals». At the end of the evening, the preliminary ranking list is announced. In first place is Marco Mengoni, in second place Ultimo, in third place Mr Rain, followed by Lazza and Tananai.
Here are the best outfits and beauty looks of the third night of Sanremo 2023.
Paola Egonu
Brand: Giorgio Armani
Look: walking down the Sanremo stairs for the first time, Paola Egonu looks like a goddess in a long white one-shoulder dress by Giorgio Armani; then she walks past a pantsuit completely covered in black sequins with liquid effects, with a belt at the waist and finally an elegant black velvet dress with an abysmal neckline. The jewelry is by Pomellato. Armani Beauty took care of the make-up and conjured up a silky, even complexion and beautified the eyes with Eye Tint Eyeshadow and minimal eye gems.
Måneskin
Brand: Gucci
Look: While Måneskin's performance seems to excite even the usually deadpan Ariston audience, the matching Gucci signature looks are a little disappointing. Damiano, Ethan, and Thomas opt for flared trousers and black micro jackets with python details. The same goes for Victoria, but she wears a bodysuit and sheer stockings. The snakeskin effect returns in the triangle bra and cuissardes boots. An honorable mention (though not for the outfit) goes to the legendary Tom Morello of Rage Against the Machine.
Paola e Chiara
Brand: Dolce & Gabbana
Look: After making a splash in the sequined disco-dive version, the Iezzi sisters return to the stage in two sensual black crochet-knit long dresses embellished with tonnes of crystals that give a glimpse of underwear and fully reflect the Dolce & Gabbana DNA. Styling, as always, was by Nick Cerioni. Swarovski necklaces and bracelets and beauty products by Letizia Maestri with MAC Cosmetics added a little sparkle. MUA dressed Paola and Chiara in light and created an ultra-glossy base by mixing Hyper Real Serumizer, Hyper Real SkinCanvas Balm, Studio Fix Fluid SPF15 Foundation, and Glow Play Blush in "That's Peachy". No vampy skin this time, but glitter on the eyelids with Dazzleshadow Liquid Eyeshadow. We are expecting more glitter in the evenings to come.
Mara Sattei
Brand: Armani Privé
Look: for a moment it seems to be Francesca Fagnani descending the theatre stairs, but it's actually Mara Sattei. Wednesday's co-host and the singer both opted for Giorgio Armani, which is perhaps why Mara chose an outfit very similar to Fagnani's: black dinner jacket trousers and a velvet jacket with a blue sequin top covered in glitter peeking out. The styling is by Simone Furlan, and the jewelry is by Chopard. The hairstyle is also more severe, a chignon with two strands left open at the front to frame Mara's bare, dewy face. Sophisticated, but perhaps too severe.
Rosa Chemical
Brand: Moschino
Look: Rosa Chemical is set to be the fun fashion element of Sanremo 2023. At the suggestion of her stylist Simone Folli, the singer has once again opted for a Moschino outfit from the FW23 collection, consisting of a plum-colored suit, made particularly striking by a jacket sleeve held together at the waist by a black latex band, like the opera gloves. The bold make-up focuses on the eyelids, where the shades of the dress are picked up with a golden undertone.
Levante
Brand: Etro
Look: Legs, exclusively with sheer tights, still take center stage. The hems of the high-waisted shorts in burgundy fabric with decorative appliqués are getting shorter. Lorenzo Oddo's styling is given a romantic touch by a sheer shirt in black chiffon with balloon sleeves that reveal a glimpse of the singer's tattoos. On her feet, vertiginous platforms. All signed by Etro by Marco De Vincenzo. The ginger blonde hair is straight and loose, and the make-up Valentina Raimondi created with Clarins products combines a thick and ultra-graphic eyeliner with a brick-colored eye shadow, the same shades for the matte lipstick on her lips.
Tananai
Brand: Gucci
Look: Tananai and Nick Cerioni's style choice tonight, a checked suit by Gucci, does not have the same frayed charm as Wednesday. The retro vibes, the beautiful curls, and the mesmerizing smile make hearts skip a beat. We can not wait to see how she dresses in the evenings to come.
Lazza
Brand: Missoni
Look: Another tailored look designed by Missoni creative director Filippo Grazioli in collaboration with stylist Simone Furlan, who said the concept "comes from the idea of a piece of wood on the fire, like in a Bill Viola movie." The result is a jacket and trouser suit in crimson burgundy dévoré velvet. The back of the jacket is again embroidered with a reference to Lazza's career, namely the word "LARIO", a single from 2017. On his feet, the rapper wears a pair of Air Jordans in exactly the same color as the suit.
Madame
Brand: Off-White™
Look: from total white to electric blue. Madame shows another off-white look, consisting of leather shorts, an asymmetrical silk georgette top, and futuristic high boots. Stylist Simone Furlan explained that the singer's stylistic leitmotif in Sanremo 2023 "explicitly plays with embroidered silhouettes or shapes of the male and female body" and is inspired by the obsessive repetition of words in the works of Bruce Neuman. A decidedly conceptual choice that matches Greta Agazzi's make-up, which sculpts the face with blush and highlighter.
Elodie
Brand: The Attico
Look: Following her debut in Valentino Haute Couture, Elodie returns to Ariston in a strapless midi dress by The Attico, made from draped tulle that envelops the singer's silhouette and allows it to shine through. The femme fatale look is completed with a pair of shiny black fetish-look pumps with ankle straps and sculptural heels, as well as minimalist jewelry by Tiffany & Co. The deus ex machina of the look is Lorenzo Posocco. The beauty? Makeup by @mrdanielmakeup with products by Sephora focuses on smokey eyes and glowing skin, while Andrea Soriga for Wella creates an asymmetrical wet-effect hairstyle with a side quiff that falls on Elodie's face. She would probably look stunning in any other outfit, but every time she stuns us and leaves us breathless.
Giorgia
Brand: Dior
Look: For the second appearance, Giorgia and her stylist Valentina Davoli chose another jumpsuit by Dior, this time long (even if it looks like a dress at first glance), midnight blue, and a fabric choker that replaces the jewelry and adorns the neck. The hair is pinned back in a banana shape, and there is a light shade of eye shadow on the eyelids. A true lady of minimalist song.
Marco Mengoni
Brand: Versace
Look: Continuing the references to Robert Mapplethorpe and Gianni Versace's 90s collections with their BDSM influences, Marco Mengoni opts for one such vintage total leather set (SS93) from Versace: fringed trousers and a sleeveless waistcoat with gold detailing. A beard and tan add the finishing touches. The next step is to arrive on stage with a pair of chaps. In case you get a standing ovation.
Leo Gassmann
Brand: Givenchy
Look: Leo Gassmann plays the rebellious sex symbol in Givenchy, singing in white trousers and a tank top due to a jacket issue. At the neck, a silver chain, an industrial touch that should give the singer a rougher twist, but something about the outfit does not convince and does not seem to fit Leo's personality or his song.
Coma_Cose
Brand: Vivienne Westwood
Look: on the Ariston stage they are singing about their relationship crisis in L'addio, but in reality, they have just officially got engaged. Tonight, the two look like a dark married couple. California wears a long dress with a built-in bustier, embellished with pearls. The make-up is bold, with blue eyeshadow all over the eyelid and 90s lipstick. Fausto, on the other hand, wears a deconstructed black suit with Dr. Martens boots. The styling is by Giorgia Cantarini.
Anna Oxa
Look: from Banshee to...loungewear? The post-apocalyptic vibe remains with this layered outfit of cargo trousers, a maxi cardigan, and a white tee. The minimal beauty is the same as on the debut, as is the seemingly disheveled hair. No, we grasp the concept. Cryptic.
Ariete
Brand: Marni
Look: Styled by Lorenzo Posocco, Ariete once again opts for a look all about Marni: oversized blazer with a light blue shirt peeking out, and Bermuda shorts with frayed hems, both camel-colored. The outfit is completed by black knee-high boots with a square toe, a cap pulled over her head, and a gold necklace with a large heart engraved with the phrase "Forget me not" The end result, to use an old-fashioned quotation, is Rita Pavone as Gian Burrasca, i.e. a girl dressed as a child.
gIANMARIA
Brand: MSGM
Look: another candid outfit from MSGM. gIANMARIA and her stylist Tiny Idols choose a long-sleeved T-shirt with light glitter and loose trousers with boxers. Ethereal, but we might have preferred it in the first look with this beautiful white shirt.