You can now match with Bad Bunny on Raya
A TikTok demonstrates the artist's entry into the Soho House of dating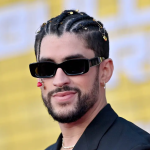 When Raya first hit Italy in 2018, the cool kids were almost as crazy as the news media: Esquire called it "the dating app of the super-rich", Vice "the world's most exclusive Tinder", the Post "the app that does not want us". And while the image that emerges from these headlines is pejorative to say the least, Raya's success continues unabated, fuelled and fueled by a certain aura of mystery that shows no signs of abating more than eight years after its founding. Founded in 2015, the dating app dedicated to the universe of creatives was and still is shrouded in mystery, just like its founders. A sort of Soho House of dating via paid membership, where the choices are fairly rigid and at the mercy of an unclear algorithm. It's not necessarily that famous faces, followers or beauty are worth a place on Raya, but for Bad Bunny, the selection at the entrance may not apply.
Despite the fact that members are strongly advised not to reveal names and information precisely out of respect for privacy and to avoid awkward celebrity stalking situations, TikTok has been hit with images of the Puerto Rican musician's 'matchable' profile on the app. In a video posted on the Chinese platform, a user under the name Annbells explained that singer Benito Antonio Martínez Ocasio, known artistically as Bad Bunny, has an active profile on Raya: "Benito, 28 years old from San Juan, Puerto Rico, I work in the music industry," the bio reads. The artist thus joins a long list of public figures who have chosen the app to cultivate their emotional sphere, such as - according to rumours in the New York Times and Daily Mail - Cara Delevingne, Lewis Hamilton, John Mayer and Demi Lovato.
@carlosecalderon so benito empieza el 2023 single y con un blunt hes also on raya and my friend already referred me to the app ‍
As the Post notes, there are other apps similar to Raya that select users based on certain parameters such as beauty, wealth or intelligence: Beautiful People, Sparkology, Mensa Match, The League and Luxy, which describes itself as "Tinder without the poor." However, Raya is not based on a single parameter: it is not enough to have a respectable bank account, a creative job or a well-groomed appearance. And this is perhaps why, according to the New York Times, it is «the first app to successfully create an atmosphere of intimacy and trust without even revealing anything about itself».