Mara Sattei and Ariete make their Sanremo debut
Two of the most interesting exponents of the contemporary music scene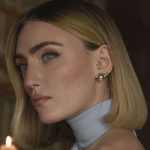 The Ariston stage has always been the best place to launch the careers of Italian singers. Although in the last decade the importance of the festival for the emergence of musical phenomena has clearly diminished, getting overtaken by the format of talent shows such as Amici or X-Factor, the performances of the last editions show that the festival can still be a point of connection between established and new artists, between an adult audience and Generation Z, a showcase for the presentation, publicity and dissemination of projects. Thus, this 73rd edition will also see the return of important figures who have helped write the history of the event, such as Paola and Chiara or Anna Oxa, as well as some debutants. Among the names that will make their first steps on Italy's most famous stage are Mara Sattei and Ariete, two protagonists of the contemporary Italian music scene who are different in sound and style but equally as interesting. Fans are eager to see how they will master this new adventure, but we already know for sure that they will bring a breath of fresh air and coolness to Sanremo 2023.
Mara Sattei
She took her first steps in the music industry in 2009, and followed with with her participation in Maria De Filippi's talent Amici in 2013, then Sara Mattei suddenly stepped away from the scenes. She returned, after a few years of inactivity in 2019, under the pseudonym Mara Sattei, with a series of songs such as Nuova registrazione 326, produced by her brother Tha Supreme. The real turning point comes, however, during the past two years, when the singer establishes herself as one of the most interesting and versatile voices on the contemporary scene and becomes a protagonist of radio airplay thanks to several collaborations that turn into hit singles. Some titles? Spigoli by Carl Brave, Tuttecose by Gazzelle, the duet with Giorgia in Parentesi, which is part of Universo, her debut album, and La dolce vita, the summer hit together with Fedez and Tananai. Now Mara is ready for a new challenge, that will help her get known by a more mainstream audience, which we do not doubt will fall in love with her voice and Duemilaminuti, the unreleased song with which she will participate in Sanremo 2023. Those who have already listened to it speak of one of the best entries in the competition, which starts slow and then grows, increasing rhythm and flow; while the lyrics, written by Damiano David of Måneskin tell of a woman's despair, awareness and rebirth after the end of a toxic relationship. If Duemilaminuti promises a lot of pathos both for its difficult and extremely topical subject matter and for the sound that the orchestra's performance will make even more evocative, the song chosen by Sattei for cover night has a decidedly more easy-going and carefree mood. On Friday, February 10th, Mara will take the stage at the Ariston Theater and duet with Noemi on the notes of Gigi D'Agostino's L'amour toujours, although we still do not know what declination she will give to the Turin DJ's most famous song, whether she will adopt it to her own style or remain faithful to the original. Another mystery concerns the outfits the singer will sport during the festival. Those who follow her on Instagram know that her style is at least as eclectic as her music, which oscillates between urban and a more melodic soul, linked to classic Italian-style singing. We certainly expect great things from both the music and fashion side for which she will be assisted by stylist Simone Furlan, while for beauty she will probably work as usuale with Claudia Graziani for make up and Alfredo Cesarano for hairstyling.
Ariete
Ariete is going to the Ariston with three basic expectations: to «sing well, have fun and stay true to myself.» But she admits that she is hoping to «get at least in the top five.» And to think that until recently, an artist like her, an exponent of indie pop and in particular of the rarefied atmospheres typical of the Bedroom pop strand, widely followed on social networks, streaming platforms and beloved by radio stations, would never have participated in Sanremo, branding the Festival as an antiquated event that does not reflect the taste of the real country. She seems to have been convinced by Amadeus and his ability to bring both historical names from the past and fresher, more contemporary proposals to the competition, as has been the case in recent years with, for example, Rkomi and Madame. Aries is eager to put herself on the line and, although she has already started technical training a few months ago to get as ready as possible for the performance, she tries to maintain the curiosity and enthusiasm of someone who faces a new challenge for the first time. The best advice her colleagues have given her, besides having fun, is to bring herself to the stage, without bending to the changing desires of the Sanremo audience. This is also why the 20-year-old from Anzio will present herself with a song that fully reflects the sound and poetics we have come to know and love with singles such as Diecimilavoci, L'ultima notte, Cicatrici, Tutto (con te) and the others contained in Specchio, her first album released in February 2022. The song he will present in the week of the Festival is titled Mare di guai and is a melancholic and reflective song, written in collaboration with Calcutta and produced by Dardust, about a broken relationship. The inspiration came in the summer of 2022, when Aries and his ex-girlfriend had just broken up. The mood is introspective, melancholic, but it also tells of the need to react and find the strength to re-emerge from a "no" moment and move forward with one's head held high. Always refined, but a bit more upbeat, is the cover chosen for Friday night: Centro di gravità permanente by Franco Battiato, which Aries will sing with Sangiovanni. Top secret, however, are the outfits the artist will sport at Sanremo 2023. As with the music, Ariete promises that she will remain true to herself, focusing, with stylist Lorenzo Posocco, on a minimal, genderless style. It's hard to shake more details from her other than the fact that she will show her more elegant side and that shirts will be the focal point of her looks.