"Barbie Dreamhouse", home architecture according to the world's most famous doll
The cadeu that the little girl in all of us would like to find under the tree
If you were lucky enough to have a Barbie house, then you will go crazy for the new book published by PIN-UP Magazine and Mattel Creations. Entitled Barbie Dreamhouse: An Architectural Survey, the 152-page book comprehensively traces the evolution of the world's best-loved doll's dwellings, from her first appearance in 1962 to her latest iteration in 2021, through architectural plans, original photographs by Evelyn Pustka and a collection of essays and interviews with academics and designers such as Kelly Wearstler, Rafael de Cardenas, DJ/producer Honey Dijon and curator Alexandra Cunningham. As the authors, Felix Burrichter and Whitney Mallett, explain:
"Pin-Up's Barbie Dreamhouse book explores the machinations of our collective domestic fantasies through the mix of architectural history and popular culture,' say Burrichter and Mallett. 'Since the first Dreamhouse in 1962, Barbie's homes have transformed and evolved, richly quoting 20th- and early 21st-century architecture and design history. Our book documents the impact Barbie has had on the global architectural imagination".
One only has to look at the many images to take a journey through the decades and the architectural and design fashions of the day. The first Barbie Dreamhouse, released in 1962, was cardboard, foldable, neither pink nor had a kitchen (which in the book is seen as a kind of feminist declaration and ante litteram independence at a time when women were not even legally allowed to get a mortgage without a male co-signer), but it was filled with books and modernist furniture reminiscent of the designs of Florence Knoll, Herman Miller and Charles and Ray Eames.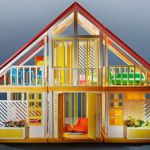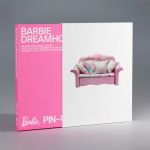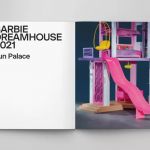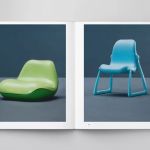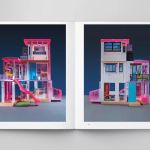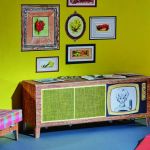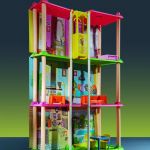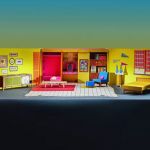 (Image credit: Evelyn Pustka for Pin-Up)
The 1974 model was reminiscent of Le Corbusier's Maison Dom-Ino, full of psychedelic paisley and floral cardboard backgrounds and funky-folk references balanced by coloured plastic furniture similar to Verner Panton's Panton Chair; the 1978 house, with its sloping tile roof can be seen as an interpretation of postmodernism, environmentalism and the increasing suburbanisation of America (associated with the woodland holiday homes that sprung up during the mid-century boom and then invaded the suburbs of major cities); while the 1990 house was bigger and bigger, a riot of PoMo eclecticism and pink. The 2000 house was purple and retro, while the 2010 one was more inclusive and diverse, with plenty of space and backgrounds perfect for Zoom and her friends' Barbie social content. Your favourite?
The book will be available in a limited run (about 200 copies) and will go on sale on 16/12 at 9am PT exclusively at MattelCreations.com.