5 female-owned pastry shops to visit in Milan during Christmas
From classical panettone to a more creative pandoro: Christmas Italian specialties by pastry chefs and enterpreneurs
Pastry making is a true art that encompasses technique and creativity. An exact science that reaches its peak at Christmas with the challenge of challenges that has always divided Italians at the table: pandoro or panettone? An almost Hamletic dilemma that involves no-holds-barred battles: classic, gluten free, deseasonalized, vegan, with olive oil, with matcha tea, and the list could go on and on. We decided not to choose, but to go on a quest to discover 5 women-run Milanese pastry shops that will recommend the best dessert to brighten our Christmas lunches and dinners.
Pasticceria Rovida
Via Domenico Scarlatti, 21, 20124
@pasticceria_rovida_milano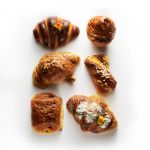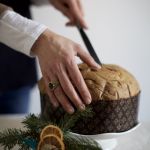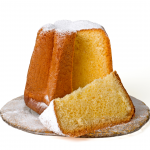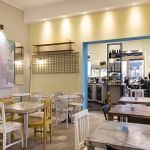 Located a short walk from Milan's central train station, Pasticceria Rovida has, for more than 50 years, been a neighborhood landmark for pastries, cakes and coffee breaks. Caterina and Maria Grazia are two sisters who, with enormous passion and enthusiasm, have breathed new life into this historic reality, starting from family tradition and recipes, but with an eye to new needs and market demands. For Christmas they recommend leavened pastries and small breakfast items such as the ever-present pain au chocolate. But it is the pandoro that is their real specialty: artisanal and fluffy, prepared only with live sourdough and fine Madagascar vanilla. It literally conquers at the first bite.
PastiChéri
Via Luigi Canonica, 72/74 02 83530640 / Via Carlo Ravizza, 7
@_pasticheri_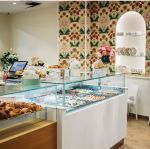 If you are looking for a corner of Paris in Milan, we recommend PastiChéri, which is the perfect evolution of the traditional pastry shop. Brioches, cannoncini, bagels and super golden breadsticks are baked here every day. Not to mention the mini-krapfen aka "the happiness buns." In the two locations of this ever-expanding reality we can find sweets with an authentic flavor that do not need to be explained. Lucia, founder of PastiChéri, recommends her latest novelty the CioccoSale panettone covered with an inviting chocolate shell. Cioccosale is made with only the finest ingredients and features inside the same dough used to make the savory cookies.
Io Sono Viva
Via Antonio Kramer, 35, 20129 / Piazzale Lagosta, 7, 20159
@iosonoviva_dolciegelati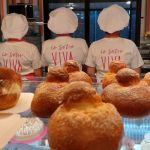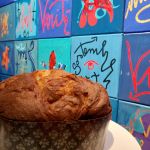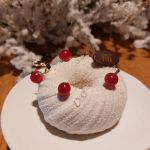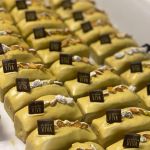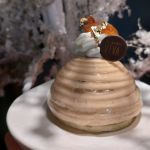 We continue our journey with an all-female reality "Io sono Viva dolci e gelati," two pastry-ice cream shops founded by star chef Viviana Varese, who has always been committed to defending the rights of the lgbtq+ community and social inclusion. Here they not only offer delicious single-portions and Neapolitan pastry classics such as baba, caprese and pastiera, but also provide jobs for women victims of violence. Doing good has never been so wonderfully sweet and simple. Viviana recommends her panettone, a slow-rising gourmet masterpiece with an enveloping Mediterranean scent, handcrafted with candied lemon, orange, tangerine and bergamot. An intense and unique flavor that is impossible to resist.
FRAU KNAM PASTRY SHOP
Via Augusto Anfossi, 19, 20135 Milano
@pasticceriafrauknam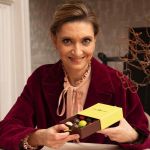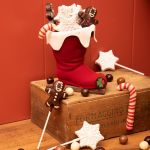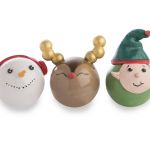 Our tour in the world of sweets lands in the pastry shop of Alessandra Mion, aka Frau Knam, wife of the famous Maître Chocolatier Ernst Knam. Here we experience the pink side of chocolate and break the monotony of classic Christmas sweets: we find, in fact, the reindeer comet, Frau Penguin, the sparkling red Christmas cup, Frau Giraffe or the swing tree. All creations made with dark chocolate, white chocolate and sugar paste details.
Iginio Massari Gallery
Via Guglielmo Marconi, 4 angolo Piazza Diaz 20122 Milano
@debora.massari1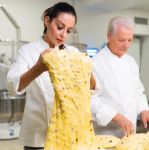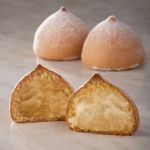 If we are talking about haute patisserie, we cannot fail to mention Debora Massari, the entrepreneur who transformed her father's famous business into a true luxury brand, dealing with research and development of new products to support Made in Italy. Their panettone is the King of leavened products, characterized by a complex process that involves four leavening and two doughs, for a total of no less than 62 hours. According to the Massari family, "For us, Panettone is not just a dessert but part of our history and millennial Italian culture of which we should be proud. Promoting and spreading it around the world is a pleasure and an honor every time."