Paris Hilton is releasing a memoir
The book promises to reveal a side of the heiress that is "both searingly honest and deeply personal"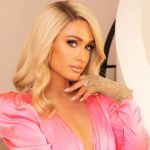 What are Paris Hilton's secrets? What lies behind the glossy party girl facade that made her famous in the early 2000s? How did she become the original influencer? Many wonder if they will find the answers to these and other questions in Paris: The Memoir, the new biography of the famous heiress. The book, to be published in March 2023 by William Morrow's Dey Street Books, the same publisher that published Jessica Simpson's February 2020 bestseller, is billed as "both searingly honest and deeply personal" and promises to offer an even more in-depth look at Paris, exploring the "meteoric rise from Upper West Side club kid to household name".
This is not Hilton's first foray into the world of publishing. In 2004 she had published the book Confessions of an Heiress: A Tongue-in-Chic Peek Behind the Pose sharing her thoughts on fashion, romance, and celebrity missteps. In that project she continued to hide her more intimate side behind frivolous advice, parties, crazy nights with Nicole Richie and Britney Spears, glitter, and lots of pink as she did for many years until in 2020 she spoke for the first time about her private self in the documentary This Is Paris.
Like the doc, the new memoir will introduce us to a more vulnerable Paris. Of course, there will be no shortage of pages devoted to her privileged youth and some memorable pop culture moments of the 2000s in which she was a protagonist, but there will also be open talk about ADHD, the sexual abuse she suffered when she was 17 at Provo Canyon School in Utah, the media pillory derived from her sex tape, the problems and perks of fame, including the long personal journey that has made her a grown woman at peace with herself in the roles of entrepreneur, survivor, daughter, sister, wife and beyond. Today, in fact, Paris seems more resolved and serene. She has a more defiladed life, although she continues to keep in touch with her fans on social media. Instead of fashion, parties, and celebrities, Hilton is devoted to philanthropy, her new business in the metaverse, and her husband Carter Reum. "I'm so excited to share the cover of my new book PARIS, coming this March! I finally feel ready to share some of my most personal stories yet." She said, promising to tell her story unfiltered. How much she will reveal about herself we will find out next March by reading Paris: The Memoir.