The hug between Hailey Bieber and Selena Gomez
Will the gesture put an end to the feud between the two respective fandoms?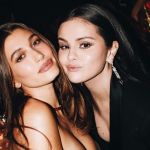 Hailey Bieber is married to Justin Bieber. Before her there was Selena Gomez who partnered, on and off, with the singer for about eight years. So, the two must be mortal enemies, right? Their respective fans have always believed so, challenging each other with insults and negative comments, but what is the real relationship between the two celebrities? Looking at the latest shots that have gone viral, it seems much more relaxed and civilized than years of innuendo have led us to believe. In the pictures taken at the Academy Museum gala, Hailey, in a sensual cut-out dress from Saint Laurent's SS23 collection, and Selena, in a Giorgio Armani suit worn with Cartier jewelry, posed together in front of the paparazzi, looking smiling and complicit, even embracing each other like old friends.
By now we are used to seeing Hailey and Justin hand in hand walking around L.A. or on the red carpet, but until recently, the singer was sharing pda's and snaps with Selena Gomez. Little more than children, the two began a relationship that, between ups and downs, lasted eight years. Then, a few months after the break-up, Hailey entered the scene and, in a very short time, led Bieber to the altar. The official end of the relationship was dated March 2018 exactly four months before Bieber announced his official engagement to the Rhode founder, followed by marriage in September of the same year. The timing and overwhelming passion led Gomez's fans to believe that Hailey had started her relationship with the pop star while he was still partnered with Selena.
Tired of accusations that she 'stole' her boyfriend from Gomez, Hailey recently categorically denied having meddled in the love story and, in an interview with the podcast Call her Daddy, said: "When him [Justin] and I ever started like hooking up or like anything of that sort, he was not ever in a relationship ever, at any point. It's not my character to mess with someone's relationship. I was raised better than that. [...] I understand how it looks from the outside, but that was a situation where I know for a fact that it was the right thing for [Justin and Selena] to close that door, but of course, there's a very long history there and I respect that a lot." She went on to add that there is a lot of respect between all three and absolutely no drama. After the interview, Selena Gomez called on her fanbase in a live TikTok show to finally put the past to rest, showing respect for Hailey and Justin's marriage. Will these statements and the embrace between Selena and Hailey put an end to the love triangle gossip once and for all? Certainly both protagonists have no intention of warring with each other, and they want their fans to do the same.