Exes return in "Sex and the City" sequel
Sarah Jessica Parker confirms that John Corbett, who plays Carrie's historic ex, Aidan Shaw, will be in the cast of "And Just Like That 2"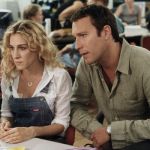 Sometimes they come back. The Sex and the City sequel team may have never heard that reheated soup is no good, especially in love, because in the upcoming episodes Carrie Bradshaw will run into her historical ex: Aidan Shaw. The handsome furniture maker who, despite appearing in only 22 episodes of the OG series, stole the heart of the character played by Sarah Jessica Parker (and many fans of the show) to the point of coming within an inch of the altar, will be among the stars of And Just Like That 2.
Already during the filming of the first season it seemed virtually certain that John Corbett would reprise the role of Carrie's boyfriend, but a sudden change in the script, had cut him out of the project. Now, however, his return is a certainty as confirmed by SJP herself who, when questioned on the subject during the premiere of Hocus Pocus 2, said "Could be, could be" and then added "I can't be cryptic about it anymore." According to Deadline, Aidan will have space in a "substantial, multi-episode arc," although there is no word yet on whether he will return to be a steady couple with Carrie.
Remember how the first season ended? Miranda and Che moved to Los Angeles together; Charlotte is learning how to be a better parent to her nonbinary son Rock; Nyaha decided to separate from her husband; while Seema Patel is involved in a passionate affair with a nightclub owner. Carrie, on the other hand, had said goodbye to Mr. Big, scattering her husband's ashes from the Pont des Arts in Paris, where she and Big were reunited in the season six finale of Sex and the City, and had started dating men again, particularly the producer of her podcast, Franklyn. The last time she had seen Aidan was in Sex and the City 2, when their characters shared dinner and a kiss in Abu Dhabi. Both were married, and Carrie preferred to return to her husband. Who knows what will happen now that the two will meet again... Regarding the plot of the new season of AJLT, it has been leaked only that it will no longer be about grief and loss, but about resilience, both for Bradshaw, who lost her husband, Mr. Big, in the show's first season, and for the rest of the cast characters, who are in some way suffering from different kinds of losses. It will be a season of new beginnings.