What does the Kylie Jenner jet scandal tell us
Climate crisis, celebrity culture and social differences blendend together in a IG post
"Shall we take mine or yours?" is a phrase that comes up in everyday life among friends or couples when it comes to getting around, and apparently so for Kylie Jenner, who used it as the caption of a recent snapshot posted on Instagram with Travis Scott. The problem is that the Kylie Cosmetics founder's options for traveling a distance of 17 kilometers were two decidedly out-of-the-ordinary means, her Bombardier BD700 "Kylie Air" with an economic value of $72 million or the private jet of her partner, Cactus Jack LLC. The photo exploded online and on TikTok, causing outraged reactions from supporters to the display of social privilege that earned the businesswoman the title of "Climate Criminal". Many have raised how the total disregard for the planet in such a choice runs totally counter to global investments and the daily efforts of thousands of people sensitive to the issue of climate change.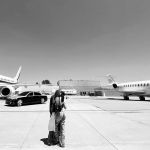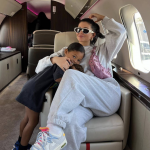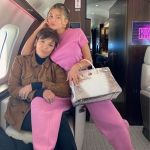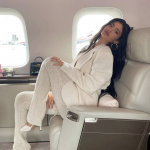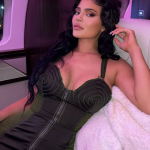 Concern about climate change is the priority for Gen Z. According to Deloitte's 2022 Millennial Survey, the vast majority of Gen Z and millennials (90 percent) are making at least some effort to reduce their impact on the environment. As social media fills up with sustainability-themed content, fashion shifts to vintage and salvage, and video tutorials on how to reduce one's carbon footprint go crazy on TikTok it is the pop-culture idols that move the masses to not take a stand on the issue.
"Why do I have to limit my meat consumption and use paper straws while the 1 percent can pump tons of carbon into the atmosphere for a day trip to Palm Springs?" and "But we're the ones who have to use paper straws" or even "Girl, what am I recycling for?" are just a few of the Twitter and TikTok community's views on the scandal, which sheds light once again on the discrepancy between celebrity culture and "real" life.
Environmental conditions are a planetary issue, no matter the turnover. It is precisely the pop-culture stars who, despite possessing greater economic possibilities to make sustainable choices, do not give up their luxuries: in fact, Kylie Jenner is not the only one who uses her own high-impact vehicle to travel short distances. Among the " recent culprits" of the same "climate crime" as Kylie would also include Kim Kardashian, Drake, Taylor Swift, Tom Cruise, and Mark Wahlberg, as reported by an automated Twitter account @celebjets, which tracks celebrity flights based on military transponders.