Sadie Sink is "Stranger Things" true breakthrough
The interpreter of the young Max in the Netflix series was born to be a star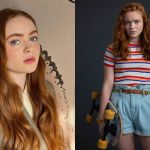 In Winona Ryder's opinion, she will be the next Meryl Streep. What is certain is that Sadie Sink is no ordinary girl. And the role of Max Mayfield in Stranger Things is just the dazzling milestone in a career that began at an early age and is destined to last for a long time. Yes, because even though she is only 20 years old, the actress can boast an enviable CV, even compared to colleagues twice her age: she has walked the Broadway stage, worked alongside stars such as Naomi Watts and Helen Mirren, taken part in several films and TV series and been part of the cast of the biggest hits in the history of Netflix.
According to her, her passion for acting is a result of growing up in a small town "where there is nothing, and if you don't play sports you get bored" and spending a lot of time with her three older brothers and younger sister repeating scenes from High School Musical. This family training proves to be instrumental in getting the first gig in the community theatre production of The Secret Garden. One show after another brings Sadie closer to Broadway where, barely ten years old, she makes her debut in the musical Annie. She does eight performances a week and her only day off she uses to finish her homework and, despite this, she still remembers that time as one of the best of her life. The next step is acting with Helen Mirren in The Audience and collecting appearances in television and film projects: she's Suzanne Ballard in the NBC series American Odyssey; she's Lori, Woody Harrelson's daughter in The Glass Castle; Kimberly in The Bleeder, the true story of the boxer who inspired Sylvester Stallone for the film Rocky; a young woman struggling with a complicated love affair in The Short Film, a short film written, directed and produced by Taylor Swift; and she's Ziggy, bullied and offended by Sunnyvale teenagers, in the horror films Fear Street Part 1: 1994 and Fear Street Part 2: 1978.
Sadie received the news that she had joined the cast of the second season of Stranger Things while at the stadium watching a Giants game, a long-awaited call that came after five auditions and several screen tests in front of the camera. Her mission? To play the role of the newcomer of the group: Max Mayfield, the skater girl who never lets go of her Walkman, the teenager who just moved to Hawkins who hates pink, plays video games, is a Dragon's Lair champion. Above all, she is a loyal, outspoken and brave friend, willing to help Mike, Dustin, Lucas and the rest of the crew fight the threats of the Upside Down. Her cult moment comes in the first part of season four when she manages to escape from the grip of Vecna, a powerful demon with sorcerer powers, thanks to her friends who make her listen to Kate Bush's Running up that hill.
Stranger Things has given Sadie many things. First of all, popularity, which she uses to talk about women's and animal rights (she also has a cat named Leo and told Vogue Portugal that she supports the New York Pet Rescue, an association of volunteers for the rescue and protection of animals). Then the first kiss, in the scene where Max and Luke kiss during the Snow Ball it was the first time for both Sadie and Caleb McLaughlin. Thirdly, her friendship with Millie Bobby Brown; the two are so close that they refer to each other as "Ketchup and Mustard". Finally, it has instilled in her a great deal of self-confidence and determination. Max's boldness and outspokenness helped the actress to be more confident, but Sadie is very different from the character she plays. For example, she did not know how to skate; she learned by watching videos of the iconic champion Tony Hawk and thanks to an instructor who taught her the various tricks for three hours every day. To video games she prefers music films such as Singing in the Rain, photography, animal documentaries and science fiction films (she hopes one day to work with Ridley Scott). Max's style also does not mirror Sadie's. She opts for Chanel and Givenchy suits, Prada sets, Marc Jacobs dresses and red lipstick.
Now, Sadie's present is busy. She will be starring in The Whale, Darren Aronofsky's new film starring Brendan Fraser that explores the struggles of a man with morbid obesity trying to reconnect with his estranged daughter, and she will be part of the cast of Martin Scorsese's new film Killers of The Flower Moon, alongside Robert De Niro and Leonardo DiCaprio. Her future? We are sure to see Sadie among the stars of Hollywood's next Golden Age. Like Millie Bobby Brown, Natalia Dyer and the rest of the cast of Stranger Things.