Even social media and period tracking apps are denying abortion rights
From censorship of posts to apps that track contraception data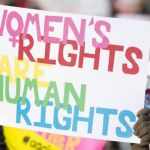 The US Supreme Court's decision to overturn the landmark 1973 Roe vs. Wade ruling that legalized the right to abortion at the federal level is already having its first repercussions. Now that the regulation of abortion is up to the individual states and at least 26 of them, such as Louisiana, South Dakota, Kentucky and Texas, have abolished it (or are about to do so) and made its practice punishable under criminal law, a climate of fear and suspicion is spreading among the population, even towards apps and social media. A justifiable mood considering that as a first reaction to the 24 June ruling, Instagram and Facebook have begun to remove posts offering, or even mentioning, abortion pills. According to an analysis by media intelligence firm Zignal labs, reported by the Associated Press, in recent days searches for abortion pills such as mifepristone and misoprostol have increased and social media users have flocked to online platforms to share memes and status updates on how to legally access these drugs through services such as Hey Jane, Just the Pill e Choix. Others have offered their help as a conduit to give access to abortion pills to those living in states where they are illegal, posting invitations such as 'DM me if you want to order abortion pills, but want them sent to my address instead of yours' on their personal profiles. Result? On both Meta branches these shared posts were removed, even disappearing within minutes.
AP and Vice journalists did an experiment by publishing three similar posts on Facebook, one reading "If you send me your address, I will send you abortion pills" and in the other two they replaced the words "abortion pills" with "a gun" and "weed". The first post was removed within a minute and the account was temporarily banned for violating FB's standards on "weapons, animals and other regulated goods", while the other two posts were not removed nor did they suffer any action. Meta spokesperson Andy Stone commented on the incident in a tweet, pointing out that content removal and bans take effect automatically, in accordance with the company's standards, which prohibit people and companies from buying, selling, trading, or giving away drugs. These are the same guidelines that also apply to weapons, alcohol and drugs, too bad that, in practice, the treatment received is quite different.
Following the overturning of Roe vs. Wade, many American women are uninstalling all menstrual cycle monitoring apps, real diaries that record health data, not only cycle dates, but any delays, unprotected intercourse, ovulation period, ... The motivation is the fear that in states where abortion has become illegal, this information could be used as evidence of abortions in any criminal proceedings. Although each company has its own privacy policy, a 2019 study published in the British Medical Journal reveals that 79% of health apps available on the Google Play Store regularly share user data and are "far from transparent". And it makes no difference whether this one is American or foreign and assures to use the data only "for research activities", the risks exist in any case.
After the ruling in June 2022 Flo and Clue, which with more than 55 million users are among the most popular apps in the US, took new measures. Flo, which some time ago was exposed by The Wall Street Journal for informing Facebook when one of its users had her period or was planning to become pregnant, announced that it would soon launch an anonymous mode to keep users' data safe. The German company Clue said it was committed to protecting its users' medical data according to European privacy and data protection laws. Unfortunately, as lawyer Lucie Audibert of the NGO Privacy International points out, even if the data is processed by a European company, it does not mean that the app is completely immune from US prosecution because European companies usually comply with a legitimate legal request from US authorities. Even Vice President Kamala Harris expressed concern about "vulnerability of women who are using menstrual-tracking apps, those who use a search engine to find certain locations or certain help … and how vulnerable those searches will be to bad actors attempting to track their history, much less any government forces that may be interested in investigating that for whatever purpose."
So what can be done to protect sensitive health data that can be used in court or end up in the hands of anti-abortion groups to identify patients and doctors involved in a termination of pregnancy? The advice of Evan Greer, deputy director of the digital rights group Fight for the Future, is to only use apps that store data locally rather than in the cloud.
The situation is reminiscent of the future envisaged by The Handmaid's Tale. But this is reality. It seems more and more serious, obscure and emerging even from small things we use every day like a cycle app.