Natalia Dyer, from the Upside-Down to the conquest of Hollywood
The rise of the actress, including her beginnings, the success of Stranger Things, love and her relationship with fame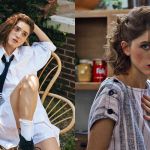 She could have been a journalist as she dreamed of as a child or a sportswoman as her family would have liked (her mother is an exercise physiologist and fitness instructor and her father is a clinical engineering specialist), but instead, a small accident changed everything. On the first day on the athletic field she sprained her ankle, so she traded the sports for the acting club. All it takes is a small part as Scout in To Kill a Mockingbird and Natalia Dyer takes the first step toward a future as a star. Despite some local experience and an appearance in Hannah Montana: The Movie, filmed in her native Nashville at age 11, and a couple of independent films in her Gallatin School of Individualized Study days, she struggles to see acting as her career.
"I'm from Nashville. I started doing community theater when I was about eight, and then I got into commercials. Acting was always something I really loved to do, but I never bet on it being my career. Even after getting into film in my teens, and doing some indie films, it took me a long time to be able to call myself an actor. Acting always felt really unpredictable and, financially, I figured I'd have a job-job and do it on the side."
This talented little girl born in 1995 under the sign Capricorn doesn't know it yet when she turns into the 16-year-old girl on a road trip with her junkie boyfriend in I Believe in Unicorns or the Catholic schoolgirl who discovers cybersex in the experimental Yes God Yes, but her big break is coming. It's a Netflix project called Stranger Things, a series centered on a group of friends who, following the disappearance of one of their own, must face frightening supernatural forces in 1980s Indiana.
She unexpectedly landed the role of Nancy Wheeler after two auditions that she believes didn't go very well, and equally unexpected was the success that the Duffer Brothers-directed show enjoyed:
"At the time, Netflix wasn't what it is today. They had some really cool shows such as Orange Is The New Black and House Of Cards, but I really wasn't aware there was a possibility of a second season. The energy was like, "I hope people like it. We like it. We think this is cool.""
The cast's expectations were definitely exceeded to the extent that in July 2016 the first season of the series was watched by more than 14 million people, placing it third among Netflix's top ten originals. Inevitably came a second, third and fourth season, which the American platform will finish releasing with the final two episodes on July 1. From Eleven to Will, all of ST's main characters can count on a large fan base, but the one played by Natalia, Nancy Wheeler, has been the focus of mixed opinions. At the end of the show's second chapter, VICE published an essay with the eloquent title Forget Barb: Fuck Nancy. Say hello to the worst person in season two of Stranger Things in which it reads:
"Hating Nancy feels subversive. It feels a bit wrong. You're not really supposed to hate her, that feeling seems to say. You're not really supposed to hate her because Nancy Wheeler is a badass girl. She's empowered. She kills monsters. She cuts her hair. She sleeps with who she wants, when she wants. She drinks. She stands up to the government. You're supposed to like her. [...] Even when she's making an attempt at a good deed (dancing with Dustin), she can't resist doing something hateful. [...] Nancy is a princess, really. She thought she was too good for Barb. She thought she was too good for Jonathan, Steve, and Dustin. She thinks she's better than other girls. She is not. She is demonstrably worse."
The blog Monkeys Fighting Robots responded to the allegations with another essay entitled Nancy Wheeler's in Unpopular Feminism In Stranger Things 2, while American journalist Claire McNear went further, celebrating her with these words:
"big sister, cherished daughter, piggy-bank saver, swashbuckling #Justice4Barb-seeker, Hoosier heartthrob, relaxed-curls champion and autumnal knitwear chieftain is the only character on Stranger Things worth a damn."
And what does Natalia think of Nancy?
"I like the fact that she's not perfect, kind and sweet all the time. But she takes the reins when she has to take them. In a way she is fearless, which makes her fun to play. [...] Nancy has found her way, figured out what she wants in life and is even more determined. She has become for all intents and purposes one of the strongest female characters."
Stranger Things has given at least two things to Natalia: love and fame. On set, the actress, like her character, met fellow actress Charlie Heaton, who plays Jonathan Byers, and the two have been going steady since 2016. They are very private, but one only has to scroll Instagram a bit to see photos of the two walking hand in hand, kissing, treading the red carpet together or sitting in the front row of major fashion shows, from Dior to Thom Browne.
If her lovestory seems to be going swimmingly, Natalia lives much more conflictedly with being famous, constantly in the spotlight, the public gaze and judgment. Despite having more than six million followers on Instagram, Dyer has only posted three times in 2021, and most of the posts are pictures from the red carpet, photos of her dog Ozzy, and a handful of old selfies. She describes herself as "introverted" and considers the impact of social media carefully:
"I also wonder if being too overexposed could limit my ability to do what I do well. As an actor, I want to be able to try and fail at things. I also want to be able to melt into characters and be someone else. I have moments where it feels right to engage and talk about something, but in a lot of ways it's about trying to absorb and listen and grow as a human before I throw out my ideas and opinions."
Natalia's actual focus is not to increase her popularity, but to take on interesting, complex roles and, perhaps, someday perform alongside Cillian Murphy, her crush since she fell in love with Peaky Blinders during quarantine. The next project, however, will see her in All Fun and Games, grappling with a demon story produced by the Russo brothers that also stars Asa Butterfield, the star of Sex Education, in the cast.