Ana de Armas is Marilyn Monroe in the new Netflix biopic
Here are the teaser and the first images of the actress in "Blonde"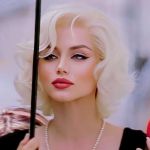 We predicted it to you already a few weeks ago: 2022 is the year of Marilyn Monroe's return. Not only because of the controversial issue of the dress worn and damaged by Kim Kardashian at the last Met Gala, but because of the Netflix-produced biopic that will be available on the streaming platform from September 23. Although it is still several months away from its screen debut, the project is surrounded by much hype and several expectations that the director from Andrew Dominik (already behind the camera of the beautiful The Assassination of Jesse James at the Hands of the Coward Robert Ford) fueled by stating to Vulture that "there is something that will offend everyone." Filmed in 2019, Blonde is based on Joyce Carol Oates' novel of the same name and is poised to be the first Netflix film banned for under-17s.
"The idea behind Blonde is basically it details a childhood drama, and mistaken ideas that she carries into her adult life, and she sees the world through the lens of those ideas. And they necessitate a split into a public self which can be loved, and a private self which has no hope of achieving intimacy. She's not seeing the world, really; she's seeing herself. But on a simplest level, it's about an unwanted child who becomes the most wanted person in the world and can't deal with all of that desire coming at them."
It is said that Marilyn gave off a sort of "rescue me" vibe and that everything is written about her, no matter whether by Norman Mailer or Gloria Steinem, is a rescue fantasy. For Dominik, in this Blonde is no different, but what does change from past interpretations of the diva swimmer's story is its ambiguity, "It's a film that definitely has a morality about it. But it swims in very ambiguous waters because I don't think it will be as cut-and-dried as people want to see it."
Ana de Armas, the actress who has the difficult task of bringing Marilyn to the screen, also pointed this out:
"Andrew's ambitions were very clear from the start to present a version of Marilyn Monroe's life through her lens. He wanted the world to experience what it actually felt like to not only be Marilyn, but also Norma Jeane. I found that to be the most daring, unapologetic, and feminist take on her story that I had ever seen."
De Armas, who for now is best known to most as a Bond girl and Ben Affleck's ex, is facing the kind of role that has the power to launch a career, and according to the first teaser and the images released, she will give us a fine performance. Behind her Marilyn is a long preparation:
"We worked on this film for hours, every single day for almost a year. I read Joyce's novel, studied hundreds of photographs, videos, audio recordings, films — anything I could get my hands on. Every scene is inspired by an existing photograph. We'd pore over every detail in the photo and debate what was happening in it. The first question was always, "What was Norma Jeane feeling here?" We wanted to tell the human side of her story. Fame is what made Marilyn the most visible person in the world, but it also made Norma the most invisible."
If all that wasn't enough to make you curious, the words of writer Joyce Carol Oates, who said about the biopic:
"It's startling, brilliant, very disturbing & [perhaps most surprisingly] an utterly "feminist" interpretation," the author said. "[I'm] not sure that any male director has ever achieved anything [like] this."