Dua Lipa's favorite summer movies
Among romantic comedies and timeless cult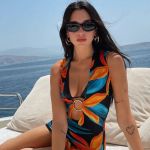 It is officially open season for flip-flops, swimsuits, weekends at the beach and trips out of town, but also for evenings to spend chatting with friends over cocktails and ice cream or in front of a movie that relaxes us and conveys some good vibes. If you too spend entire hours flipping through the Netflix and Apple Tv catalog without making a decision, why not take inspiration from Dua Lipa's favorite summer movies? The singer just unveiled them via her Service95 newsletter, a platform launched a few months ago to share places to be, tips, restaurants, insights on various topics and playlists with fans.
Dua's movie choices include cult 90s, early 2000s films, Cher as an actress and romantic comedies. Here are Dua Lipa's 5 favorite summer movies.
Little Miss Sunshine (2006)
Meet the wacky Hoover family: Richard (Greg Kinnear), father and professional motivational speaker; Sheryl (Toni Collette), stoic and hyperactive mother; Dwayne (Paul Dano), silent and nihilistic brother; Frank (Steve Carell), the gay uncle fresh from a suicide attempt; and Ewin (Alan Arkin), the grandfather with a rock n roll past who snorts heroin. All together, aboard a rickety yellow Wolksvagen van, they embark on a journey through themselves, the stereotypes of the American dream and across California to accompany little Olive (Abigail Breslin) to the Little Miss Sunshine pageant.
More than just a road movie. An early 2000s indie cult that makes you laugh and cry simultaneously.
How To Lose A Guy In 10 Days (2003)
It is almost impossible that you have never watched this 2003 romcom. Still, just in case, the plot is simple: Benjamin Barry (Matthew McConaughey) is a rampant advertising executive who, in order to land a big client, bets his boss that he can make any woman fall in love with him in ten days. The choice falls on Andie Anderson (Kate Hudson), a fashion magazine journalist who has to write an article on "how to lose a Guy in 10 days". What started as a professional challenge for both of them becomes love. Amidst love ferns, matchy-matchy tartan outfits, barbed pooches, Kroll the Viking, photo albums of the "beautiful" future children and a total yellow look that has entered the history of movie best-dresses. In one of the final scenes, Kate Hudson wears a yellow satin slip dress that fashion designer Dina Bar-El made inspired by the Isadora necklace around her neck, a Harry Winston piece of jewelry featuring an 84-carat yellow diamond surrounded by a round of Wreath-cut white diamonds.
The Talented Mr. Ripley (1999)
A film adaptation of Patricia Highsmith's famous novel, the film is a classic with a stellar cast: Gwyneth Paltrow, Jude Law, Matt Damon, and Cate Blanchett. The plot. The late 1950s, Tom Ripley is a penniless but ambitious young man who earns a living by petty gimmicks until a wealthy New Yorker hires him to bring home his son who is basking in the Italian Dolce Vita. Once in the Bel Paese, Tom succumbs to the charms of the boy, his fiancée and, most importantly, their bourgeois existence, until the worst happens.
Each shot is a journey into the Mediterranean aesthetic made enjoyable by the wardrobe curated by Ann Roth and Gary Jones: espadrilles, patterned bikinis, floral shorts, a shirt knotted at the waist, white pants, linen blazers, mid-length circle skirts, straw bags and more. The rewatch is mandatory not only because the film is compelling and high on fashion, but also because Showtime is turning it into a TV series. Andrew Scott, known for his roles in Sherlock and Fleabag, will play Tom Ripley, while Dakota Fanning will replace Paltrow as Marge Sherwood and Dickie Greenleaf, formerly played by Law have the face of Johnny Flynn.
True Romance (1993)
According to many, True Romance is the best Tarantino film the Knoxville director never directed. The screenplay, which chronicles the on-the-road escape of two lovers who have stolen a bag full of drugs from the girl's former pimp, is really Quentin's, co-written with Roger Avery, while Tony Scott directed instead. The protagonists of this cult hit are not Christian Slater and Patricia Arquette as Clarence and Alabama, but a series of looks so iconic that we place this film among the 90s movies we never stop being inspired by: a mix of bralettes, western shirts, cow and animal prints, mirrored glasses and Hawaiian shirts that made history. Remember when the stars of Euphoria and the Kourtney Kardashian-Travis Baker couple tried on Clarence and Alabama? No one can resist the coolness of True Romance.
Moonstruck (1987)
What's not to love about Cher? Singer, performer, fashion icon, champion of the LGBQTIA+ community, ironic, free, emancipated woman, and great actress. Among the several films she has starred in that should be included in the watching list is definitely Moonstruck. In this romantic 1987 film Cher is Loretta Castorini, an Italian-American widow in 1980s Brooklyn. Convinced that she is haunted by bad luck, she accepts Johnny Cammareri's bland marriage proposal, but when her fiancé leaves for Sicily, she ends up falling in love with his brother, Ronny, played by Nicolas Cage. Add the allure of the moon, La Boheme, a complicated family, various betrayals, and a series of bizarre and amusing situations, and you have all the ingredients for a good night out with Cher.