Is there any difference between an artistic character and an influencer?
The top ten of Italian male artists by Flu Plus proves what we were expecting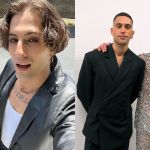 Who are the 10 male fashion influencers in music? New research based on the insights of Flu Plus, a platform working with artificial intelligence technology and machine learning algorithms, has revealed this to us. We thus discover that, as was easy to imagine, the first place among the singers who most influence fashion trends goes to Damiano David, the leader of Måneskin who, thanks to the growing popularity of the Roman band and its partnership with Gucci by Alessandro Michele, has become an it-man known and copied worldwide. In second place we find Tananai who, despite his last place at Sanremo 2022, is dominating the national radio airplay with the single Sesso Occasionale and winning more and more fans with his Instagram profile where he alternates spontaneous random shots with live images. In third and fourth place are Blanco and Mahmood, united by their single Brividi, recently presented at the last edition of the Eurovision, but also by a marked sense of style that has made them the first Valentino brand ambassadors and made Mahmood walk the runway for Burberry. The Top 10 continues with Fedez, who undoubtedly owes part of his fashion engagement not only to his talent, but also to Chiara Ferragni and his collaboration with Donatella Versace; Marracash, whose latest album Noi, Loro, Gli Altri has confirmed him as the King of contemporary Italian music; and Achille Lauro, an artist who loves to play with his imagination, as he did by transforming himself into a glam cowboy at the Eurovision 2022. The last three places in the ranking go respectively to Benjamin Mascolo, Sfera Ebbasta and Sangiovanni.
Commenting on the results of the survey, Chiara Dal Ben, Marketing & Innovation Director of FLU - Part of Uniting Group, underlined how fashion and music have always been interconnected. Just think of David Bowie, Prince, Kurt Cobain, Kanye West or Harry Styles, and how rock, punk, grunge, brit pop and electronic music have influenced trends and the way we dress. Compared to the past, singers now have a powerful tool like social media that amplifies and accelerates their status as fashion icons:
"Here they build their persona, sharing snaps that become showcases for the brands they collaborate with and the designers who dress them. They have become powerful figures in the fashion world and their power of influence sometimes even leads them to become designers themselves, launching lines of clothing, accessories, merchandising or make-up. They subvert the rules of fashion, create new style codes, become symbols of their generation. And it is for this reason that brands court them and choose them as ambassadors for their products."
On average, 58.5% of the target audience of top male artists are women aged between 18 and 24 who show a preference for icons capable of mixing soft-boy aesthetics and bad guy moods, talents with a rebellious and well-defined character who play with fashion and, above all, with the many different nuances of their personality, often embracing a non-toxic, confident and fluid masculinity. So the question is do they like the music or the character more? The answer is that the two worlds mutually influence each other, directing not only the listening but also the aesthetic canons of both female and male audiences who, by reflex, have to pay attention to the changing male aesthetic.
Here is the entire Top 10 bad fashion influencers in music, with the number of followers and engagement rate (i.e. the engagement between the influencer's content and their followers):
Damiano David dei Måneskin, 5.100.000 follower, 17,27%
Tananai, 261.000 follower 17,02%
Blanco, 2.200.000 follower, 15,38%
Mahmood, 1.700.000 follower, 13,34%
Fedez, 13.900.000 follower, 10,15%
Marracash, 1.800.000 follower, 10%
Achille Lauro, 1.700.000 follower, 8,42%
Benjamin Mascolo, 1.900.000 follower, 7,28%
Sfera Ebbasta, 3.800.000 follower, 6,48%
Sangiovanni, 1.600.000 follower, 6,22%