Rihanna and A$AP Rocky welcome a baby boy
According to rumours, the couple's son was born on 13 May in Los Angeles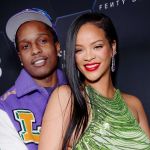 Rihanna has become a mother. The first to spread the news was the American gossip site TMZ, according to which the singer gave birth to a baby boy on 13 May in a Los Angeles hospital. No comment or details from either her or A$AP Rocky. All is silent even on their social networks. The little information is revealed by anonymous insiders to American tabloids, as those who told People "Rihanna is doing well. They are very excited to be parents. Rihanna is already a wonderful mom". The utmost secrecy on the part of the Fenty founder and her partner is perhaps dictated by wanting to fully enjoy the happiness of this moment, which has come after a turbulent period, marked by Rocky's alleged cheating and her arrest last April on charges of wounding a man.
Rumours of the star's pregnancy started circulating since last December on the occasion of her nomination as Barbados' "National Hero", but the confirmation came only many months later when the couple shared a series of snaps in which Riri showed a baby bump that was already more than evident. Since then, the couple, who are very much in love, have been spotted many more times, giving Rihanna the opportunity to share her advancing pregnancy with fans and, at the same time, revolutionize the classic idea of maternity wear.
"When women get pregnant, society tends to make it feel like you hide, hide your sexy, and that you're not sexy right now [but] you'll get back there and I don't believe in that sh*t. So I'm trying stuff that I might not have even had the confidence to try before I was pregnant. The strappiest, the thinnest, and the more cut-outs the better for me".
She had told Refinery29 last March, later adding in an interview for Vogue:
"When I found out I was pregnant, I thought to myself, There's no way I'm going to go shopping in no maternity aisle. I'm sorry—it's too much fun to get dressed up. I'm not going to let that part disappear because my body is changing."
She also confessed to Vogue some other details about how she found out she was going to be a mother:
"Certainly not planning against it. I don't know when I ovulate or any of that type of shit. We just had fun," she says. "And then it was just there on the test. I didn't waste any time. I called him inside and showed him. Then I was in the doctor's office the next morning and our journey began".
Curiosity to see photos of the baby and know his name is sky-high, but Riri and A$AP want to enjoy the baby in private for as long as possible. Hopefully we won't have to wait too long, in the meantime congratulations!