What being a crypto girl means
We asked to four experienced professionals
A universe as yet unexplored, populated by minds that have seen a new hope in the untrodden and decentralised path of the Metaverse, made of NFTs, virtual identities, where the exchange currency fluctuates arbitrarily and everything follows its own rules. We asked Crypto Investor The LadyinFinance (Valentina Marzioni), the founder of Colata Studio (web devolopment agency and NFTs collections) Anna Fongaro, the Community Manager of Binance Lucia Qu and the CEO and founder of The Cryptonomist, Amelia Tomasicchio, to tell us what it means to work in the world of Crypto and what are the prospects for female entrepreneurship in this new scenario of Web 3. Looking for a new frontier where rules and regulations were still to be written, the crypto girls we interviewed found in the Metaverse community a fertile ground to establish themselves professionally in full autonomy. As in all growing sectors, the demand for people with blockchain skills is currently higher than the total supply, making crypto finance a scenario that is not only particularly flourishing but also easily accessible for companies, groups and brands, as well as for new emerging professionals: social media strategists, 3D developers, community managers and data analysts, to name a few.
"For the next five years, the forecasts for crypto development all speak of growth, but the danger is the lack of regulation, especially in Italy. Despite a consistent interest in the NFT sector, Italy suffers from the lack of companies operating on the territory, and this, in the long run, could be a big loss" - says Amelia Tomasicchio, who founded her online sector newspaper in Switzerland and no longer lives in Italy since 2017, confirming her own thesis.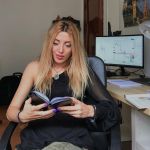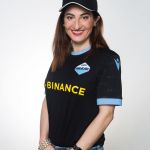 Instead, a double-edged sword could be the lack of regulation, given the ever-changing nature of the sector and the government's inability to regulate a reality it perhaps does not yet understand. But for Anna Fongaro, whose firm deals with the development of NFT collections, Web3 interfaces, strategic consulting and crypto marketing, the future of the Metaverse is a bit like what it was for the Internet:
In 1990, only a handful of governments, universities, businesses and individuals were using the Internet. But by 2000, everyone had to have a website. Similarly, smartphones were scarce in 2007 when the iPhone was invented, but by 2011 every person over the age of 12 had a smartphone in their pocket with internet.
The world of crypto appeals to many and is a possible gold mine, but not having a central structure to regulate transactions can be problematic, "it generates mistrust and often leads to untrained personalities expressing themselves with little knowledge of the subject," says Theladyinfinance, who combines its investment work with a social-based activity made up of projects, popular content and consultancy. In this context, working in the crypto world also means being in continuous training, always on the lookout for innovations, especially to dispel false myths that are all too common, such as that of the alleged lack of sustainability of the Metaverse. The criticism levelled at the mining powerhouses that keep the blockchain active is voiced by those who are unaware of initiatives aimed at decarbonising the crypto system such as the Crypto Climate Accord (CCA), which, in the wake of the Paris Agreement, focuses on creating a coalition of zero-emission companies in the crypto industry by 2030.
Being a girl in a highly competitive context can lead to the reproduction of exclusionary dynamics that, however, should not discourage girls who are interested in starting their own path in this world full of possibilities. Despite the fact that TheLadyinfinance (Valentina) tells of having experienced particular situations due to favouritism from colleagues that made her feel uncomfortable, as can unfortunately happen in any other sector to both sexes, in teams there is equality according to the components. As in the case of Lucia Qu, a Binance community manager who moderates the communication of more than 40,000 people on Telegram and manages a team of Binance Angels, brand lovers and ambassadors:
"I work in a team composed of close-knit and intelligent people. We discuss, we have our opinions but through a process of comparison and teamwork we grow together, we learn to take measures and find the right methods and times of communication, which allows us to go beyond machismo or other discriminatory attitudes. Above all, because the common goal is to be well as a team to develop Binance and the knowledge of cryptocurrencies in Italy."
It is essential not to consider these professionals as the "pink quota" of a mysterious sector, but as the spearhead of a generation that is breaking the mould and throwing itself headlong into the future, ready to abandon a backward system of constraints and contradictions. "Don't be hesitant, jump in without letting anything stop you, and take advantage of your strengths" is the advice that crypto investors give to all those who want to start working in crypto.