10 movies to understand mums from different points of view
From the funny Because I Said So to Pedro Almodóvar's latest movie Madres Paralelas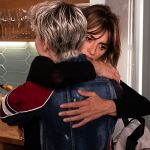 "I just want you to understand something about motherhood okay. I mean, it's the most impossible love. You tell me when it ends. You tell me when it stops. All I know is, it's absolutely fine for me to teach you how to walk and talk, and then you grow up and you head off in the wrong direction toward a cliff. And I'm supposed to just stand there and wave and go, "Well, kids, good luck. It's Mom. I'm here." Well, I can't do that."
It is the words of the helicopter mother played by Diane Keaton in Because I Said So that remind us that there is no greater, more complicated and indissoluble love than that of a mother for her children, and it goes far beyond mere biology or the classic vintage image of the woman who bakes biscuits and sacrifices herself for her babies. There are many different ways of being a mother. And movies have told all of them. A few examples? Here's 10 movies that give us different points of view on the most important woman in our lives.
Madres Paralelas (2021)
Motherhood can be the starting point for a bond of sisterhood, for love and a journey to rediscover the past, present and future of one's family. As in Pedro Almodóvar's latest film. Janis (Penélope Cruz) is an accomplished photographer and Ana (Milena Smit) is a troubled and insecure girl. They meet in a clinic in Madrid and give birth to two girls on the same day. From that moment on, their lives intersect again and again, inexorably entangled between the ups and downs of motherhood, a shared tragedy and the ghosts of the Spanish Civil War in the 1930s.
Otherhood (2019)
Who says a mother's job ends when her children grow up and leave home? When the now grown-up, independent children of Carol (Angela Bassett), Gillian (Patricia Arquette) and Helen (Felicity Huffman) forget to call them on Mother's Day, they decide to head to New York and swoop into the homes and new lives of the three kids. The impromptu trip will be an opportunity to reconnect, dispense unsolicited advice, but also to have fun and remember that beyond motherhood there is still much waiting for them. But, if you want some advice and don't want to find your mother behind the door with her suitcase, remember to send her a bouquet of flowers or at least a text message on 8 May.
Tully (2018)
Juno team is back together again: Diablo Cody writing the screenplay, Jason Reitman directing and, for the second time after Young Adult, Charlize Theron in the title role. The actress gives face and body to Marlo, an exhausted 40-year-old mother who has just given birth to her third child and is on the verge of a nervous breakdown, overwhelmed by commitments and expectations. She is wilting a little more each day, suffocated by her children, a tired marriage, postpartum depression and the stereotype that changing smelly nappies and defying sleep deprivation records to the point of complete annihilation is an acceptable trade-off for the miracle that is motherhood. But for Marlo, the real blessing isn't the children (or at least not only) it's the nanny, Tully, who helps her run the household, but more importantly, remember who she is and shed the mask society has stitched on her.
Lady Bird (2017)
Greta Gerwig directs a little gem that is both a female coming-of-age and a film about the difficult relationship between mother and daughter. Lady Bird (Saoirse Ronan) hates sunny, still Sacramento and dreams of New York. She wants to escape far away from the California Midwest with its Catholic schools, unfulfilling friendships and race to conform. She wants to seize the future, make her dreams come true, be independent and decide for herself, starting with her name. All as far away as possible from her mother Marion (Laurie Metcalf). The two love each other, but their relationship struggles, resulting in a conflict that is at times ruthless. They clash, hurt each other, push each other away and come back together, trying to find a way to know and accept each other. Defects included. In the words of the director:
"The mother-daughter relationship is the love story of the film. [...] I wanted to tell a story that put this at the centre and in which, at every moment, you feel empathy for both characters. I didn't want one to be right and the other to be wrong. I wanted each to try painfully and unsuccessfully to connect with the other and I wanted to reward their great love."
Bad Moms (2016)
Amy (Mila Kunis) tries to navigate her way through her kids, her cheating husband, her idiot boss, her Zumba class, her homemade cookies free of "BPA, MSG, BHA, sesame, soy, milk, butter, sugar, flour..." and the parental meetings chaired by the controlling, mean-spirited and seemingly impeccable Gwendolyn (Christina Applegate). But at a certain point she can't take it anymore. The solution is to rebel against the Wasp model of the American mother and embrace imperfection. What's really bad here, however, is only the title, because Amy and her friends Kiki (Kristen Bell) and Carla (Kathryn Hahn) at most drink liters of alcohol, indulge in a few bad jokes and punch the happy housewife cardboard in the supermarket aisles.
Room (2015)
Room is a tough film to watch: a mother (Brie Larson) and a son (Jacob Tremblay) segregated in a room. There is horror, violence, but also the dazzling love of a woman willing to do anything to protect her son, even to absorb all the pain and turn four walls into a microcosm where there is also room for light, beauty, affection, a smile, the game the egg shells can turn into a festoon. It is a universe in which there is only Joy, Jack and their indissoluble bond.
Life as We Know It (2010)
A classic early 2000s American comedy to spend a couple of hours relaxing with easy scripts and actors of average popularity. Holly (Katherine Heigl) suddenly finds herself the mother of a little girl, inherited from her best friend who died with her husband in a car accident. Facing the challenges of parenthood with her, from late nights to nappy changing, is Messer (Josh Duhamel). Between mistakes, arguments, laughs and tender moments, Holly falls in love with the baby and, almost inevitably, with Messer. And to think that up until a few months before, work was her only concern and she hated Messer with all her heart.
Juno (2007)
Juno (Ellen Page) is 16 years old, smart, independent, tenderly funny and... pregnant. Her world is populated by a young boy in yellow shorts and sweatband, an old armchair, a hamburger phone, an extended family and a rich, beautiful, successful and seemingly perfect married couple to whom she has decided to give her baby up for adoption. Add Page's pitch-perfect performance and Diablo Cody's spot-on script and you have a cult comedy from the early 2000s that is always a pleasure to watch once again.
Because I said so (2007)
Overprotective, apprehensive, possessive, neurotic and convinced that she is the only one who knows what is right for her three daughters, Daphne Wilder (Diane Keaton) is the embodiment of the helicopter mum. Worried about the unfortunate love life of Milly, the youngest and most introverted of her offspring, she decides to publish an ad on the Internet to find her a boyfriend. Squeezed into her polka-dot dress, she undergoes an exhausting speed dating session, sifting through the possible suitors, until she believes she has met the perfect partner for Milly. Unfortunately, or rather fortunately, fate has a different plan in store and a much cuter guy. The plus of this cute and relaxed 2007 comedy? The cast. Alongside the iconic Diane Keaton is a mix of TV stars: Mandy Moore from This Is Us, Lauren Graham from Gilmore Girls, Piper Perabo from Covert Affairs (but also from Coyote Ugly) and Gabriel Macht from Suits.
Stepmom (1998)
For Anna and Ben, Jackie (Susan Sarandon) is the perfect mother, the one who never forgets a date and knows their every little secret. Isabel (Julia Roberts), on the other hand, is the young, inexperienced stepmother who has won their father's heart, but not yet a place in their family. She is the stranger Jackie looks down on and even jealous of as she begins to build a real relationship with the two kids. Complicated feelings and balances that the two mums are forced to make work when Jackie discovers she is seriously ill. In the end, as in any self-respecting American dramedy, the two women become accomplices, friends, sisters and equally mothers. A word of advice? Get your Kleenex handy.