Everything you need to know about the new "Barbie" movie
From the first image of the actress as Mattel doll to the movie's release date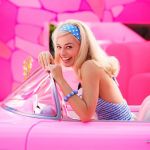 The hype around the Barbie live-action movie is growing, and as the release date approaches, the details about the project are multiplying. Along with a Polly Pocket movie written and directed by Lena Dunham and starring Lily Collins, the project also marks the first film deal for Mattel Films, the toy company's film division. During CinemaCon in Las Vegas, Warner Bros., co-producer of the movie, unveiled the first image of Margot Robbie as Barbie, which immediately went viral. In the shot, the actress smiles aboard a bubblegum pink convertible and sports a look that mixes shades of blue and white: a striped halter top, a bracelet made of maxi colored pearls with a shaded effect and a polka dot headband over her long blond hair with a slightly sixties hairstyle.
Watching Robbie whizzing around in a car, in an all-pink set, with her hair in the wind, open smile and big blue eyes, it's like reminiscing about the Malibu Barbie we used to play with as children, and it seems clear that no other actress could have embodied the world's best-loved doll better. The look is perfect, the set design you see looks like one of Mattel's many playsets, but what will the rest of the movie be like? Here's everything we know about Barbie.
Margot Robbie didn't have to play Barbie
The image released by Warner Bros. shows how Margot Robbie is a perfect Barbie, but, at the beginning of the project, the names vying for the role were Anne Hathaway and Amy Schumer, who dropped out after a few months due to creative conflicts with the production (she wanted Barbie as an "ambitious inventor"). Then, in October 2018, The Hollywood Reporter revealed that Robbie was in talks to star in and co-produce the film with Warner Bros. Once the news was confirmed, the Australian actress and Chanel ambassador said she was thrilled and honored to become Barbie:
"Barbie has been fundamental for so many little girls who, by playing with it and inventing stories, have gone on to discover themselves: in 60 years of the brand, Barbie has allowed children to imagine themselves in aspirational roles, from princess to president. I am so honored to take on this role and produce a film that I believe will have a tremendously positive impact on children and audiences around the world."
Ken is Ryan Gosling
The official news came in October 2021: Ryan Gosling will play Ken, the world's most famous doll boyfriend. A very good choice that will give to the handsome Ryan the umpteenth cult role, because the project, apparently banal, could reserve some surprises and be very interesting, not only thanks to the casting, but, above all, for the involvement of the director and screenwriter Greta Gerwing. For the past few weeks, the actor, who has given the role a lot of thought before accepting it, has been spotted around London, where the live-action is being filmed, with short platinum blond hair, showing the first step of his transformation into Ken. Now, at last, Warner Bros. has released his first official and rather "plastic" shot in Mattel doll version: winking smile, bleached hair, total denim look, low-waisted jeans from which sprout boxers signed "Ken," six-pack in full view and a tan as Californian as it is artificial.
Greta Gerwing is the director and co-writer of the movie
The Barbie franchise was originally supposed to make its big-screen debut with a script by Diablo Cody, who was going to rework a script already done by Sex and the City author Jenny Bicks, then the project was handed over to Hillary Winston and, according to the website Imdb, was supposed to follow Barbie in the real world after a forced departure from Barbieland because she was guilty of not being perfect enough. In the end, however, due to various problems and creative differences, the live-action ended up in the (very capable) hands of Greta Gerwig, who will direct, but also write the screenplay with her partner Noah Baumbach. In the past, Gerwig has curated such films as Little Women (2019), Lady Bird (2017), as well as Frances Ha (2012) and Mistress America (2015), all cool, critically acclaimed indie projects, well-written, interesting stories that effectively chronicle neuroses, different generations, loves, and beautifully imperfect human beings. That is why expectations for Barbie are so high. Gerwig didn't reveal any details, but Margot Robbie did, who said in an interview with British Vogue that the movie "will be full of nostalgic connections to the past" and added:
"People generally hear "Barbie" and think, "I know what that movie is going to be," and then they hear that Greta Gerwig is writing and directing it, and they're like, "Oh, well, maybe I don't..."".
Sex Education's Emma Mackey and Ugly Betty's America Ferrera are in the cast
As the release date draws closer, the film's cast is also getting richer. In addition to Margot Robbie and Ryan Gosling as the main leads, we'll also see Emma Mackey from Sex Education, America Ferrera from Ugly Betty, comedian Will Ferrell, Issa Rae from Insecure, Juno star Michael Cera, Simu Liu from Shang-Chi and the Legend of the Ten Rings, Ariana Greenblatt from Awake, Ghostbusters star Kate McKinnon and, last but not least, Alexandra Shipp from Tick, Tick... Boom!. No details on what role these actors will play in Barbie.
The release date
The filming of the movie started a few months ago in London and it is easy to see the cast members around the city, but to see them on the big screen we will have to wait a little longer. During CinemaCon, Warner Bros. revealed that Barbie will hit theaters on July 21, 2023.