All we know about Rihanna and A$AP Rocky
Did they really break up?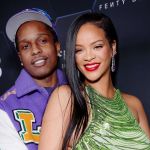 Rihanna and ASAP Rocky have reportedly broken up, due to an affair. The rumor came quite unexpectedly, while our Instagram feeds were still flooded with the beautiful images of Riri with a baby bump as portrayed by Annie Leibovitz for Vogue US and it immediately entered the trend topics. The news (which has yet to be confirmed or denied by those involved) was spread by Louis Pisano aka Louis Via Roma on Twitter:
"Rihanna & ASAP Rocky have split. Rihanna broke up with him after she caught him cheating with shoe designer Amina Muaddi. Amina was responsible for designing Fenty's footwear offering and Rihanna is often seen in custom shoes from her own label. ASAP & Amina is not new though as she was seeing him years ago and also collaborated with him on a collection of shoes. Things apparently hit the fan at Craigs in LA. She also stopped following her on Instagram."
According to the influencer, the rapper cheated on his girlfriend during Paris Fashion Week with Amina Muaddi. Muaddi is one of the coolest and most popular shoe designers of the moment. Of Romanian and Jordanian origin, after studying at the IED in Milan and training for Alexandre Vauthier, she founded her own eponymous brand in 2018 managing to conquer with her glamorous and sexy creations from modern Cinderella it-girls such as Dua Lipa, Kendall and Kylie Jenner, Bella and Gigi Hadid, but also Rihanna herself who wanted her as a shoe designer for Fenty and often wears her heels. She also did so a few days ago, the star was spotted wearing Ursina pumps by Muaddi, who reposted the photos a few hours before the rumors surfaced, a detail that could disprove the rumors about her cheating with Rocky.
Rihanna & ASAP Rocky have split. Rihanna broke up with him after she caught him cheating with shoe designer Amina Muaddi.

— LOUIS (@LOUIS_via_ROMA) April 14, 2022
The relationship between Riri and A$AP, which was officially confirmed about a year ago and sealed with the announcement of the singer's pregnancy, who proudly shows off her baby bump in a shower of streetstyle outfits, has attracted a lot of attention, making the couple's many fans excited and now unable to believe that the romance has come to an end. Recently, the singer happily told Vogue how the pair went from being friends to lovers during a bus trip from Los Angeles to New York in the summer two years ago:
"I used to cook our food on this cheap grill I bought at Walmart (American supermarket). I still have it. It works great. [...] It became my family at that time (the lockdown). I love simple things but also great adventures. There's no pretentious nonsense like my brand and your brand, it's just us living. I feel like I can go through every part of life by your side."
Reactions to Pisano's tweet have accumulated a mixture of dismay and rancor towards Rocky's alleged lover.