Alessandro Michele is writing a book on philosophy and fashion
Gucci's creative director will publish it next year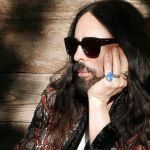 Alessandro Michele is collaborating with philosopher Emanuele Coccia on a book about the relationship between fashion and philosophy. HarperCollins has announced the news and will publish the still-untitled project in Italy:
"Drawing on Michele's personal story and on the impact his work has had, the publisher says Michele and Coccia will show how traditionally distinct forms of creativity and intellectual pursuit—fashion and philosophy—are inextricably intertwined: if fashion knows how to explode centuries of art and knowledge into a daily experience proper to every human being, philosophy cannot help but become, too, a form of fashion."
You only have to look at one of his collections to realize that Alessandro Michele is much more than just a designer. Each of his creations conceals a universe made up of parallel worlds, where fashion, art, literature, cinema, theatre, pop culture, mathematics and philosophy combine and contaminate to give life to fragments of uniqueness and beauty. In the notes accompanying Gucci's fashion shows it is easy to find references and quotations from Foucault, Giorgio Agamben, Barthes or Derrida, clear indications of the importance of philosophy as an inspiration and language that helps the creative director of the Florentine fashion house to transform his visions into clothes. His relationship with philosophy is so fundamental that it prompted Michele to say:
"If I hadn't found this narrative way, maybe I would've left fashion".
The creative confessed this to Harvard students, where he participated (via Zoom) as a special guest in a series of lectures entitled The Ego in Things: Fashion As a Moral Laboratory held by Emanuele Coccia. The syllabus, which seemed a sort of preview of the new book due out in spring 2023, began with the concept that "fashion is an art", explored how such art can be used to construct our identities and shape culture, and ended with a more specific look at Michele da Gucci's work.