Rihanna is officially a billionaire
According to Forbes, the singer and founder of Fenty Beauty has assets of $1.7 billion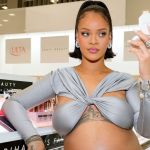 Forbes has just included Rihanna in its annual list of the World's Billionaires, officially crowning the star as the world's richest female musician and the first billionaire to come from Barbados. With an estimated net worth of 1.7 billion dollars, Riri has reached position 1,729 in this exclusive club that includes business giants such as Elon Musk and Jeff Bezos, as well as many celebrities from showbiz, such as Peter Jackson, the director of The Lord of the Rings, who became a billionaire last November, and also Jay-Z, Kanye West and Kim Kardashian, who apparently has a net worth of 1.8 billion dollars.
Despite a successful music career consisting of eight albums, many hits and nine Grammy Awards, Rihanna owes her new status to her career as a businesswoman and, in particular, to Fenty Beauty. The cosmetics brand founded in 2017, thanks to the great range of product shades, designed to embrace greater inclusivity than other competitors in the industry, recorded over $550 million in revenue in 2020 to reach a net worth of over $1 billion in August 2021. The singer also overcame the flop of Fenty, her clothing line with LVMH that closed last year, instead, she focused on Savage x Fenty, the super inclusive underwear line in which she holds a 30% stake, which was valued at $1 billion in February 2021.
This success has come almost unexpectedly, so much so that only a few years ago Rihanna, as she confessed to actress Sarah Paulson during an interview for Interview magazine, would never have imagined herself building an empire:
"I had one dream and that was for my music to be heard all over the world. I didn't even think about the fame part, and then that came, and I was like, "Oh, shoot. Do I really want to do this?". But the thing that keeps me alive and passionate is being creative. With every business outlet, I'm making something from a vision to a reality, and that's the thing I really enjoy. Music had led me to these other outlets, and to things that I genuinely love."
Singer, businesswoman, national heroine of Barbados, mom to be and now a billionaire. What will be Rihanna's next milestone?