Russian influencer's reaction to Chanel's ban
Personalities started cutting their 9000$ bags in front of the camera tagging #byebyechanel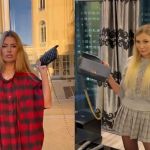 "If Chanel doesn't respect customers, I don't see why we should respect Chanel," says Russian influencer Victoria Bonya as she cuts off her Chanel Flap Bag from the retail price of about $9,000 with her eyes fixed on the camera. The video, which has already gone viral, is the celebrities' response to yet another sanction applied to Russia by the French fashion house, which had previously closed its stores in the country like so many other international luxury names, but especially to the demands for identification in Chanel boutiques in Europe, where purchases of Chanel goods are blocked to those who plan to bring them back to Russia from a trip abroad.
"Western boutiques ask for identification data, and when you [give] a Russian ID number, the clerks block the sale and justify themselves by saying 'we only sell things to Russians with the promise that they won't bring them to Russia and wear them there.' Since I often come to Dubai as a guest of Fashion Week, the Chanel executives recognized me, approached me and said: We know that you are a celebrity in Russia and that you will return there, so we cannot sell you items from our brand."
So says Kalashnikova, accompanying her video with the hashtag of protest launched on social #byebyechanel that in these hours continues to collect videos of those who deface the bags praising Russophobia, a term also supported by the spokeswoman of the Russian Foreign Ministry Maria Zakharova who mentioned Chanel's controls on Tuesday, emphasizing the outrage against the French brand that asks buyers to identify their origin with an anti-Russian behavior. Actually, it is not a total ban, because sales managers in Chanel stores are allowing purchases from Russian customers if they can prove that they do not reside in Russia and/or agree in writing not to use the goods in Russia or otherwise export them to the country.
Cutting off sales to Russian concumers to punish war crimes is not necessarily easy, and overall is desitined to penalize Putin's connationals that oppose the war and manifest against it, as IG creator @floweirdy stated concretizing the anti-war Russian sentiment:
"I am Russian. Seven years ago I came to live in Ukraine. I live in Kyiv. This wonderful country has become my home. My daughter was born here, she is Ukrainian. I want to say that during this time I have never encountered any discrimination from Ukrainians. But in this country I felt freedom and hope, which, unfortunately, I didn't feel in my own country. I am very ashamed of Russia's aggression against Ukraine, even though I did not choose this government. And I am against it! I do not support it! I think it's important to at least say it, because it's one of the few thing I can do."
However, the brand has defended itself with a statement affirming simple compliance with European Union and Swiss trade sanctions that prohibit the sale of luxury goods priced over €300 in Russia and the sale of luxury items to people who intend to use them in Russia while displaying the brand's logo. Considering that Russia accounts for only 3% of Chanel's annual sales, the gesture has a strong visual impact but is unlikely to hurt revenue on total figures, especially since customers identified as "high spenders" have already left Russia and make their luxury purchases in fashion capitals such as London, Paris, Milan and New York, possess multiple credit cards and identification documents that allow them not to be tracked, as reported by Jefferies market analysts Flavio Cereda and Kathryn Parker to The Fashion Law. Cutting off sales to Russia's wealthiest consumers to punish the malicious war crimes carried out by the Russian military and Russian President Vladimir Putin and his allies by implementing sanctions and requiring brands to close their stores in Moscow and other Russian shopping cities is not necessarily easy because there are places like Dubai where sanctions are not always enforced.
In the history of brand boycotts a keen eye might connect #byebyechanel to the cultural scandal of Dolce & Gabbana's SS18 campaign, which caused D&G to freeze in the Asian market for a loss of a third of revenue and u. The problem is that the position of Russian influencers and oligarchs' girlfriends is clearly on the side of war crimes if you want to compare the two events, while the reaction of Chinese social media like Weibo in 2018 was culturally sensible, especially after years of abuse and hyper-simplification of traditions used by brands to do marketing.