Maya Angelou is the first black woman on a US quarter coin
To honour her impact on civil right's history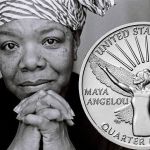 Maya Angelou became the first black woman ever to appear on a quarter dollar in the United States. The coin entered circulation on Monday, January 10 in the United States as part of the State Mint Program "American Womens Quarter" devised by Democratic MP Barbara Lee. Angelou, a writer, poet and civil rights activist played a key role in the active conversation against racism and violence against the black community in the United States, and worked as a coordinator for Martin Luther King Jr. and Malcolm X. It's because of her that the literary world began to take black writers seriously when it was impossible before, her influence has spanned generations of history and through her passionate cultural work, Academic and political has touched all corners of American culture and not, inspiring the new generations. Amanda Gorman, Nationa Youth Poet Graduate of the United States and heir to her work, is also excited about the recognition as she says on Twitter.

"My mission in life is not merely to survive, but to thrive; and to do so with some passion, some compassion, some humor, and some style." Maya Angelou

His first book "I Know Why the Caged Bird Sings" (1969) tells of his difficult childhood between discrimination and abuse, representing hot topics for black women in the period of the Civil Rights Movement. "And Still I Rise" (1969) and "Gather Together In My Name" (1974) have become over the years a fundamental text for the debate on affirmation and abatement of racial discrimination, of free expression for the female community, as well as bestsellers worldwide thanks to the words full of pain and strength of a woman with extraordinary depth and critical ability.
"The Heart of a woman" (1997) and "Letter to My Daughter" (2008) are some of the 36 books of which she was the author and for which she won more than 20 honorary awards. Among the other successes of his career we remember his poem On the Pulse of the Morning at the inauguration of the Presidency of Bill Clinton in 1992 and received the Presidential Medal of Freedom, one of the highest awards in the United States by Barack Obama himself in 2010.

After her departure in 2014, being represented as a symbol on the coin also means being physically engraved in American history. Her silhouette of the poet is sculpted in metal with her arms raised, like a bird in flight, and with a sun rising behind her, to resume her poetry and her way of life according to Janet Yellen, US Treasury Secretary, who states:

"Every time we reproject our currency, we have the opportunity to say something about our country - what we appreciate, and how we have progressed as a society. I am very proud that these coins celebrate the contributions of some of the most important women in America, including Maya Angelou"

The Mint will issue five quarters of a year to honor women in fields such as women's suffrage, civil rights, abolition, government, science and the arts. This year's other awards will be Sally Ride, the first American woman in space; Wilma Mankiller, a Native American activist; Nina Otero-Warren, a leader in the New Mexico suffrage movement; and Anna May Wong, the first Chinese American movie star in Hollywood. By 2030, the project aims to represent abolitionist Harriet Tubman on banknotes, who is expected to replace Andrew Jackson on the $20 bill by 2030, according to the Treasury Department.