Who's Julia Fox?
The actress who posed with Pete Davidson is now dating Ye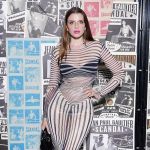 A headline name, "Sancti" tattooed on the right shoulder and "Spiritus" on the left, a role alongside Adam Sandler in Uncut Gems and an addicted past in which she risked overdose. This is the long-story short to tell about Julia Fox, Italian-American actress and Kanye West's new flame. Her face invaded the Internet yesterday, when Interview Mag published a reportage on the second date of the new couple, which went more or less like every basic luxury date: first at the cinema then restaurant and finally hotel, if it wasn't for the fact that Ye organized a shooting during dinner and gave her a suite full of clothes, definitely consistent with the rapper's influential style. " It was every girl's dream come true. It felt like a real Cinderella moment" said Julia.

Her moment is surely this one, but who is and what did Ms.Fox do before falling into Yeezus's arms? Not yet much at the level of acting, but the girl has his a strong circle of acquaintances and is a cool persona, so if this is the beginning of her storyline, it promises very well.
Born in 1989 in Milan to an Italian mom and an American dad, Julia grew up near the fashion capital where she attended a private Catholic school until she was 4 years old before moving to New York and growing up in the affluent Yorkville neighborhood, on the Upper East Side. "Girls in this neighborhood can be summed up as follows:

"Cute, they don't look messy, but they really are. They always run around with a nice bag, but no money. But we're still cute, and we look like Long Island."

tells Ms.Fox to the New York Times sharing also something about herself, but not directly. Julia's problems are drug-related, which she admits to having been addicted to for a while, also making difficult her pregnancy and her first marriage, ended years ago with an airline pilot, from which she has a son, Valentino.

Growing up, Julia does several jobs, including the shop assistant in a shoe store, the ice cream parlor and even the dominatrix in high school, as she told Rolling Stone in an interview in 2020:

"It was at the time when the "Adult Gigs" section still existed on Craigslist. I was shaking, and between prostitute engagements, I clicked on what said "no nudity, no sex," which enticed me".

On the other hand, the relationship with the body and awareness are at the base of the acting ability, and Julia manages it well, in fact in 2015 poses for Playboy, directed by Greg Marni, of which she becomes a muse. In 2019 she played Barbie in the cover of Paper Magazine alongside a particular Ken, no less than the current boyfriend of his date's ex-wife, Pete Davison, as reported by E! Online. Ah, destiny, or simply a short-sighted radar in the universe of celebrities. Considering in May the actress posed for a Skims paid sponsorship and the brand had reposted the image with links for the purchase, Ye did not sail West to find his new Penelope.
Then, thanks to acquaintances in the New York unseen underworld, Julia transforms the passion to interpret the wishes of clients in acting when she meets the Safdie brothers, directors of her debut film "Uncut Gems" in which next to Adam Sandler tells a story of life as a couple playing a character who seems to be sewn on her, with the same habits, energy, tendency to "always have a scandal", as she said at the NY Times, even the style. In 2020 she played Vanessa Cappelli in the thriller No Sudden Move by Steven Soderbergh alongside Benicio del Toro in streaming on HBO Max.
In addition to her passion for acting and her teenage jobs, Julia was also a designer of a clothing brand with her friend and partner Briana Bandalore when in 2014 the two launched
Franziska Fox
, with the aim of representing a woman who encourages those who look at her to see things in a new way. After a good success in America through stylist and photo shoots the project - which also ended up on Lindsay Lohan for a Nylon Magazine - does not take off, and to date the brand's Instagram profile is unreachable.
Last but not least, Julia is a material artist. Not ceramic vases or watercolor paintings for its creative expression, but its own blood on canvas for the gallery exhibition called "R.I.P. Julia Fox" in 2017. In addition, he self-published two photographic books - Symptomatic of a Relationship Gone Sour of 2015: Heartburn/Nausea and PTSD of 2016. Trauma is always the engine of great conversations that can rise empathy, and who knows if she and Kanye have that in common.