Being Mariacarla Boscono
Interview to the polyedric model who interprets herself everyday
"Models like me are models that have the so-called personality factor rather than the beauty factor". So, under the soft lights of Ronin at the launch event of the K-Way collection by Mariacarla Boscono, our intense, heartfelt and aspirational conversation begins with the model of global fame. On the occasion of the launch of her second capsule collection for the brand, inspired by a winter paradise in which to free the senses and be themselves, Mariacarla Boscono agreed to tell us more about the creative process put in place to design the collection, during which, recounting the details between moodboard and laughter, emerged his chameleon personality, emotional and empathic, who speaks with deep transport of his past, his relationship the women of his life and with the rampant conformism of today's society.

Active since 1996, mother of a beautiful girl and woman without limits, Mariacarla told herself in the round in this interview to read to find out something more about her figure, who chooses carefully when and what to say, but above all how to say it.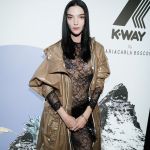 How important is personality in your work?

Naomi, Kristen Mcmenamy never take themselves seriously, they are funny, and for me it is fundamental and beautiful especially for those who do this job. For so many years when someone recognized me (I've always had a niche fan category, like the things I've chosen to do in my career) they were amazed at how nice I was. This is because I have created around me an aura of detachment from the outside, which however manages to fall at the moment of interaction with the other. I think it's wonderful that a character, at least for me, is untouchable: today we are bombarded by the faces of icons and celebrities 24 hours a day, including gossip magazines, Instagram, Tik Tok and when we see them at the cinema or on the catwalks they become less credible.
Those who look at me from the outside have a conception of me that does not exist, which makes for me "interpreting mariacarla" even more interesting than "being Mariacarla". I speak little, I do few things that I select depending on what makes sense to me to do, and that's why it's special, like the collaboration with K-Way.

What made you want to work with K-Way?

Who wasn't born with your mom tying your K-Way? The brand struck me, I wore it as a child and my mom bought it for me and I buy it for my daughter, the gesture of fastening the windproof jacket is a ritual that lives of maternal love. Designing the collection was another challenge to interpret Mariacarla also as a designer. Drawing an anti-wind far from the concept of ski-wear I was able to express my desire to free women from opportunities of use and labels: with the winter collection for K-WAY and the ski suit you can and must go skiing, But at the same time you can choose to be the woman you want: personally I see myself wearing the overalls walking on heels for 5th avenue, go to Balthazar to do brunch and take off at the entrance revealing an outfit scary. What inspires me most of all is how to put together the different types of women, and in the choice of color I channeled this desire to embrace all women opting for a shade that would marry with all the complexions, with a neutral that makes the woman who colors the ski-suit.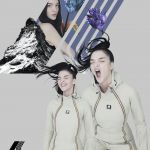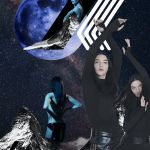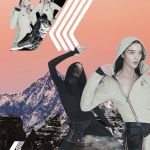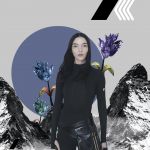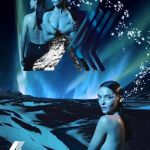 Tell us about your creative process in designing the collection.

The creative process was very complicated. We start from the fact that I am not a designer and that I live from images selected by a direct contact with the environment that surrounds me, the pandemic restrictions have prevented me to go to the factory and touch the fabrics and follow the process closely.
Luckily I have reference scattered in the head from all over the world, I know how to draw, I do moodboard since I'm a little girl, so much so that I passed this passion to my daughter who in the morning asks me "What's my outfit, what's my mood" and I base my creative reality on the selection of ideas. For the collection created remotely I made hundreds of moodboards in my own way, printing images and ideas on paper and putting them in a row on the ground, which I then shared with the K-Way family who understood what I wanted to create.

Were there any people or characters in your life who inspired you?

The basic inspiration is women who are part of my life: my mom, a woman who brought me to Africa, to America, chic in her having to be a woman of the house and not a privileged one, but wearing a kimono and her nails lacquered red and curlers on the head, because then at 6:00 he would have a drink with my dad. She was a contradiction that always made sense, and that's what fascinates me in fashion and that I tried to instill in the collaboration with K-Way: not everything has to make sense, but it depends on how you interpret the garment because the only rule to have in the relationship with fashion is not to have rules. Fashion should not be standardized, since I work, 1996, I have seen many people being and dressing alike, homologating, when it was not yet passed the message that we do not have to be all equal. When I arrived in private Catholic school as a child with an Indian saari, a leather nail and Birkenstock, henna tattoos and braids (not even being baptized) after childhood in India I experienced bullying and judgments that made me suffer, but never doubt my view of the world.
My mother had not prepared me, but she knew that I would meet people poor in culture, in spirit, in information that I had to realize and to which I had to get used. Fortunately, those who want to talk and explain and open their eyes to those who do not know can change things.

One last question, to lighten the mood: are you more of a cabin or extreme ski girl in the mountains?

In the mountains, I'm a landscape girl, but I did everything, black slopes and acrobatics, but the mountain has a breathtaking view, just have the c*lo hot.