The relationship between fashion and sex toys in five examples
How the objects of pleasure arrived on the catwalks
Sex toys are totems and taboos, they are design products that in recent decades have carved out a space for themselves in the world of communication and in high fashion. In the book Fashion as Cultural Translation: Signs, Images, Narratives Patrizia Calefato tells us that there was a time when fashion and pornography shared the same semiotic vision of the sex toy, a time when sex toys beckoned from one side to the other, and were invested with a notable symbolic charge. They were metonymies, they represented sexual liberation, a way to go against traditionalism and censorship. Today this is still partly the case, but at the same time sex toys have settled among our cultural references, partly due to pornography, partly due to the sex-positive current of feminist inspiration. Perhaps it is time to say that our imaginary has changed and has become aware of the fact that these objects of pleasure have ceased to be 'toys' and have become (but they always have been) 'objects'.
Even some forms of soft-porn entertainment have been sources of inspiration for fashion, we can think of burlesque, striptease or lap-dance shows, and how, for example, they were translated in 1993 by Vivienne Westwood in the hyper erotic Café Society collection in Paris and, more recently, in the second Savage X Fenty show, which saw Demi Moore in lingerie surrounded by dancers and fishnets. Fashion has shown us how much pornography is linked to language and communication, in form as well as in substance, and today we live in an era that is bringing to light all those sexual inclinations that were once repressed from a social and regulatory point of view, thanks to both online porn and the rise of the LGBTQIA+ rights movement. But how were these sex toys, once bound to deviant spheres, used on the catwalks?
Versace introduces BDSM
The first big case dates back to Fall 1992, when Gianni Versace presented Miss S&M. The title of the show was already a whole program: he referred to sadomasochistic practices, often abbreviated to SM, S / M or S&M. This is where the whole system of references - that still accompanies us today when we pronounce the name Versace - is formed, as Gianni said, "there is the American cowboy with the European baroque": the bondage theme, including belts and buckles, is loaded on clothes in black, gold and red, recalling an aggressive, playful and disruptive sexual image, brought to the extreme thanks to the most famous supermodels of the time (such as Linda Evangelista, Naomi Campbell, Helena Christensen, Claudia Schiffer).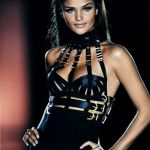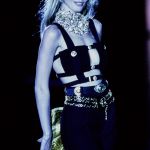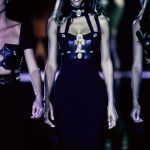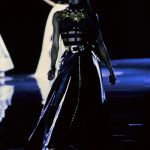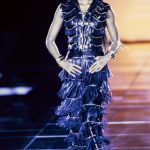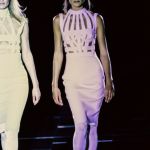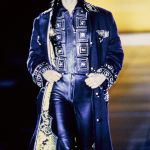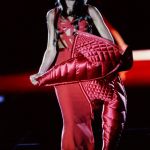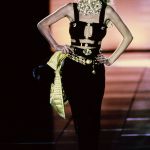 The show raised several criticisms, first of all that of Michael Gross, a New York journalist, according to whom "sexuality is returning to sort of the big tease". The comment comes from the 1990s, when televisions were flooded with news and information advertisements on the AIDS crisis. So while the sexual discourse was based on fear, Versace gave shape to his "woman", subject and not object of sexuality. And even though Suzy Menkes, journalist and fashion critic of the International Herald Tribune, argued that Versace's bondage involved the association of women with sexual objects, at the same time she also knew that "women have a right to choose. They can choose whether to go buy these clothes and wear them or not".
Miss S&M moves the world of dungeons on the red carpet, therefore in 1993, in New York, Donatella Versace makes one of her first big appearances, on the occasion of the 100th anniversary of Vogue, with a dress from the collection. Afterwards, countless celebs will wear a reinterpretation of the bondage dress, such as Cindy Crawford, Miley Cyrus, Lady Gaga, Kim Kardashian, Kaia Gerber and Beyoncé.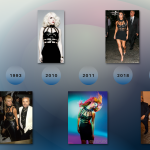 The triumph of latex in the early 2000s
The new millennium opens with an image: Britney Spears singing "Oops, I Did it Again" in the iconic super tight red latex catsuit. Designed in a single night by Michael Bush, a costume designer who also worked with Michael Jackson and Elizabeth Taylor, the choice of the outfit did not it was easy, not least because the video's stylist, Estee Stanley, was worried about the sweat it would cause. In any case, the suit in question still remains today among "the top looks of the stars", so much so that it was revived in 2019 by Miley Cyrus in the Mother's Daughter video, with the only difference being that she has a "bejeweled toothed vagina" - not so much as a reference to Freud, but more to the concepts of feminism, scandal, self-determination, body positivity and so on.
Red latex was also the protagonist of Lady Gaga's meeting with Queen Elizabeth II in 2009, when the pop star wore a wide ruff and a total rubber dress with puff sleeves by Atsuko Kudo for the Royal Variety Performance.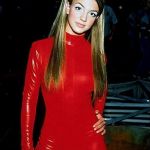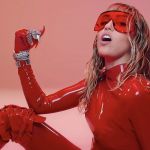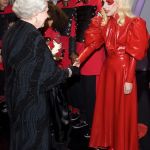 The Japanese designer, specialized in couture latex design, said in an interview that according to her, prior to this meeting between queens (respectively of the camp and of the United Kingdom), "latex was very underground, this encounter brought it into a more mainstream context, redefining it".
Later, over the course of the decade, latex was used on the catwalks of many other brands, from Valentino to Marc Jacobs, from Chanel to Dolce & Gabbana (and of the latter we can also remember the AW 2007's leather whip for spanking). The Kardashian sisters took care of making latex the symbol of the 2000s and perhaps it is no coincidence that today, in the great Y2K nostalgia, this material is re-proposed; an example of all is the coordinated Balmain outfit by Kourtney and Kim for the 2020 Balenciaga fashion show in Paris.
Streetwear discovers Tenga
Since 2010, the Japanese brand of male sex toys, Tenga, has launched the Respect Yourself project, a campaign to raise awareness on AIDS and raise funds for medical research. In December 2012 (the 1st of December is in fact World AIDS Day) they launched a new collaborative edition with various brands including HUF, a skate and streetwear brand, with which they created a special edition of the Vacuum Cup, "FUCK IT". Similarly, Tenga in 2017 also collaborates with Anti Social Social Club for a new cup.
Still on the streetwear theme, we cannot fail to mention Supreme's SS21, in which the I'm not sorry t-shirt was presented with a teddy bear wearing a strap-on and holding a whip.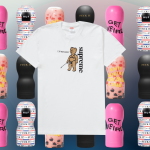 How brands have used sex toys over the past decade
In 2017 Rick Castro, author and photographer, asks Rick Owens if he believes in fetish, and the designer replies by saying that he believes "in complete immersion in and exploration of one's personal interests", and adds, "I believe in taking the simplest of life's joys, and elaborating on and celebrating them. Be it sex, tea or kittens". The exploration Owens talks about can be seen in the Butt Muscle music video with Christeene, an American performance drag artist, in which the artist uses huge rotating dildo-vibrators, performs a pissing scene on the designer while kissing a flying Michèle Lamy, and immediately afterwards there is a surreal scene, in an aesthetic sense, in which Rick's hair passes through a butt plug attached to Christeene and come out of Christeene's mouth. It is neither the first nor the last extreme demonstration made in Owenscorp in terms of kink, contemporary art, Eros and Thanatos, since its entire value system passes through experimentation and innovation in these fields.
Three years earlier, in 2014, the Porterville's designer had also inspired an entire collection of sex toys curated by Michael Reynolds and Jeff Zimmerman, that was an Adult Tool Kit with black blown-glass items, including dildos, gags and plugs like the Unicorn I which, as it happens, has a long black tail attached.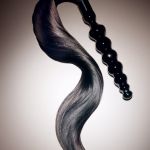 Also in 2017, the French store Colette closes its doors and chooses to create a final collaboration with Yves Saint Laurent (maison that would have occupied the first floor with the last pop-up store in the spaces in Rue Saint-Honoré), with a number of disparate objects, including a leather spanking toy. Two years later Anthony Vaccarello with the The Love Affair campaign also proposed condoms by Saint Laurent, with checkered, animalier, gold and latex-like packagings.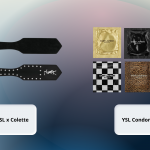 From now, as they say, it was all downhill. In the F/W 2018 men's collection Moschino has re-proposed BDSM masks, rubber gloves and latex trench coats. And in May 2018 Rihanna gave birth to Savage X Fenty, bringing lingerie to the Olympus of inclusiveness and launching 10 new kinky items (whips, bandages, marabou handcuffs, silky satin restraints to kink it up a notch, and so on). A last, more recent example is provided by Glenn Martens, who sent a Murano glass sex toy for the Diesel SS22 as an invitation to participate in the digital show, saying that "these adult playthings are the result of local craft to lust after".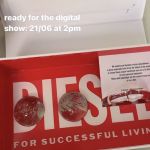 From Gucci Orgasmique to Love Parade
The latest case is the Gucci's one. We had already talked about how the fashion house has repeatedly challenged the concept of "gender" and repeatedly confronted itself with sexuality.
In AW 2019 Alessandro Michele played with collars with studs, halfway between punk, fetish, and French collars of the 18th century, but he also explored the theme of defense through masks. Masks that recall Eyes Wide Shut and the BDSM world, but also explore deeper themes such as that of "changing sexual orientation, one of the most difficult masks to wear". «The mask», "Lallo" explains, «always hosts a tension between divergent impulses: exhibition and concealment, manifestation and protection, vanity and modesty. The mask is a form».
In SS20 comes Gucci Orgasmique, again with that latex and whips also present in the "Aria" collection hacked by Balenciaga for the hundredth anniversary. In this latest show, the leather harnesses had to refer to the artisan origins of Guccio Gucci, when he sold "equestrian" leather goods and, in particular, saddles; but it was impossible to avoid sexual references, partly because harnesses have always been such connoted accessories (and that of Louis Vuitton, designed by Virgil Abloh for Timothée Chalamet at the 2019 Golden Globes, has only strengthened this imagery for the GenZ), partly because a copy of Freud's Three Contributions to the Theory of Sex also appears in the photos of the campaign.
© Gucci / Mert Alas, Marcus Piggott
This year, however, with Love Parade, Alessandro Michele presented necklaces with butt plugs and "geisha balls", various corsets, latex and chains that are quite reminiscent of anal beads. Seeing sex toys as jewels is not like inventing the wheel in the Neolithic, in short, it is not a sensational innovation: think of Crave's necklaces, Unbound Babes' Palma ring, or the creations of Bijoux Indiscrets. But Gucci was able to show them off with a performative act, with the spotlight on.
Furthermore, the accessories seen in Los Angeles do not stop here and, after the bondage masks, we also find the Peek-a-boo Hat by Elsa Schiaparelli, whose sexual symbolism is perhaps not immediately grasped, but to recover the reference it would be enough to read an old French article in the surrealist magazine Minotaure (D'un certain automatisme du goût, 1933) by Tristan Tzara, one of the founders of the Dada movement.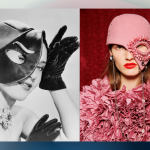 Schiaparelli who, among other things, we can also establish as the initiator of the fetish fashion genre, with the 1938 Skeleton Dress created with Salvador Dalì. It is precisely from this surrealist reinterpretation of the fetishised female anatomy that the union between BDSM, sex toys and fashion takes root, the one that was able to bring us from the Vivienne Westwood boutique renamed SEX (open at 430 Kings Road in the neighborhood of Chelsea, London, with her partner Malcolm McLaren, manager of the Sex Pistols) to the book of erotic photographs, also called Sex, of Madonna, who in the 1990s unhinged entire generations with the iconic Jean Paul Gaultier corset.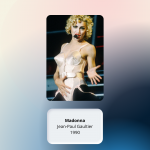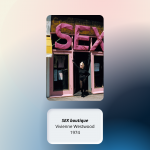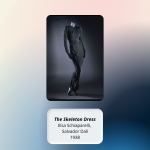 The BDSM aesthetic, and the whole world it includes, is the one in which the objects of pleasure have more space to act and, at the same time, it is the one that is most repressed and moved to the margins of society. Over the years fashion has pulled out hints of it, and it is one of those courses and recurrences of history, which took its first steps in the 70s with Vivienne Westwood and Mugler, has been transformed into art with the shots of Steven Meisel and Helmut Newton, and eventually entered high fashion from Helmut Lang onwards.
But, as we have noted, this public relationship with marginal sexuality is nothing new, it is a fluctuating movement that spans the last 50 years, because - as Andrea Zanin, Canadian writer and BDSM educator pointed out - "basically, the mainstream has always been, and will always be, interested in things that are on its own edges" and "keeps rediscovering kink as being that edge".