The best masquerade balls in TV series
To celebrate Carnival with style
No masquerade parades joking about contemporary politics or referring to the pop icons of the moment. No confetti and sparklers lying in the street. Without big parties, which are impossible due to the pandemic, to celebrate Carnival this year we could be inspired by TV series.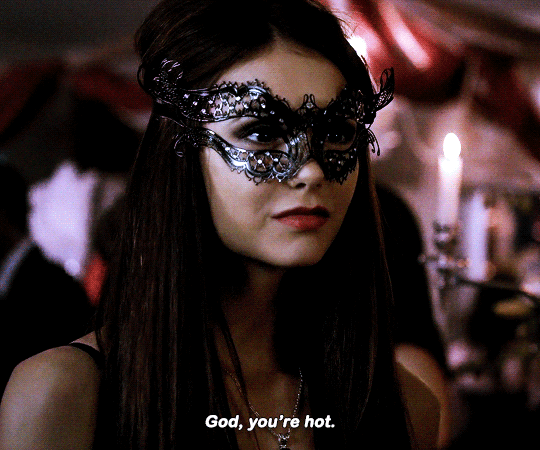 From Gossip Girl to The Vampire Diaries, the ingredients to replicate the perfect masquerade ball are: rivers of alcohol, mini canapés to snack on, hot guys, elegant clothes and minimal masks. All of which are reasonably easy to find if you're happy with a minor "wow effect". Order from your favorite takeout, wear a mix of pajamas, chandelier earrings (a minimum of glamour is required) and make a DIY mask with paper and scissors (Art attack?!). Netflix will provide the pretty guys for you.
Gossip Girl (Season 1, Episode 6)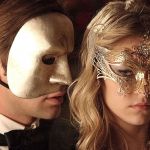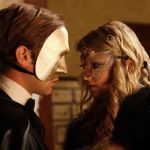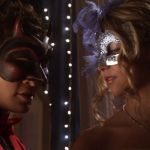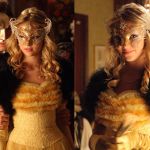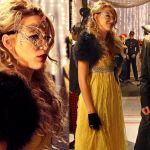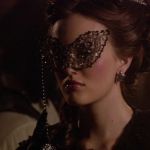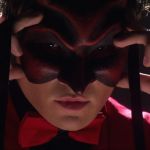 Even for you, the ultimate in glamour at 16 was partying with a couple of girlfriends, a Flying Tiger mask matched with a Zara dress, music, and some cake? Well, the Gossip Girl crew has completely different standards. When Blair decides to host a masquerade party, she goes big: impressive location, champagne, evening outfits, floaty long dresses, tuxedos, sparkling jewelry, sky-high heels. And, above all, switching identities. During the evening, in fact, Nate kisses Jenny thinking she's Serena and confesses that he still loves her. The yellow Valentino dress (from the SS07 collection) and the golden mask in the shape of a butterfly fool him.
In the fourth season, there is another masquerade party, this time themed "Saints and Sinners".
The Vampire Diaries (Season 2, Episode 7)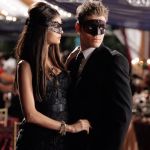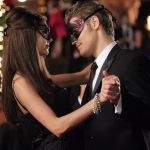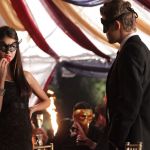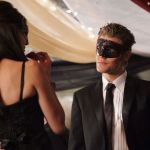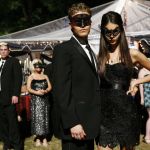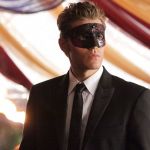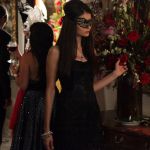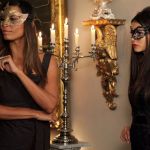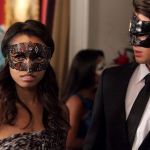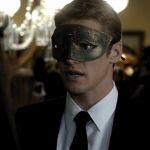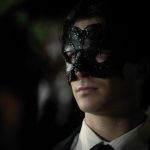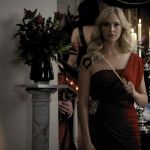 Problems are serious in Mystic Falls, but the residents deal with them with style, total black outfits and cunning. When the Salvatore brothers have to kill the over-100-year-old vampire and doppelgänger of the woman they love, they decide to do something during a masquerade ball at the mayor's mansion. Stefan and Damon, perfect in their suits and with their faces half-hidden by a mask with glitter details, are even more beautiful than Katherine/Elena in her little black dress or Caroline in blood red. The timeless charm of vampires...when you say beautiful and damned.
Revenge

(Stagione 2, Episodio 18)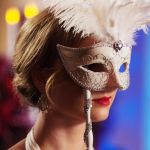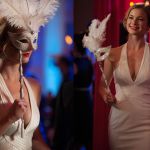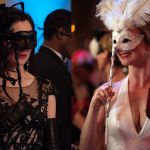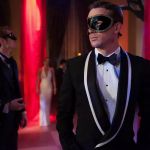 Everyone knows: revenge is sweetest when it's served up cold. But people ignore the fact that it is best if, while doing so, you wear a white gown (by BCBGMAXAZRIA) with a deep neckline, matched with a mask of the same color decorated with feathers. Watch Emily Thorne as she reveals the skeletons in the closet of her arch-enemy, Victoria Grayson, at All Saints' Eve.
Le terrificanti avventure di Sabrina (Stagione 2, Episodio 9)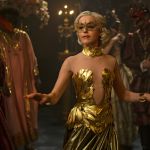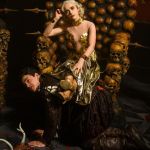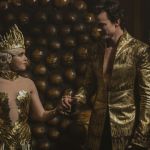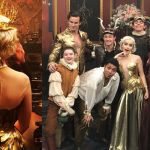 In hell they know how to throw a party. Even when the masquerade ball is just a trick to distract the Dark Lord. In the second season of Chilling Adventures of Sabrina, Sabrina and her friends perform Masquerade from Phantom of the Opera so perfectly that they fool Lucifer and trap him in Nick Scratch's body. It is not just the musical scene that catches the eye, but young Spellman's golden feather dress.
Dynasty (Stagione 2, Episodio 18)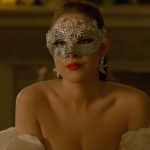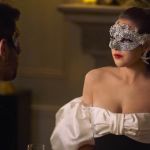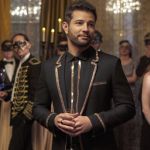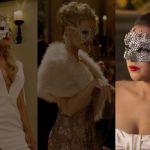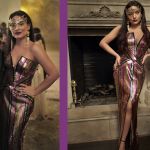 The remake of the eponymous 1980s cult series is a series of romance, twists, intrigue and designer clothes. Luxury is the focus of the show, at least as much as the feud between the Carringtons and the Colbys. Case in point. Have you ever announced your singleness with a masquerade party referring, albeit indirectly, to Truman Capote's Black and White Ball? Next time you break up with your partner, think about it.
Pretty Little Liars
(S
tagione2, Episodio25)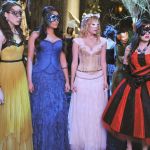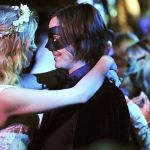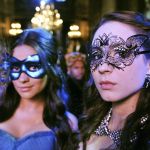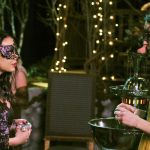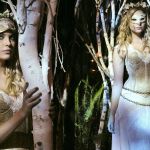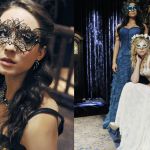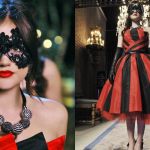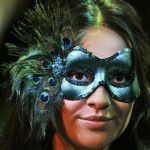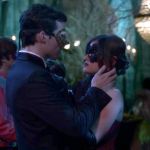 Intrigue, mystery, and surprise twists and turns don't leave the Pretty Little Liars girls alone either for a moment. Just as they never forget to take their best looks out of the closet. For the season two finale, the group of BFFs turns into a crew of princesses with masked faces: Aria opts for a black and red striped outfit; Emily for a dress with a blue bustier and ruffles; Hanna becomes Juliet with a crown of flowers on her head; while Spencer shows up to the party in a bright yellow. Which is your favorite?