The made in Italy glove brands you may not know about
For a warm and glam winter
Gloves are an essential accessory to get through the cold winters, but especially if they are as long as those of the divas of yesteryear or have a special design, they can also be the accessory that completes our looks or gives them an interesting twist. Some prefer them in wool, in the form of the mittens we wore as children and almost inevitably lost; others prefer them in leather; and others would wear precious opera gloves at any time of the day or night. We probably all have a collection of gloves that we change according to our mood. Some have been knitted for us by grandmothers, mothers and friends, others we have bought while shopping in some shop or other and still others we will give to friends and colleagues at Christmas. But did we know that in Italy, especially in Campania, there is a long tradition of master glove makers?
G-Club has selected some of the most interesting glove specialists, both traditional and up-and-coming.
From Anita Spuri's passion for thread weaving and sustainable, long-lasting fashion, Aknitè was born, a brand of gloves, scarves, bags, hats, balaclavas and other garments that combine jersey and knitwear. Each piece is handmade by Anita and her mother from sustainable, environmentally and animal-friendly yarns. For the new Aknitè collection in particular, only certified mulesing-free wool is used, a breeding technique that involves suffering for the animal (the tail and part of the anal and perianal tissues are removed) in order to obtain the largest amount of wool as quickly as possible. Aknitè's creations, such as the mittens, are therefore not only cute and keep us warm in winter, but are also intended to raise awareness for a greener life.
Naples has been the recognised capital of gloves since the 17th century, when the Bourbon dynasty promoted artisanal production in the Kingdom of the Two Sicilies. It was here in 1923 that Gennaro Squillace founded OMEGA, the only traditional glove maker, which is now run by Alberto Squillace and has been operating in the Sanità district for almost a century. Five generations later, Maison OMEGA continues to experiment in the industry with SQUILLACE 1923, the haute couture brand run by Martina Squillace, the great-granddaughter of Gennaro Squillace and sister of Alberto. Her creations are made in limited editions from the finest leather and lined with pure silk and Biella cashmere. The denim and tulle opera gloves are hard to choose from, as they are decorated with a cascade of handmade PVC scales embroidered with Murano glass beads at the top. Really chic!
Reppucci is a creative workshop in the heart of the Dolomites, made entirely in Italy. The creations of Alessandra and her team? They are handmade mountain gloves made from refined materials that can also be worn off the slopes thanks to the strictly handmade embroidery inspired by Thailand. The collection ranges from frayed suede gloves in country style to leather mittens with merino wool lining.
Like OMEGA, Simeone can also look back on a long tradition. The story began in Naples in 1927 with the master glove maker Luigi Simeone and continues to this day with the production of leather gloves, which are made according to the artisan tradition of Naples. Today, it is the Simeone brothers who have inherited the craftsmanship, elegance and refinement of the old master glove makers from their grandfather Luigi and their father Antonio. Their suggestions? Super-soft, glamorous and versatile leather gloves that complete any winter look, from parkas to coats, from bomber jackets to down jackets.
Gloves are just one of the many accessories and garments from Durazzi Milano, an up-and-coming brand founded by Ilenia Durazzi together with the artist Maurizio Cattelan. Art, fashion and the world of equestrian sports are the inspirations that give rise to the project's creations, which together form a cool, modern and extremely glamorous wardrobe.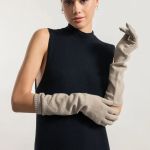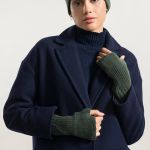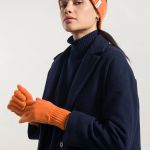 Rifò is a Tuscan variation of the verb "to transform"," but it is also the name of a brand of high-quality clothing and accessories made entirely in and around Prato from 100% regenerated and regenerable fibres. The brand was born out of founder Niccolò Cipriani's work experience in Vietnam as part of a UN programme, where he saw the negative impact of fast fashion and overproduction on the environment. Regenerated cashmere, jeans and cotton became the raw materials from which gloves, scarves, jumpers, T-shirts, coats and many other items of clothing are made.