Tumblr-era shorts are now sold for $200
TikTok's latest trend comes from 2014's Coachella
"You'll never have me the way you want me," sang 99 Posse years ago in L'Anguilla, and as they look at images of another early 2000s nostalgia trend exhumed by TikTok, we imagine a unanimous chorus of people shouting the same phrase aimed at those customized (or artfully embellished, if you prefer the term) denim shorts that were all the rage in 2014 and filled the Tumblr feed. A decade later, the persona of reference has changed, but a certain scepticism remains among those who experienced the moment and this garment for themselves, and they see yet another generation falling for its charms.
Straight from the Tumblr of 2014
, denim shorts are back
Do you understand what we're talking about? You take the mini denim shorts made famous in the 1970s by Daisy Dukes, played by Catherine Bach in The Dukes of Hazzard series ( TV ), and rework them to your liking. You customise them by fraying the hems, shortening them until the pocket lining peeks out, lightening the denim colour, cutting the fabric ad hoc, embellishing with rivets, patches, lettering, lace inserts, sequins, coloured stones and whatever else you can think of. The result must have a DIY effect, even if you paid a lot for it in a fancy boutique. If you were on Tumblr or at Coachella in 2014, you'd pair them with a pair of Texan boots or biker boots while humming a Kooks hit or imitating the indie sleaze vibe of Effy Stonem from Skins.
Vintage or just plain old fashioned?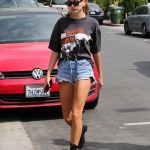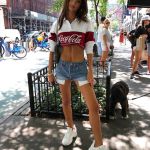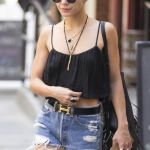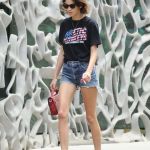 To make the purchase more appealing and justify the price, many second-hand sites refer to these shorts, which date from around 2014, as vintage, but that's a misnomer for a garment that's only a decade old. Conventionally, the adjective refers to "the characteristics and value of an item worn or made at least two decades before the present time". At most, one can use the term vintage in the broader sense of "used garment that bears witness to the style of an era or a particular fashion designer"," but to be accurate, shorts that have recently come back into fashion are simply old or used if they came from a previous owner.
How much would you pay to buy them?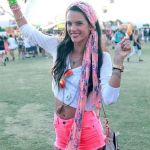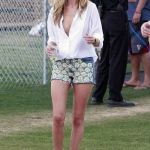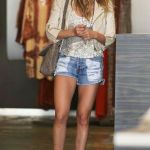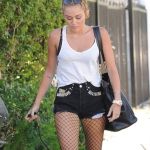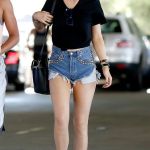 Taking advantage of the return of the grunge and indie sleaze aesthetic, but also tapping into the appeal of vintage, retailers are selling these shorts for around $200, even though the product itself is clearly not worth that amount. Want to follow the nostalgic trend and wear Tumblr-style shorts? We advise you to look for them on Vinted or a similar platform. Better yet, take an old pair of jeans, cut them up and adapt them to the style worn by Lady Gaga, Miley Cyrus and Kylie Jenner a decade ago.