Exploring the digital boundaries of the real world
Interview with Amber Park
Amber Park is a Korean-American artist whose world is a whirlwind of creativity. Since childhood, she has used every surface as a canvas, even if it meant ruining the white walls of her house or decorating her body with markers. i used to scare my mother,' she jokes. But today she is a well-known artist and director who has worked with music greats like Lil Nas X, Camila Cabello and Katy Perry. Her boundless imagination has never waned.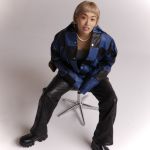 Her latest creation is PLAY! POP! GO!, a fashion brand and lifestyle platform that fuses the world of Hello Kitty with high fashion and the metaverse. PPG bridges the gap between the real world and virtual fashion collections, transforming luxury streetwear and art objects into a gaming experience. Users can immerse themselves in a digital world and wear real clothes or their 'digital" counterparts on Park's customised avatars. This vision of Park pays homage to her online childhood and evokes nostalgia for beloved games like Club Penguin and The Sims. Today, PPG launches its first collection, The Kidz Love to Play, which includes items like faux leather trousers, trucker hats and tank tops suitable for going out or online. But PLAY! POP! GO! is more than just a brand. It is a digital platform, a safe space and a way of life. It is a place where everyone can rediscover the joy of childhood and get in touch with their inner child. This dynamic universe appeals to both the young and the young at heart, combining elements of classic games like Club Penguin with high-quality art and clothing.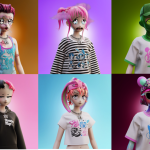 Their latest initiative, PLAY3, uses Web3 technology to create a community-based digital gaming experience that combines fashion, social interaction and playful storytelling. This opens up a world of social gaming opportunities with live streaming, interactive chat and direct-to-consumer shopping. Amber Park is a true creative icon who is defining the aesthetic of her generation and revolutionising the field of visual arts. Her new collection 'THE KIDZ LOVE TO PLAY' reflects her vision of an inclusive metaverse and a desire to awaken the inner child in all of us.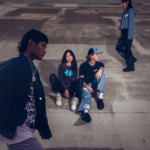 Tell us a little about yourself and your background. How and when did you start creating and drawing? The world you tend to create has a lot to do with childhood, cartoons and dreams. Is there a particular reason for this?
My name is Amber. Amber Park. Born and raised in Los Angeles, California. I love the sunshine. I love to smile. I love to dream. My favorite color is yellow. I have been thinking a lot lately about aliens, how there are so many worlds out there that we can't see yet, all of the worlds in my dreams. As a kid, I was quite shy and felt very alone during most of my childhood. I had a wild imagination which became my escape. My curiosity and imagination took me places far away. I was a bit slow academically, so I struggled talking to other kids, was a very late reader and needless to say had a hard time adjusting to the school I went to. Once I learned to read – I was an avid reader. I got lost in books. I always loved to color… on everything. On books, on walls, hahah even on myself. I loved cartoons, I loved movies, I loved books, I loved toys – I would transport myself into these stories and make my own fairytales and characters. This exercise was the first step towards "creating" and "drawing." It encouraged this sense of dreaming. Cartoons became my imaginary friends and my companions. I was always daydreaming and my imagination took me to places far away beyond anything I could walk into in my physical reality. I would create my own fairytales and storylines which brought a level of joy, comfort, and belonging that I'd never experienced before. Physical exercise also helped me find my voice and develop confidence in my identity.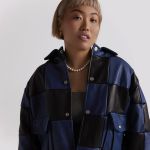 Where do you find inspiration for your visual work? Is there a ritual you perform before you start a creative process or work?
I find inspiration everywhere. To me, it's so important to be present and to be observant. Open eyes, open mind and open heart. There is so much beauty and color in the world. The mundane has many nuances. People, conversation, the sights, smells and sounds – all these rhythms and pulses can spark a thought or an idea. I was so strongly influenced by the magic and feelings I experienced as a kid being so immersed in the worlds of anime, cartoons, toys, streetwear, and music that now as an adult I take those influences and remix them with things I am feeling now. How can I take a color and create a sensation or a feeling? Lately, I have been really inspired by creating work that can encapsulate an energy and evoke a feeling. How can you transport the mind somewhere else and allow that viewer to have their own interpretation and kickstart their own process of imagination?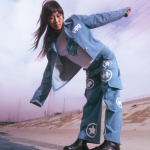 Last June, you presented your debut collection 'The Kidz Love To Play' at Paris Fashion Week from her label 'PLAY! POP! GO!". Where did your passion for fashion and the need to design your own collection come from?
With PLAY! POP! GO!'s first collection, I wanted to capture the sense of play time and frenetic but innocent energy of youth. When it came to designing the capsule, we wanted to bring something new to the fashion landscape which we call PLAYWEAR. The name PLAYWEAR is in part inspired by the casual "play" clothes people will see in our collections, but refers to garments that activate experiences and unlock digital activations and digital items. You are wearing your own experience and can customize it however you want. I have always gravitated towards storytelling of fashion campaigns, and how clothing can be an extension of how you express yourself, or signal your belonging to a community. I love the synergy between fashion and music and how there is this perfect connection between sight and sound that shape an image and a persona. I was such a huge sneaker and Bape kid growing up. I was obsessed with Dunk Lows. As a kid, my immigrant Korean parents only let me have one pair (the cheapest one they could) that I would wear to school and would only buy new shoes after they had been completely worn out. On rare occasions for something special, I would save up and buy a new pair of Dunk Lows. I went a little bit crazy with my collection of Dunks as an adult hahaha and it's definitely my favorite Nike silhouette. The collector's mentality and its connection to fashion has always been fascinating to me. I love how fashion can make you feel. I love how you can express yourself and play and have fun and this concept of mixing and matching and remixing.
The entire capsule collection consists of 23 lifestyle garments. Tell us what inspired you to create this collection and how you decided on the pieces that make it up?
The capsule is casual, cool and comfortable – it is meant to be everyday wear that you can dress up and dress down. It was designed to exude the emotional and spiritual state of being free to play. Elements of the graphics feature the characters and our brand's IP – more to be revealed in the kawaii mascot hero storylines. Denim to me is the most versatile. There are so many ways to wear the denim pieces in the collection whether for leisure, work, or play and always in your own way.
What are your personal goals, dreams and visions?
In my lifetime, I want to create the next Hello Kitty. I want to create a character that possesses the same spiritual impact of magic, kindness, love and belonging that Sanrio brought to me as a kid and create that for the next generation. My goals and dreams for the future are all rooted in life purpose. Whether that be so big or something so small within your own life and community, we all have something that drives us and is our call to be who we are. I have realized my purpose is to help others smile and to help others feel a sense of love whether that's through personal relationships and conversations I have with my friends and family or on a larger scale with my creativity, work and storytelling. I want to brighten up the lives of others and help others find joy and experience that same magic and wonder for life that I have discovered. There is so much love and so much color in the world for us to experience. The world is truly our playground.
My next dream is to build my own amusement park or to have my own land / rides at an amusement park. My dream and goal is to truly help others have more fun and to shine their own light and to make others around me illuminate and smile. To show to others that we all should love and that starts from within our own hearts and share that with the world. The future has so much unknown, but we should all be daring and in that the unknown becomes so beautiful. There is so much wonder when you open up your heart and your eyes.