Is Chanel's Formula 1 T-shirt the new fashion obsession?
If you want to wear it, get ready to empty your credit card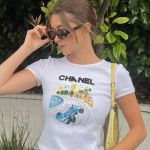 After Miu Miu's set, Prada's tank top and Diesel's belt, there is a new object of desire with a prohibitive price tag: Chanel Formula 1 T-shirt. It is part of the maison's 2023 resort collection and was shown for the first time at the fashion show at the Monte-Carlo Beach Hotel, along with bodysuits inspired by racing suits and creations with details and patterns reminiscent of racing aesthetics. Virginie Viard capitalised on the girls' current attraction to motorsport personalities and their clothing.
On Sunday 28 May, Charlotte Casiraghi attended the 80th Formula One Grand Prix held in the Principality of Monaco. In keeping with the occasion, she wore Chanel's F1 T-shirt, which features a print combining a racing car, a racetrack and appliqués reminiscent of the French brand's codes, such as camellias and the number 5. The princess paired the T-shirt with black skinny jeans, a handbag and butterfly glasses, also from the French brand for which she is a long-time testimonial. Like her, influencer Madeleine White also wore a very similar model a few days ago. The result? The garment went viral, so much so that some shops started selling fakes.
In addition to its immediate popularity, the T-shirt became the subject of a series of tweets and videos on TikTok, dividing users into those who can not wait to add the new object of desire to their wardrobe and those who are shocked by the price. It appears that the graphic top that will cost you between $4,500 and $5,500, although some videos have suggested that due to its limited availability the resell could bump the price up to $10,000 and perhaps beyond. Needless to say, even without resorting to the possible fakes that are already starting to circulate, there are plenty of equally cool and interesting, but significantly cheaper, versions of t-shirts with prints available on the market. We are sure that in a short time Chanel's tee will become sold-out, and those who will not be able to buy it because of the scarcity of available pieces or because of the price, will continue to desire it. Wearing it would give them not only a way to be aligned with the trend of the moment, but also the illusion of being a fashion princess, with a wardrobe so exclusive that it boasts a white T-shirt with a few thousand-dollar graphics. Just like Charlotte Casiraghi.