All crazy about stars closet sales
What makes a Chloë Sevigny or Kim Kardashian shirt so special?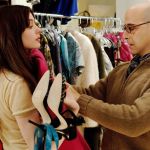 In the early morning hours of Sunday, May 14, a line formed near 676 Broadway that went around the block twice. A large group of boys, girls, fashionistas, fans and onlookers stormed the NoHo district, braving fatigue and the New York spring sun to attend Chloë Sevigny's closet sale. The event, part of #NeverWorns, an Instagram series hosted by Liana Satenstein in which the Vogue writer asks fashionable stars and industry insiders about their wardrobes and encourages them to keep or get rid of pieces they have never worn, was touted as the "sale of the century" By the actress herself as the perfect opportunity, "from #neverworns to everyday pieces, Victorian to indie sleaze, designer and tonnes of denim" to grab, including a Junya Watanabe biker jacket, a Miu Miu round collar coat, a Jean Paul Gaultier double-breasted blazer, many Comme Des Garçons pieces, lots of vintage and several pieces from Chloë's collaboration for Opening Ceremony. In addition to the kid star's wardrobe, pieces from the archives of fashion editors Lynn Yaeger and Sally Singer, Mickey Boardman, former editorial director of Paper magazine, and The Academy, a New York brand known for its tailored, androgynous garments, were also on sale.
The hype around what seemed like a fringe item was not only immediate, but unexpectedly huge. Those lucky enough to find it excitedly showed off their haul on TikTok, noting how interesting the pieces they bought were and how gracious Sevigny was as she sat in a corner of the warehouse watching people browse through her stuff, signing autographs, chatting with admirers and telling behind-the-scenes stories about the clothes. In short, this was not just a simple sale where people could buy clothes from big brands at a discounted price. Nor was it about being lucky enough to meet your own legend and look at the things he wore that were part of his story. There was much more at stake. People waited patiently in line for something priceless: the illusion of taking home, along with a baby doll or a sweatshirt, some of the je ne sais quoi that makes Chloë Sevigny the most popular It-girl of all time, the cool star with the eclectic and experimental style we would all have liked to have had at least once.
@umitsmichelle

all the nyc it girls spent their whole sunday waiting in line for the chloe sevigny closet sale
Sure, someone may have attended in the hope of reselling Sevigny's garments at a top price on Vinted or another platform, another who knows her impeccable taste may have done so in the confidence of finding a little treasure, but most were not going to miss out on the "sale of the century", convinced that owning a garment that belonged to the actress meant, by some miraculous transitive property, receiving her own coolness as a gift. And that is the secret to success behind every star's wardrobe sale. Grabbing a piece of indie rock history and the allure of a legend is what prompted so many to head out to buy one of the 43 dresses signed by Saint Laurent and John Galliano that Courtney Love put on sale in 2018 to benefit the charity Stand for Courage; but it's also why Gwyneth Paltrow launches an annual celebrity sale on Goop that sells out in minutes. The wellness guru supports charities such as DonorsChoose, a non-profit organisation that enables public school teachers to raise money for their students, and convinces famous friends and acquaintances such as Drew Barrymore, Anne Hathaway and Lena Dunham to join the project. However, there are many celebrities, especially Gen Z, who regularly sell the clothes they no longer wear on Depop and other resale sites. A few examples? Doja Cat, Olivia Rodrigo and Winnie Harlow. The true queens of celebrity sales, however, remain the Kardashians, who a few years ago opened Kardashian Kloset, a resale site for clothes owned by each member of the clan. Could Kris Jenner have found the perfect medium to leverage even Kim's experience as Paris Hilton's closet organiser?