Jewelry makes a comeback in Cannes
Film Festival is a must-see showcase for high jewelry brands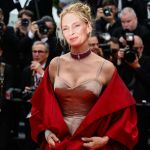 Just a few months ago, at the beginning of the year, we were talking about necklaces disappearing from red carpets because celebrities, in a time plagued by crises and wars, prefer to forgo jewellery and indulge in a recession aesthetic that makes them more likeable. Now the stars seem to be slowly getting ready to shine again, trading in their momentary "retirement" from flaunting luxury for a shower of diamonds, emeralds and rubies. And what better occasion to showcase the most precious high-jewellery creations than the Cannes Film Festival? Although some guests such as Phoebe Waller-Bridge and Adriana Lima preferred to appear bare-necked, the other stars of the event arrived on the Croisette with "frosting" (citing How to Lose a Guy in 10 Days). Uma Thurman teamed her Dior Haute Couture gown with a ruby and diamond necklace by Chopard. Elle Fanning wore a Cartier Tradition Perles de Diamants necklace composed of lustrous pearls set flush with 79 round brilliant-cut diamonds, along with other pieces from the Maison such as the Ruban bracelet and the Indomptables de Cartier ring; Helen Mirren embellished her look with an elegant diamond necklace and earrings by Bulgari; Laura Harrier opted for Bulgari's Serpenti earrings in black enamel, diamonds and rubies; Fan Bingbing wore large, bright green emeralds, like the ring on her finger, which stood out against her alabaster complexion; Soo Joo Park, on the other hand, also stood out with a pair of beautiful emerald earrings by Chopard. One of the most admired women of the opening night was model Alessandra Ambrosio, who walked the red carpet in Skyline, an opulent tie necklace with two strands set with multicoloured spinels and diamonds, and matching earrings, part of Pomellato's new haute joaillerie collection inspired by the innovative architecture of Milan.
Since Chopard began sponsoring the Cannes Film Festival in 1997, the relationship between jewellery and cinema has grown ever closer. At that time, Chopard was already a successful jewellery company, but the red carpet industry was still in its infancy and most of the jewellery worn by the stars, especially in Hollywood, came from American brands such as Harry Winston, Tiffany and Fred Leighton. The intuition of Caroline Scheufele, Chopard's artistic director and co-president, to combine the two worlds against the backdrop of the French Riviera, with its unique blend of hedonism and understated luxury, proved successful and fruitful. So much so that it was emulated by other brands and a number of other fruitful collaborations between high-end jewellery brands and film events were launched, such as between Bulgari and the Baftas and Cartier and the Venice International Film Festival.
But what makes Cannes so special to the world of haute joaillerie? There are many factors, which Milena Lazazzera explains well in a recent article for Vogue Business. The first factor Scheufele anticipates: Cannes lasts 12 days and there are many events. Unlike Hollywood, which focuses more on diamonds with small clusters and necklaces, "people here are more adventurous, want to show their personality and prefer long chandelier earrings and big cuffs, which are often very colourful", perfect to show off either on the red carpet or at one of the many glamorous parties aboard a yacht. The continued media exposure the festival provides makes it a must-attend showcase for both major jewellery houses and smaller brands, who have the opportunity to "win the hearts of existing customers" and attract new ones. According to Winston Chesterfield, founder of luxury consultancy Barton, and Camilla Guimard, co-founder of Paris-based agency The Spotter Lab, dressing celebrities on the Cannes red carpet is one way in which jewellery brands enhance the intrinsic and material value of their creations, "making the object unique and giving it added value thanks to this new uniqueness", even when they are sold on the secondary market, where they are no longer considered mere jewellery but "pieces of history", which drives up their price.
The numbers speak for themselves. According to data collected by Launchmetrics, the 2022 Cannes Film Festival generated a Media Impact Value (MIV) of $724.4 million, more than the Oscars at $658.6 million and the Venice Film Festival at $154.1 million. If we take a closer look at the jewellery brands, we find that Chopard, the official sponsor of the festival, achieved an MIV of $26.8 million, followed by Bulgari with $10.5 million and Cartier with $6 million.
And it is no coincidence that Chopard is presenting its first couture collection precisely during Cannes 2023. The French Riviera has always been a centre of attraction for wealthy men and women, whether they come from a family or are self-made, thanks to its reputation as the most famous seaside resort in the world, always frequented by stars and the international jet set. Add to this the proximity to the Principality of Monaco, where 70 per cent of the 38,000 inhabitants are millionaires, the fact that Europe is preparing for the return of wealthy buyers from China after the pandemic-related halt, the media appeal of the film festival, and you have the perfect recipe for more and more potential buyers to fall in love with the diamonds, rubies and other precious stones worn by actresses and models and decide to invest in luxury jewellery.