A TikToker found a €10k Versace couture in a thrift shop
The question in the viral video: keep the dress paid €11 or sell it?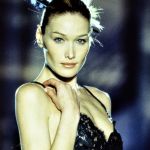 It's everyone's dream: to return from second-hand shopping with a treasure for which you only paid a pittance. Every time we go to a vintage flea market, we hope to catch a glimpse of a sparkling evening dress or an impeccably tailored jacket signed by a major luxury brand among felted jumpers and grandmother's skirts, but unfortunately, it rarely happens. When it does happen, however, it can literally turn our day upside down and even help us pay the rent or bills when it's resold. Canadian TikToker Sarah Dunk must have felt a similar thrill when, after scouring the entire Value Village shop in Toronto, she found herself holding a long, black, lace-trimmed evening dress with Gianni Versace written all over it. The "exorbitant" price? Only 17.49 Canadian dollars, which is about 11 euros.
"I have no words," she said in a video that went viral, showing off the extraordinary find and calling herself lucky. It is impossible to disagree with her. With more than 16 million views, comments from users who were incredulous that Sarah had paid so little for a thousand-dollar garment also multiplied. They were split between those who suggested she keep the garment for herself and those who encouraged her to sell it for a nice nest egg. One user among Sarah's followers even managed to find out that the dress is part of Versace spring-summer 1992 collection and that an almost identical garment is for sale on 1stDibs.com, a website that sells luxury items, at a price of €9,279.88.
At first it looks like Sarah actually considered selling the dress and the only reason that stopped her was the straps, which were different from those of the dress for sale on 1stDibs. She also said she contacted "some vintage couture curators" to get more information about the exact model and whether the straps had been altered. In any case, she is happy to have found this dress for less than $20. She is so happy that, given the many positive comments she has received after wearing the dress, she has apparently decided to keep the Gianni Versace model for herself to show off on a special occasion. Regardless of the actual value and how much she would earn from reselling it. "I never thought I would find a dress like this in a second-hand shop, and finds like this are rare, so I am keeping it," she said, stressing that she would only give up the dress if Donatella Versace called her directly to tell her she wanted it. Would you have kept it or sold it?